Maggie Raymond's fishing career spans the trajectory of New England groundfish – from the good times of the 1980s, to helping fishermen and managers navigate brutal conflicts and challenges as the fleet moved to days-at-sea management and organizing into sectors.
The former executive director of the Associated Fisheries of Maine, Raymond, 70, of South Berwick, Maine, became essential to the industry and New England Fishery Management Council's efforts to stabilize fishing communities during a traumatic era.
"Maggie helped people navigate these tumultuous changes and served as an invaluable conduit to explain the science and management implications to fishermen. She was a fierce advocate for industry interests." said council chairman Eric Reid when Raymond was presented with the council's 2022 Janice M. Plante Award for Excellence.
While working with the New England council over a quarter-century, Raymond also has been a longtime board member of the Maine Fishermen's Forum. As a member of the Maine Fishermen's Wives Association, she was active in effort to promote consumers' awareness of seafood values and Maine's fisheries.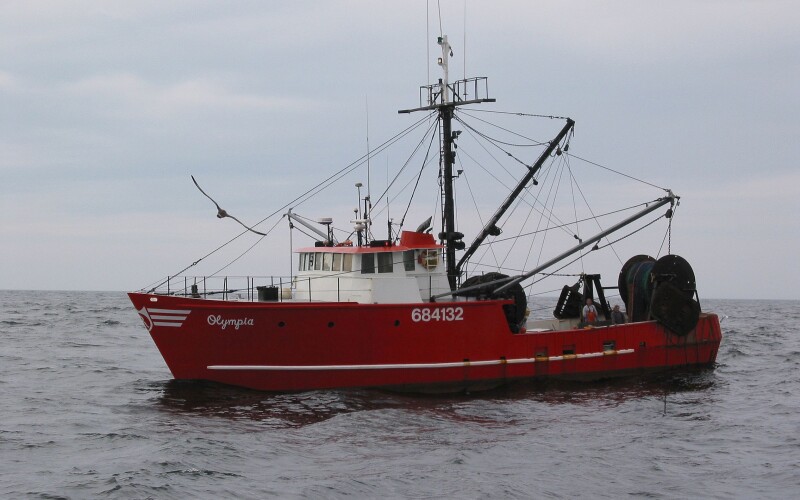 Raymond started in fishing in 1985. She co-owned the 80-foot dragger Olympia fishing out of Boston, back in the days of open access when new investment had poured into the fleet after the establishment of the 200-mile exclusive economic zone and first iteration of the new federal Magnuson fisheries law in 1976.
"Boston vessels were serviced primarily by businesses from New Bedford, which made scheduling those services more time consuming and expensive," Raymond recalled. Meanwhile in the 1980s, "with the rise of the Portland Fish Exchange, Portland was a vibrant fishing community with a transparent marketplace and plenty of shoreside support businesses." That made for a decision to move to Portland.
But after a few years, "it was hard to justify to our crew why we were throwing away $100,000 of lobster every year" to comply with Maine bycatch rules, Raymond quipped. "So, back to Boston."
Around the same time Northeast groundfish restrictions were increasing, and other Maine offshore vessel operators were migrating to Massachusetts ports to avoid Maine's sales tax on fuel and be able to land their lobster. "The lobster bycatch issue remains a deterrent today to vessels returning to Maine," Raymond noted.
With fish stocks and catches declining, in August 1991 the National Marine Fisheries Service signed a consent agreement to settle a lawsuit brought by the Conservation Law Foundation over the agency's alleged failure to halt overfishing (see "A last stand for New England groundfishermen?" National Fisherman, March 1992).
Under intense pressure, the New England Fishery Management Council faced a court-ordered deadline to sharply reduce fishing mortality, with plans for reducing days at sea and ultimately the size of the New England fleet.
The measures heralded grim times ahead. "They will destroy the social and economic fabric of the industry," Jake Dykstra, an industry stalwart and former New England council chairman, said then.
In January 1994 the tough plan was finalized to reduce fishing mortality by 50 percent over five to seven years, and emergency rules closed large areas of Georges Bank to stave off biologists' warnings of a cod collapse.
Fishermen all along the coast organized to figure out their future. Raymond began working with the Associated Fisheries of Maine in 1995, beginning what would be a 25-year effort to help bridge the gap between fishermen and scientists through her knowledge of the Northeast fishing industry in all its complexity.During those years Raymond served on the New England council's groundfish advisory panel, including the chairman's seat, as more management changes bombarded the fishery – some 20-plus framework actions between 1997 and 2003. In 2004 the initial sector program was started with Amendment 13 to the groundfish management plan.
"The work of fisheries managers is to develop management restrictions that meet the biological objectives with the minimum negative impact on the industry," said Raymond. The boat owners of Associated Fisheries of Maine, "in spite of repeated need to develop new restrictions, were always willing to roll up their sleeves and offer important guidance to managers to achieve those dueling objectives," she said. "Those fishing boat owners trusted me to be their voice in that process, and I am forever grateful for that trust."
The Sustainable Harvest Sector, or SHS, originally organized around boats with the Associated Fisheries of Maine and grew to include members from Portland down to New Bedford. One of those is Blue Harvest Fisheries, which abruptly shut down its New Bedford operations Sept. 1 and filed for Chapter 7 bankruptcy.
A private equity-backed venture launched in 2015, Blue Harvest grew to become the largest holder of East Coast groundfish permits. But, Raymond says, "the sector will survive."
Despite New England fishermen's tenacity, "the situation is not good. Landings are on track to be the lowest on record," says Raymond. "Everything is still in turmoil."
Skepticism over National Marine Fisheries Service groundfish stock assessments has been perennial in the debate for many years, periodically inflamed by management decisions like a severe 2023 cut in Gulf of Maine haddock based on survey results. Raymond says the agency's Northeast Fisheries Science Center "has made several attempts over the years to engage fishermen and their representatives in the assessment process, but in my opinion those efforts have not been consistent, and the Center still has a ways to go if they want to build a good working relationship with industry."
Fishermen with the Associated Fisheries of Maine have developed and participated in several cooperative research projects, funded primarily by NMFS, that produced important scientific and fishing related data that helped managers give more flexibility to the groundfish industry, said Raymond. Those projects included testing the most efficient mesh size for the rebuilt redfish fishery with minimal impact on other species, and demonstrating a haddock separator trawl to catch more haddock while reducing cod.
Now offshore wind energy projects are looming, even in the deepwater Gulf of Maine with proposals for anchored arrays of floating turbines.
"Today, all fish harvesting businesses in New England and the Mid Atlantic are concerned about the loss of fishing grounds and other potential negative impacts of offshore wind on their businesses," said Raymond. "While some effort has been made by local and national government to include fish harvesters in the siting process…the consensus is that those efforts are not sincere."
The New England council's award to Raymond recognized her service for a tumultuous time that shows no sign of easing soon.
"Maggie represents the epitome of someone dedicated to both the commercial fishing industry and sustainable fisheries management," Reid said when the council honored Raymond's work. "Her tenure covers a period of tremendous change, stretching from the early days of the Magnuson-Stevens Act to our evolving adaptation to climate change and the challenges of coping with offshore wind development."