There is something almost Dalai Lama-esque about Chris Brown.
The Dali Lama tends to talk about the future a lot:
"As people alive today, we must consider future generations: a clean environment is a human right like any other. It is, therefore part of our responsibility toward others to ensure that the world we pass on is as healthy, if not healthier than we found it."
In Chris Brown's case, the Dalai Lama quote is something he lives day in and day out as a commercial fisherman in Rhode Island. He has been fishing for decades and has a deep interest in preserving the ocean and fisheries for future generations. A longtime dedication to the industry has allowed Brown to cultivate what might best be described as enlightenment.
"Chris has been a north star for the commercial fishing industry," says Leigh Habegger, executive director of the Seafood Harvesters of America. "I like to say he's often 5-10 years ahead of his time, a true visionary for the industry, and he pushes us to continue striving for excellence in all that we do on and off the water."
Growing up onthe docks
Brown, 64, grew up in Point Judith, Rhode Island, a place he calls "a quintessential commercial port" with the vast majority of docks still being used for fishing boats. Point Judith is almost two hours south of Boston, on the western side of Narragansett Bay, where it opens to Rhode Island Sound. "It's small here," adds Brown. "Everyone knows everyone, which is both a plus and a negative."
Brown started hanging around the Point Judith docks as a youngster. His uncle owned a store called Galilee Grocery that provisioned fishing boats. "I'd help put the food on the boats after the store had closed." Brown jokes that, in a way, the arrangement was "kind of a daycare thing" since he'd often work alongside his mom, who had a job in the store. Whenever he had downtime after supplying the boats, Brown would fish off the docks.
The conversations he had with "the old timer fishermen" left a big impression on Brown: "You're gonna improve your vocabulary, at 6 or 7 years old!" Soon enough, his duties increased. "I started to shovel fish and unload the boats. I had begun my ascent into commercial fishing in the most logical way–with a shovel in hand." By the time he was 17 years old, he would go fishing during school vacations.
As he neared the end of high school, he had just one thing on his mind. "I remember being sent to the guidance counselor, and he said, 'How are you gonna get to college if you can't get through high school?' I said, 'I'm not going to college, I'm going fishing!'"
Over time, his thinking has evolved slightly, but he does not regret a thing about the path he chose, "because fishing has given me the opportunity to learn many things. It's an education everyday."
Brown follows in his grandfather William Roberston's footsteps, particularly when it comes to work-life balance.
"We day fished [and] I enjoyed the lifestyle so much that I'm a day fisherman to this day. I still enjoy it. You go out and come in and have a life." These days, Brown fishes on his 45-foot Proud Mary, which he's owned for a decade. "I have a small boat, and my grandfather had a small boat." He says there used to be a lot of day fishermen in Point Judith but that they've become less common. He credits his hardworking, skilled, and dedicated crew for making it all work. "I've had the same crew for two decades. Dean West, the best crewman in Point Judith!"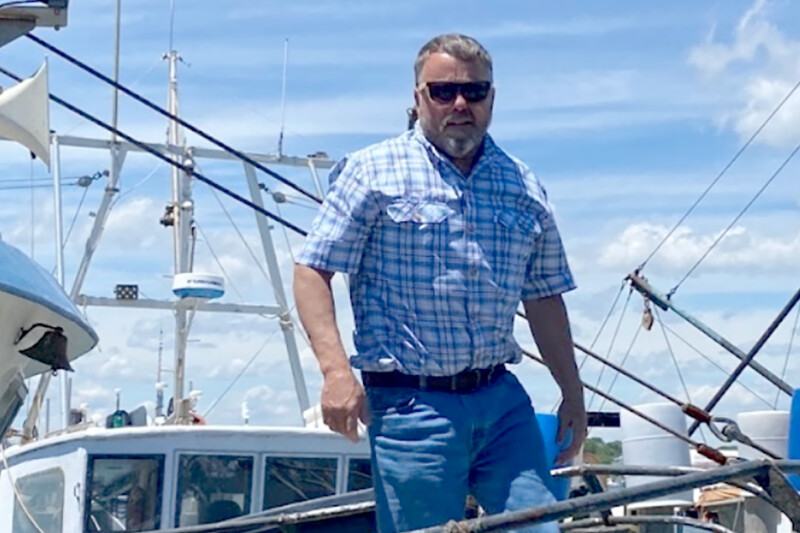 A leader on, and off, shore
Brown has been active in fisheries management, science, education, and outreach efforts for decades.
"When I was a young kid, the Point Judith Fishermen's Cooperative was one of the most successful ones in the country. There was a board, and fishermen took turns serving on the board. They were the leaders in the community. It was a respected position."
In Nov 1983, Inc. magazine called the Point Judith Fishermen's Cooperative "one of the oldest, largest, and most successful fishing co-ops in the nation, with 82 member boats, 110 employees, and 1982 revenues of $24 million."
But for Brown, the bigger purpose of Point Judith's Co-op transcended fishing and earning money. "Out of that came an accepted reality that you will serve. You will serve the community in some capacity." By the time the co-op shuttered, in large part due to stocks collapsing, "we went without a unified voice in the state." So, he helped found the Rhode Island Commercial Fishermen's Association (which is now part of the Commercial Fisheries Center of Rhode Island) and became its president.
But Brown felt there was still more to do.
"Nationally, it appeared that we needed an organization that gave people a place to hang their hat. We aligned around the belief that fishing is a way of life and that anything you love and respect you're going to be less inclined to harm."
In 2012, he was a founding member of the Seafood Harvesters of America, which represents commercial fishermen from the Bering Sea in Alaska to the Gulf of Mexico and north to New England, with a focus on accountability, stewardship, and sustainability in fishing practices, science, and management. Brown is currently in his ninth year as president (he took one year off).
In 2016, Brown was recognized at the White House with a "Champions of Change" sustainable seafood award. "I was one of 10 or so people to be honored by President Obama. It was incredibly humbling. When your beliefs translate into recognition and appreciation, there is no better feeling. We had a lot of activity going on then: ending overfishing, management and conservation, we'd blurred the line between conservation and commercial fishing – that they're one. That's the hard stuff. Walking away from your people at times, to take them someplace better."
Brown's approach has earned the esteem of peers, near and far. "If you know Chris, you know he's the order of our group. He's not just for Chris. He cares about all of it," says Bob Dooley, a founding member, past president of Seafood Harvesters of America and retired commercial fisherman. He considers Chris a leader and friend, despite living on different coasts. "He's got a big voice because of how he brings us all together. When we have issues that are not in focus, he's the guy who brings it together."
Of course, issues do become heated, and contentious.
"I know I've unified the opposition," says Brown. "You can't be smootchin' ass all the time. You try and effect change. And often, the choices you make in the industry aren't popular choices — and people aren't afraid to tell you about it! And you gotta hear it— and they're not all wrong."
There have been times when Brown felt pressure and even scorn from peers over differing views on ocean health and conservation. But through it all, he relied on his own experience as a guide. "I participated in the greatest stock decline in American history. I helped kill cod, like everyone else. There were no conservation efforts, we just ruined it. That was a terrible moment for me. I didn't want to have that be a legacy."
It was then when he started attending council meetings to understand how national fisheries management systems worked.
"It occurred to me that good policy gives rise to good outcomes. It occurred to me [that] we'd better start looking out. You can't trick the ocean. You can overfish, and you create a thief, and often you're stealing."
Protecting the oceans
When reflecting on recent attempts to rebuild once abundant New England stocks, like cod, Brown says: "You have to try. Whether or not we'll be effective is to be determined. We can certainly do better than we have. We are legally mandated to bring stocks back to the position of health. We have to increase levels of funding for science because the oceans are the leading edge of climate change. If we can't do it with the oceans, it doesn't fare well for us."
Ultimately, Brown says it's simple. "I deeply care about the condition of the ocean. That's my goal. The ocean that's before us in Block Island Sound doesn't remotely resemble the ocean that was here 40 years ago. Seasons have changes, and species do, too. Things that used to be gone in September now hang around till January. There is no denying that. The guys see it. They get it."
He gets philosophical when considering how different people respond to climate change. "I think at the heart of all climate deniers beliefs is they struggle with their own mentality. For me, to be able to openly acknowledge climate change goes hand in hand with the fact that no one lives forever."
Brown says the importance of the ocean extends beyond what is visible. "What bothers me greatly is the collective disconnect that people have from ocean health to their own. The ocean doesn't only have value as a subject of something to extract something from. It's the greatest economic engine on the face of the earth, but only if we don't take everything out of it."
Anytime Brown needs more inspiration, he recalls the early years he spent with his grandfather, William Roberston. "He used to take me fishing on the little Lucy M and explain things to me in what I didn't necessarily understand at the time. He was self-educated as well, but he educated himself. He was a chemist, then fisherman, and he taught me things about the ocean and on our camping experiences on the land. We didn't waste anything! It was crazy, we'd catch tires and bring them back on the dock. Catch Navy wire, bring it in, and recycle it. He'd say, "Don't eat your seed corn, boy."
Brown recalled a moment with his grandfather that he's never forgotten. "He was on his deathbed. I'd been going in to see him. One day he asked, 'How's the fishing?' I said, 'not very good.' He said, 'Yellowtail? Cod?' He went down the line to every species, from his days of great fishing, and he said, 'What happened?'" "I said, 'I think we overfished and broke it.' He reached out, gave me a bang in the chest, and said, 'We broke it, you fix it.' That was his sense of accountability."
And this appears to be Brown's guiding principle, also.
"You don't always end up where you started. I got in this to catch fish and make money– and here I am trying to save the ocean! You end up forming a relationship with that which you're depending on."
Do you know someone that should be a National Fisherman Highliner?
A National Fisherman Highliner is a career commercial fisherman who is also known for giving back to the industry, locally, nationally or globally. It is no easy task, and as such it deserves recognition.
The annual tradition of hailing leaders of the commercial fishing industry began in 1975 and it's one that the National Fisherman team is opening up to our audience. Honorees will be featured in the print issue of National Fisherman magazine that honors individuals from all regions. They'll also be able to take part in a series of special events at the Pacific Marine Expo that are designed to honor and showcase Highliner winners.
Submit your nominee today!