Virginia is considering reopening on an experimental basis a winter crab dredge fishery that has been banned by the Virginia Marine Resources Commission (VMRC) since 2008.
"This is simply a request from Crab Management Advisory Committee (CMAC) and several VMRC commissioners to have staff study the possibility of reinstating a very limited entry crab dredge fishery," says Joe Grist, deputy chief of fisheries for the research division of VMRC. "We have been asked: what would have to be done to reinstate the fishery? We are in the very early stages of the process."
Virginia Watermen's Association president and CMAC member James "J. C." Hudgins recommended in August that the CMAC request VMRC staff to come up with guidelines for an experimental crab dredge fishery with a limit of "eight to ten boats." The CMAC board voted 6-3 in favor of sending the matter to VMRC for consideration.
Hudgins says he introduced the reopening proposal to provide more winter jobs for watermen who are pretty much confined to working in the state oyster fishery. "We need some alternative work for watermen in the winter and a dredge fishery would provide that," he says.
Anecdotal history has it that watermen dredging for oysters out of Hampton Roads in the 19th century ventured a little too far over into the Bay's deepwater channel and brought up a haul full of sooks, or female hard crabs. The discovery of large numbers of female crabs migrating in winter to higher salinity waters of the lower bay to spawn in the spring led to the first licensing of the winter crab dredge fishery in 1904, and to the establishment of a fishery that lasted for 104 years.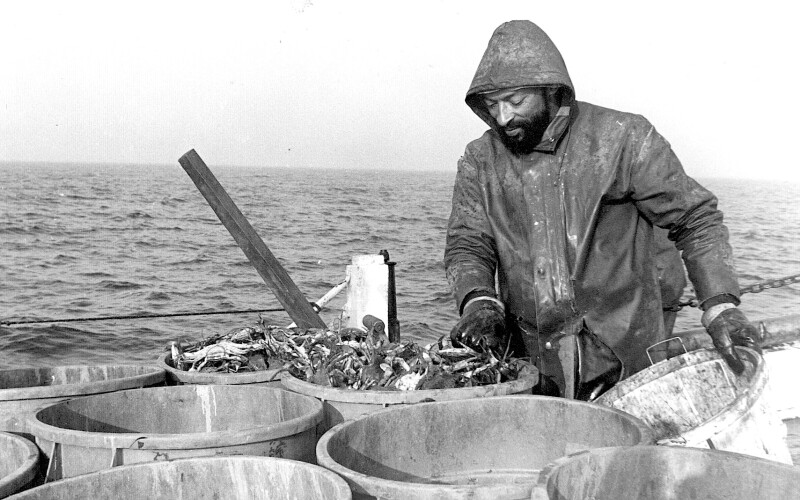 The 2008 ban was sparked in part by disturbing baywide crab survey results that in 2007 showed there were only 251 million crabs in the bay, down from an 852 million high in 1993. Even more concerning were consistently low crab population figures from 1998 to 2007.
Virginia and Maryland asked the U.S. Department of Commerce in 2008 to declare the Chesapeake Bay crab fishery a federal disaster due to the historically low blue crab population. Under that designation, $15 million in crab disaster funds from the National Marine Fisheries Service were appropriated for each state to help rescue the crab population and provide needed economic relief to the commercial fishing industry.
Virginia's crab disaster funds were used to buy back 359 commercial crab licenses to reduce actual or potential crab fishing; to employ out-of-work watermen who pulled up 18,000 derelict crab pots over two winters; and to train crabbers in shellfish farming.
Virginia and Maryland also agreed in 2008 that each state would cut the baywide female commercial harvest by 34 percent. As part of that effort, Virginia raised the size of cull rings in crab pots, made changes in the peeler crab fishery, and banned crab dredging. About 80 percent of the crabs caught in the dredge fishery were female, and by banning the fishery Virginia's annual female harvest was reduced by 17 percent.
This is not the first time VMRC has considered reinstating the fishery. When crab population survey figures rose to 765 million in 2012, the commission contemplated a limited entry fishery of 37 dredge boats.
"The fishery would be tightly controlled and in an enforced manner, performed on mud bottom in order to limit damage to the environment and crab stocks, with maximum allowable landings of 1.5 million pounds of crabs," stated VMRC officials at the time. After a VMRC and Virginia Institute of Marine Science (VIMS) study, the proposal to reinstate the fishery was turned down by the commission in 2013.
When VMRC banned the fishery in 2008, it was for one year. "The commission has voted to ban the fishery every year since, having had only the one study done in 2013," says Grist. "If the commission is going to vote to ban it every year, we need to study the impact occasionally to give them some direction in making their decision."
Hudgins says the Chesapeake Bay region is losing national market share in the picked crab meat market. Female crabs caught in the winter dredge fishery had been an important part of that market.
"We are seeing more of the picked crab meat market going to North and South Carolina, Georgia, and the Gulf states because those states have warmer water year-round, allowing crabbers to crab pot most of the year," says Hudgins.
"This (crab dredge fishery) would be a very tightly managed deal," says Hudgins. "I know that VIMS will want it to be worked on soft mud bottom because of environmental concerns."
Commercial winter crab dredging is allowed in the states of Delaware and New Jersey. "Dredge boats are still working on Delaware Bay and Raritan Bay, and they should be allowed in Virginia waters," says Hudgins.
Grist says that the dredge fishery will not be considered for this winter. "There are a lot of 'ifs' involved in this, but it could be an alternative," he says.
The last blue crab stock assessment in Chesapeake Bay was done in 2011 by the National Oceanic and Atmospheric Administration (NOAA) and the next one is scheduled to be completed in 2025. "This is a good time to be taking a look at the fishery with a new stock assessment coming out," said Grist. "The stock assessment may help with a decision."