With African-grown mahogany wood, longtime yacht builder Tiffany Yachts of Burgess, Va., is breathing new life into some Chesapeake Bay commercial fishing boats.
Tiffany Yachts at Glebe Point on Virginia's Great Wicomico River is most noted for building one-off wood and fiberglass custom yachts. But its heritage goes back to building and repairing Chesapeake Bay deadrise workboats.
On the same site in 1934, father and son Odis and Tiffany Cockrell started building a unique Virginia-style deadrise workboat. They incorporated a tumblehome construction technique in the sides of their boats. As their side planking goes aft, it changes from flaring out to leaning inward as it rises. This style of workboat became very popular on Northern Neck of Virginia.
Eventually son Tiffany applied the skills he learned in building an upscale workboat into building high-end wooden and later fiberglass yachts. Tiffany Yachts, still family owned, is one of just a few yards left in Virginia that specializes in high-end quality wood and fiberglass boat construction.
Inside a state-of-the-art onshore boat repair building at the yard in October is the 44' x 12' x 3.6' wooden deck boat Miss Dottie. Since the boat was built in 1956 by the late Charles Herbert Rice on Cockrell Creek near Reedville, Va. for pound netter E. Barlette "Spider" Haynie, she has worked out of the same creek and always in the pound net fishery.
She is owned today by Stan O'Bier of C. W. O'Bier & Sons, trading as Pride of Virginia Seafood of Callao, Va. and is fished out of Reedville and worked in the Potomac River pound net fishery.
"She was at a point that she needed some major work done to her," says Drew Jones, head carpenter on the job at Tiffany's. "With so many wooden boatbuilders retiring or so many gone to heaven, we are seeing commercial fishermen bringing their boats to us for repairs."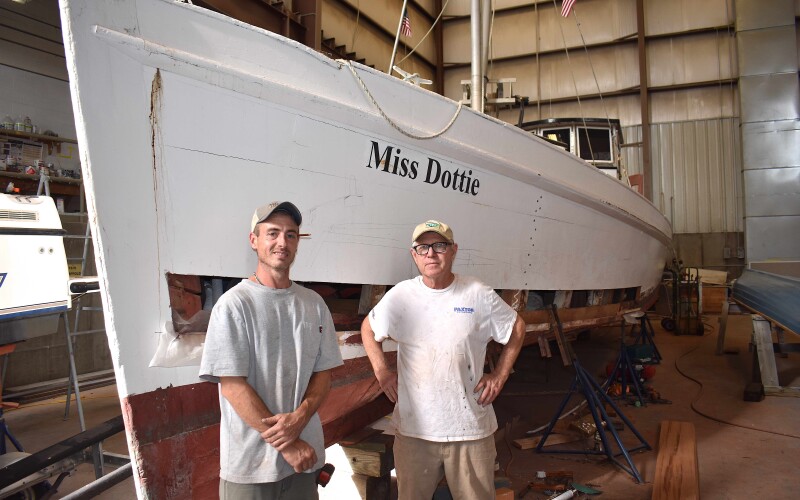 "We have replaced (on the Miss Dottie) most of her starboard side and a portion of her stern," says Jones. "We also found (teredo) worm damage in the chine log on the port side and we had to replace a portion of it."
All the wood used in the repair is mahogany. "We have found that we can purchase dried African mahogany that is less expensive and is a better quality of wood than most anything we can find in the United States," he says. "There is some decent wood coming out of North Carolina, but it is hard to get hold of it."
Bronze screws and stainless steel bolts were used in the repairs. "We've got better fasteners, better tools and more and better ways to fix wooden boats now than when the old timers were building boats under a tree," says Jones.
The stern on the Miss Dottie has a semi-round shape made in the traditional Virginia manner of layering chunks of wood on top of one another, following a pattern where the butt joints are staggered and do not overlap. "We put the stern back just like it was originally built except for one thing, we used mahogany," he says.
Jones has an apprentice in Tim Robinson, working with him and learning the trade. "The only way the business of fixing wooden boats will survive is for young people to learn the trade and the best way to do that is hands on," says Jones.