National Fisherman Viewpoints- The following op-ed article presents the personal viewpoints of the author and does not necessarily reflect the opinions or positions of the publication, its editors, or its affiliated organizations. The author's perspectives are presented here as a means of fostering open dialogue and diverse discourse on the topic at hand. The publication does not endorse or take responsibility for the accuracy, completeness, or implications of the content within this article. Readers are encouraged to critically engage with the ideas presented and to form their own informed opinions based on a range of sources and perspectives.
Maureen Marinkovich of San Juan Island, Washington, is the definition of "shoreside support." (I think so anyway, because she introduced me to the term in the first place.) In this interview, she gives us the lowdown on budgeting, managing finances, and how to thrive in the on and off seasons. Matthew, Maureen's husband, is a third-generation fisherman. In addition to Matthew's numerous fisheries throughout his career, the husband and wife team has sold wild-caught fish directly to consumers on San Juan Island, Washington, for over twenty years. You can learn more about the family business through mattsfreshfish.com.
Maureen and I know each other through my husband's family on Lummi Island, Washington. Over wild black cod and salmon dinners, I've picked her brain about anything related to money, and I'm excited to share her insights with National Fisherman readers. The interview is edited for length, but you can hear the full interview on the Partners of Commercial Fishermen Podcast through this link.

How-To Budget and Manage Finances on Seasonal Income w/ Maureen Marinkovich
Megan Waldrep (MW): Thanks so much for being here, Maureen! Let's start by getting a little bit of your background and what your partner of commercial fisherman duties entail.
Maureen Marinkovich (MM): Happy to be here. I call myself "shoreside support" because I think I'm the one person in my family that doesn't just love being out on the water. I'm the person who gets sick and doesn't love it, and wants to slow down. And my kids were always like, "Go faster!" Maybe if I had fished when I was younger and worked into it. But I always ended up being on the shore, which is actually probably how I became the money manager.
MW: How did y'all decide that you would become the money manager? What was their conversation about it?
MM: Well, it's a personality thing, probably, and it'll all depend on the families because I know commercial fishermen where the fishermen do a lot of it, and then the partners don't. But I remember when I was young, and we'd been going out for a while. I think we got married after about six years or something. But I remember when he started, he would have his mom pay his bills and do things like that. You see, it seems like someone needs to help the fishermen when they're gone for a few months at a time. You need someone who's gonna make sure the rent's paid, the bills are paid, or something gets done that needs to be done in their absence.
I kind of thought, well, I could do this. It started out with the mail. Most of it's usually junk mail, and you can kind of sort out what's a bill, and then I'd bring it down to his mom and have her pay it. But when he came home, Matt said, "Okay, where's my mail?" And I handed him a paper bag with not too much mail in it. And he goes, "Well, where's all my mail?" I said, "I went through it for you." He was a little taken aback by that; he didn't love that at first. But it turned out that I would handle things financially. It also kind of took a while because he was very used to doing it all himself. And so, eventually, we worked it out. But I think it kind of started off with me going through the mail.
Eventually, I realized we were gonna have to come up with a system where we both agreed on what we were gonna spend. The only thing outside the budget that generally becomes the categories that people get can argue over is discretionary income (clothing, home household goods). But, you usually can hammer down groceries and bills.
But I'm gonna tell you, if fishermen's families have budgets, you will have wealth in your future, and you will have far fewer arguing and incidences of confusion over finances. It'll just be something that's just taken care of. So, whoever does the budgeting, however you like to do it, it doesn't really matter what system. It's just sort of like- just find a budget.
MW: Relatable. Money says a lot about how we were raised and has a lot to do with how we speak about money. What are some main factors you've put into that budget?
MM: The first thing you have to do is assess what you do for a living, how many different fisheries you're involved in, and whether or not you have W2 income on the side from a job that you have in the off-season. And then after you've kind of assessed all of your incomes, the thing to do with commercial fishing – and I wish I would've done this when I was younger and started off – but if you start off with a bad season budget and you sort of stick to the bad season budget every year even when you have good seasons. There will be money that is above and beyond. You're gonna have two different kinds of partners and commercial fishermen, ones that reinvest in the fishery a lot and some that just sort of move along that way. Or, investing in other areas of your life, but maybe you wanna save for a house or buy land or property or something like that. And when it's time to do that, it helps to have a chunk of change set aside for your retirement.
But the basic advice is to find a budget dollar amount that sort of maximizes the worst season. Or at least find an average, but don't live on the money as it comes in because some years are better than others. And if you get into that habit, then you're in feast or famine mode. And it's usually stress-related. I've had years where you're kind of waiting for the next paycheck, and that's no fun. I try to help everyone avoid stress.
MW: "Budget for the leanest year." That makes sense.
MM: Yeah, you kind of do that. I've gotten better about not worrying about it as much because we've been fishing for so long, and I'm married to someone who's very good at making sure the boat runs and doesn't have breakdowns. Maybe we've been lucky in other ways too. But yes, I'm nervous because the Fourth of July had traditionally been like the peak run in Bristol Bay, Alaska. So a lot of times, you can kind of hear on the phone when you talk to your spouse or partner about how they're doing in their voice. So you can kind of tell, and I can have the feeling, "Oh, we'll be fine, we'll be fine." But I'm always figuring we'll be fine anyway because no matter what, we'll figure out another fishery. He used to long line, so sometimes, if Bristol Bay was a bad season, he would still longline, and that was good. So we had a nice balance for ourselves.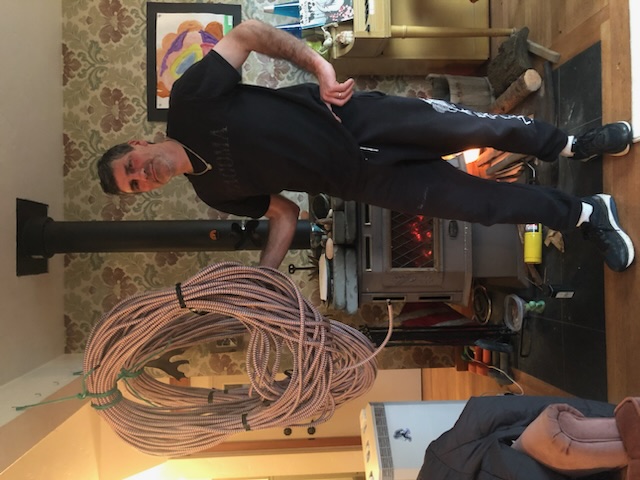 MW: I love that. I just thought of this: when you get paid, do you split a percentage of the income into different accounts? Like, this goes to the business account, and this goes to the home account...
MM: Yeah, we do. And here's another thing I was gonna talk about; the differences between income in the world of commercial fishing. Some people are boat owners and business owners and operators, and some are large and small. And some are crew guys bringing home a 1099, and then, you have to remember to take money out for taxes. It's just important to know that if you have a job that isn't having taxes withheld, you have to remember to withhold your own taxes. So you have to get very used to setting money aside for certain specific buckets of expenses and savings. So yeah, we're a boat operator. So we have a salary that gets paid to my husband through the corporation.
Some fishermen pay themselves a salary through a corporation. Others do it differently. But I like the salary because I have a budget; it's a monthly budget even though income comes in chunks. I know exactly how much money goes out every single month because there are regular bills, and that's how I devised my system. So no matter what, we always make the minimum, and then whatever's left usually sits around in the business account or gets dispersed as needed. But that's how I do it.
MW: Do you have specific systems or processes to keep track of your money?
MM: I use Quicken for the personal side of things, and then I use QuickBooks for the business side of things. Although QuickBooks ended their desktop and went on to QuickBooks online. Right now I use the two, and I use the Intuit products. There are a lot of different products and apps that you can use out there for different things, but that's what I use.
MW: Do you use an accountant, or do you do the taxes yourself?
MM: We definitely use a CPA, and we've had three over the years. Those are very personal relationships that you develop over the years. If you're young and have your income coming in on a 1040, it's easy. You don't have a business income; you can do your own taxes. Just make sure you save out of the money that you earn to pay your taxes. I'm a big fan of paying taxes, not because I think it's great. I just hate stress, and I don't wanna have any letters from the IRS telling me I owe them anything. So we're always on top of it and take care of all that stuff. I find that to be relaxing even though it's a pain to pay.
If you are in the more complicated version of a tax form and you think you can do it, or you wanna use Turbo Tax or some of those online versions, then consider using a tax person because they actually keep abreast of all the latest tax laws. And a lot of times, you could be missing something, and you could be paying more than you need to. So even though a CPA can be expensive, if you find a good one that knows fisherman taxes or can understand what you're up to, then that could save you a lot of money in taxes. So, of course, I wanna pay my taxes, but I wanna pay as little as, you know, as reasonable as possible.
MW: This has been so helpful! What would I do differently looking back?
MM: I would fully fund my IRAs more. I would've been on a budget a lot earlier or a tighter budget a lot earlier. Just the budgeting is a process.
You have to start with anything; just get it down on paper.
However you do it, write down how much you think is coming in every month and how much is going out. And basically, throw numbers, and then you start to refine those numbers month after month because you start to understand. It's like, if I pay my home insurance once a year instead of every month, I'll get a discount. You start figuring out where you're gonna save a little bit of money here and there. Just refine and keep working on your budget.
Listen to the full interview on the Partners of Commercial Fishermen Podcast on Apple, Spotify, Amazon, iHeart and more.