Deckhand has taken logbooks as old as seafaring itself to the next level. The tradition of written logbooks has become more savvy due to innovations created to make commercial fishing easier for owners and operators. Deckhand is made by fishermen for fishermen. Truly the only customization engine of its kind in the world of logbooks- there are no other products that are currently configurable to the extent of Deckhand across multiple fisheries by utilizing the same exact platform.
Real-Time Data was founded in South Australia by commercial fisherman Tom Robinson and digital media designer Simon Dick. Robinson left the world of advertising in 2022 to build Goolwa Pipico, which is now the largest clam fishery in Australia. Dick and Robinson had the drive to solve problems for fishers and make their lives easier with state and federal reporting. This is when Deckhand Logbooks was born.
The team knew very early on that they had to come up with something innovative within Deckhand to be able to respond to the dynamic and varied requirements across fisheries worldwide. They built an "engine", if you will, that they call Catchflow. This engine can be used by developers with knowledge of local or regional fisheries to quickly build tailored user interfaces – what fishermen see in the wheelhouse for all different fisheries. This includes any data endpoint, regardless of where you're at in the world. All of this can be done without disrupting the core Deckhand development and product improvements.
Essentially, Deckhand looks the same in New Zealand as it does in the Gulf of Alaska, but the bells and whistles are tailored to what a specific fishery needs and wants. It is truly a product built for fishermen with a variety of ways to be used uniquely for all fisheries.
Deckhand can benefit fishermen and not just another tech innovation. It is essentially an all-in-one reporting, and maintenance log, all of which are crucial pieces to all fisheries. From traps, pots, longlines, trawl, gill net, dredge, and more this logbook is the easiest solution for all wheelhouses and wet, outside environments. Beyond reporting and maintenance, Deckhand can easily incorporate other aspects of fishing business information collection and recordkeeping, such as crew logs and contracts, accident reporting, Coast Guard log requirements, and more.
If you fish in more than one fishery, Deckhand allows the user to make a seamlessly switch between workflows. Deckhand logbook was approved as an official electronic vessel trip report (eVTR) application by the NOAA Fisheries Greater Atlantic Regional Office in early May of 2021. This means that federally permitted fishermen can use the software to collect data and submit eVTRs.
The data generated within the Deckhand app is stored locally on the device and can be backed up to user's iCloud account. The data required for reporting to federal and state regulators are encrypted and sent securely through servers to the necessary repository for only fishery managers to access.
Deckhand blends automation, such as GPS location, automatic calculations of specific fields, and always recalling simple things like vessel names, operator names, and permit numbers, along with a user interface that is the only one of its kind — these things all lead to a friendly experience where fishers only need a fraction of the time to enter logbook information compared to the days of paper.
Deckhand works just as well offline as it does online thanks to a ton of emphasis the team has put into ensuring the software manages (all in the background) the handling of spotty or nonexistent connections while at sea.
Kristan Porter, a commercial fisherman and captain of the F/V Whitney & Ashley out of Cutler, Maine, advocates for the digital logbook. "I have been using Deckhand on my fishing vessel for a while now. It makes sending my trip reports a breeze, and it's nice to know that I can use my data for so many other purposes, as well."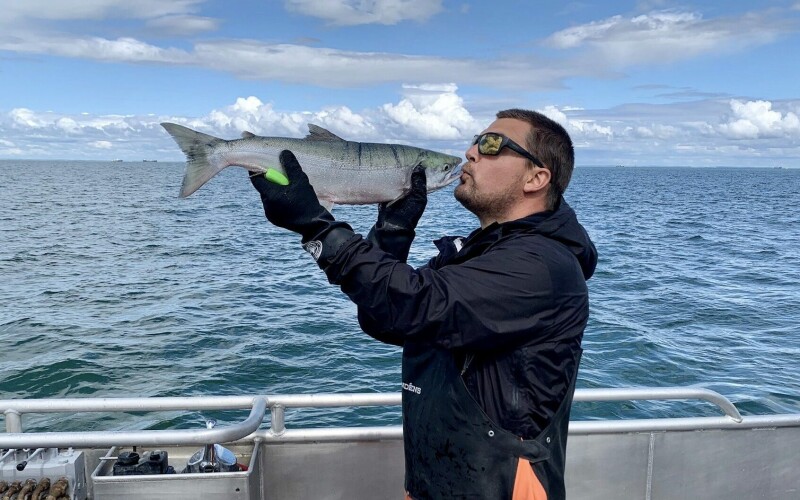 Lange Solberg, business development manager for Real-Time Data's North America operations, has expanded the Australian-originated business to commercial fishing markets in the United States and Canada, with firsthand knowledge as a third-generation fisher who runs the F/V Iceberg Point in June and July to catch sockeye salmon in Bristol Bay. He began fishing at the age of 12 with his father, and in 2013 took over the family business and has expanded the fishing operation since then.

Solberg has been able to incorporate his life on the water and passion for fishing into growing Deckhand and further the intersection of sustainable fishing with innovative technology. National Fisherman had the pleasure of connecting with Solberg about the benefits of this product for fishermen and able to ask some of the questions you may have as a commercial fisherman.

NF: Most commercial fishermen that are still out on the water are over the age of 45, so there is a concern with the graying of the fleet in all coastal regions of the country. How would you say Deckhand has worked for different generations of fishermen?

Lange Solberg: This is a really relevant question for us because we have received overwhelmingly positive feedback from that over-45 cohort of fishers. One fisher who thought that new reporting regulations were going to force him into retirement told us that the ease of use that Deckhand provides compelled him to stay fishing. He explained that it works just like fishermen do on the water.

NF: How has Deckhand been beneficial for state and federal regulators? How easy has this made it for both parties?

Solberg: It's important to remember that our main objective is to build and deploy a product that benefits fishers, first and foremost. However, regulators appreciate Deckhand, as well, in those markets where fishers are using it to submit electronic reports. In Alaska federal fisheries, for example, Deckhand is helping take the monkey off fishers' and regulators' backs alike given so many of the existing solutions for reporting are over a decade old and no longer supported. We're pleased to be able to offer top-notch support in these markets along with leveraging the nimbleness of the platform to quickly respond to feedback.

NF: Have you worked with fishing organizations or associations to integrate Deckhand into fishing communities?

Solberg: Yes—a fishing association was our first customer! The Southeastern Professional Fisherman's Association (SEPFA), in South Australia, worked with us to deploy Deckhand across more than 160 members who harvest southern rock lobster, and they continue to be one of our stalwart customers. We also have enjoyed strong relationships with several organizations on both coasts of the US. We view associations as integral stakeholders in the deployment, use, and support of this technology. There is a lot of opportunity for fishing groups to use our technology to enhance and further their own initiatives—whether related to data collection, increasing product quality and revenue, or having a stronger, collective seat at the table in the face of risks to the industry.

NF: How rugged and waterproof is the tablet?

Solberg: Very. The Deckhand unit is rated IP67 and MIL 810G with a plethora of mounting options using RAM Mounts solutions. The full solution (hardware and software) can be purchased with a growing number of marine electronics distributors on both coasts.


NF: Deckhand employees have ties to the fishing industries in almost all regions. How has it been using Deckhand for yourself, and for others that fish within the company?

Solberg: It has been great. One of our co-founders, Tom Robinson, has expanded the use of Deckhand down on the beach in South Australia where they harvest pipis (small clams). We've ended up building in some pretty cool features in that fishery's workflow which enable his team to track the translocation of undersized species up and down the beach, which has directly led to a quicker and more efficient harvest of legally sized pipis and increased revenue across the board. I also use Deckhand on my Bristol Bay boat, both indoors and out, to keep track of deliveries, RSW temperatures, and other information. I'm having a lot of fun integrating our tech — something I'm personally very proud of — into the rest of my electronics array in the wheelhouse.

NF: For the maintenance feature of the logbook, do you have to manually input the information, or will the logbook sync with other tech on your boat?

Solberg: Fishers can enter oil changes, filter changes, fuel ups, and engine/tank profiles in the maintenance section of some of our workflows, such as the one in the Greater Atlantic region. We're always looking for interesting hardware integration opportunities, as well, and already do integrate with Bluetooth-connected equipment in some markets.

To learn more about Deckhand Logbooks and how you can integrate it into your day-to-day on the water, check out their website or follow them on social media for updates.