Many railways in the South came about because commercial fishermen were challenged to find a railway close enough their home ports to get their annual maintenance and other repairs done. Instead of going distances, innovative fishermen built their own railways to haul their fishing boats, and they let their neighbors use it for hire.
A few of those railways are still around. Nelson's Boatyard in White Stone, Va., is an example. Frank Nelson is a commercial fisherman on Chesapeake Bay who decided to buy one of those small railways to service his own commercial fishing boats.
Recently, Nelson purchased the classic 50-foot bay deck boat Ella K., built in 1918 at Perrin, Va., by James Smith. The boat was built for commercial fisherman John Henry King who was the same owner from 1918 to at least until 1962, when he was still listed as owner in that year's edition of the "Merchant Vessels of the United States," published by the federal Treasury Department Bureau of Navigation.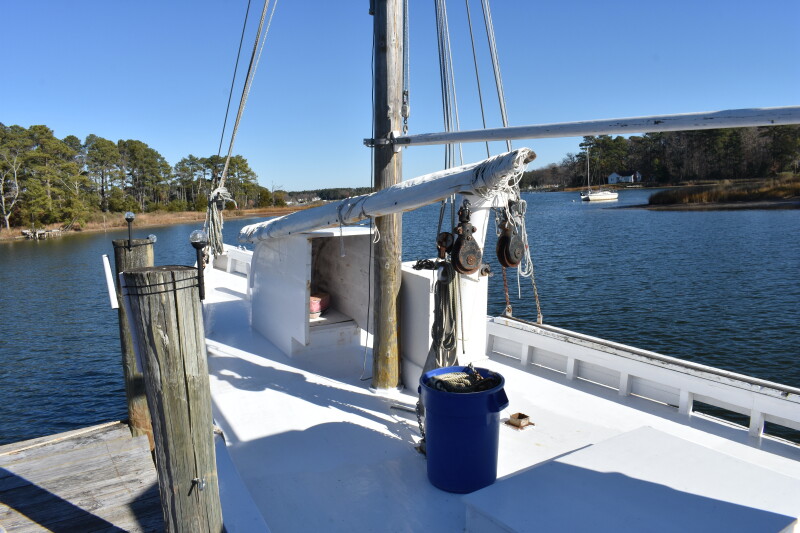 The boat has worked in the commercial fishing industry for 104 years, and Nelson plans to use her to dredge oysters in Virginia's public and private oyster fisheries. The boat is rigged to work two dredges at once. The crew is only allowed one dredge 22 inches wide in Virginia's public fishery but can use two 5-foot-wide dredges in the private fishery.
Ella K. was the last deck boat used in Virginia's winter crab dredge fishery, a fishery the Virginia Marine Resource Commission closed in 2008. Once there were thousands of deck boat working in Maryland and Virginia fisheries and now there are less than a half dozen still working.
At the yard, Nelson has painted all the top work and patched a deck issue on the Ella K. and plans to haul her in the coming months. The most recent hauls for the Ella K. have been by travel lift. Nelson is not sure his railway will handle the size and condition of the boat, so on the first haul he plans to have it taken out of the water on a travel-lift.
"She is a beautiful boat and has been kept in good condition; but she's old," says Nelson. "I'm going to tiptoe through this process until I know what I need to do to keep her in good shape and fishing."