Southern shrimpers, facing record low prices, choose to stay at the dock.
In places like Delacroix, La., shrimp fishermen are looking at $1.10 for 16 to 20 count brown shrimp. "Last winter it was $3 a pound before the inshore season opened. We done alright. Then it started dropping $2.50, that was okay," says local fisherman, Vernon Alfonso. "But now it's so low we can't go."
I had come to Delacroix to do an At Sea story, the plan was to go out shrimping with Ricky Serigne, but the day before I arrived, Ricky's son Ryan called. "Mr. Paul," he says. "I know you want to go out fishing and write a story, but we got a different story for you if you want it. Why don't you come on down, we'll boil up some shrimp and crab, and I'll invite some people over to explain why we're not going fishing?"
It boils down to simple math. "It costs me $600-$700 to kick off from the dock," says Delacroix fisherman Scotty Lopez. "Then I come in with $400 worth of shrimp. I can't do that too many times."
Brian Marks, a Houma, La., native and Louisiana State University professor who wrote his dissertation on global shrimp value chains, has come along to the meeting.
"I've seen the shrimp fishery here go through some tough times," he says. "The dumping back in the early 2000s, Katrina, the BP oil spill, but I think this is the worst. It's a commodity cost price squeeze," says Marks. "The cost of doing business keeps going up and the price of shrimp going down. There are all these independent actors around the world producing shrimp for our market, flooding it and driving down prices. There's too much shrimp coming into the country to support a decent price."
Digging into tables piled high with cooked crab and shrimp, guys like Acy Cooper, executive director of the Louisiana Shrimp Association, and St. Bernard Parish Councilman Fred Everhardt Jr. talk about the problem and their ideas about how to resolve it.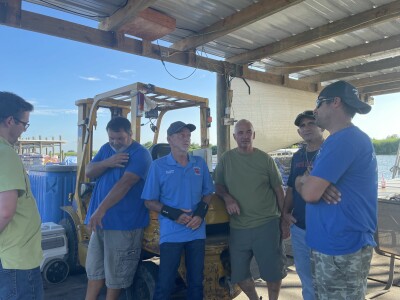 "We've been through this before," Cooper says, echoing Marks. "But not like this. This is the worst I've ever seen it."
Cooper holds up his thumb and finger a quarter inch apart. "We are this close to losing this industry," he says. "And when it's gone, you're not going to get it back because it's a taught industry, generation to generation."
In a bold move, Everhardt introduced and helped pass an ordinance that bans the sale of imported shrimp in St. Bernard. "We are banning these contaminated shrimp to protect the health and welfare of our community, and we have a right to do that," he say.
"The FDA is supposed to test imported shrimp for drugs and chemicals," Cooper adds. "They don't even test 2 percent and when they do they find antibiotics half the time. But they don't send it back. The ships just go port shopping and bring it in somewhere else. Same with the stuff from Europe, they test everything over there, and when they reject it for antibiotics residue, it comes here."
Everhardt notes that with a Walmart and other big retailers in St. Bernard, the ordinance will likely be challenged. "That's good. We'll be the first. We believe we have the right to protect our people. I think other parishes and states will follow us."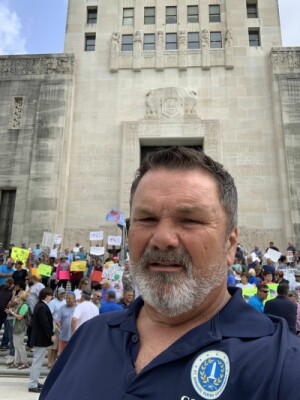 Marks points out that Everhardt's ordinance represents a groundbreaking effort to protect the local shrimp fishermen. "This is the first parish, the equivalent of a county, to ban the sale of imported shrimp and I think that's important," says Marks. "This has never been done before and if it stands it's going to be significant."
Cooper and Everhardt also hope to get some emergency support money for Louisiana's shrimpers. "The Mississippi Department of Agriculture pays farmers not to grow beef when there's too much on the market," says Everhardt. "Why can't our state help us? It's because there's so much shrimp out there, they don't need us."
Globally, investment continues to pour into the shrimp aquaculture industries in countries like India, Indonesia, Thailand that that export to the U.S., where the exchange rate turns U.S. dollars into big profits for growers.
Nonetheless, Everhardt points out the importance of local seafood to Louisiana's culture and economy.
"People around here love seafood, and they love their local seafood. We're the second largest seafood supplier after Alaska," he says. "But if we're going to survive, we need some help, right now."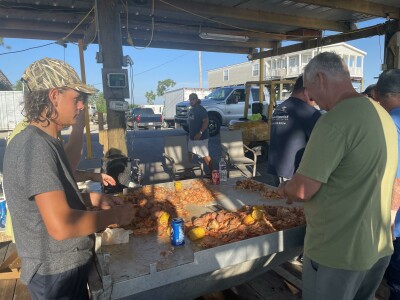 Marks points out to the group that at a certain point in history the U.S. participated in an international coffee production agreement.
"It was like OPEC is now," says Marks as Cooper, Everhardt, and others listen, nodding. "You get the shrimp producing countries together and basically decide on a floor price and who can produce how much, and how much can come into the U.S." The listeners like the idea, but it's a long-term solution and they face the imminent loss of their industry now.
Adding to the Louisiana shrimpers' trouble is the loss of infrastructure to the imports. "Foreign companies with all the profits from selling their shrimp here, then come back and buy up the cold storage facilities here and fill them with their shrimp," says Cooper. "So, what do we do with ours?"
Whether the ban on imports in St. Bernard Parish can survive court challenges remains to be seen. States and the federal government have lent support to the industry in the past, buying surplus shrimp and offering support to fishermen and processors, and the fishermen's calls for renewed action may yield results.
But even when chips are down, the communities of the coast of Louisiana have plenty of good shrimp to eat. "I just don't want to be down here catching it with a cast net," says Vernon Alfonso.