The spread of stony coral disease through the Caribbean and now into the Gulf of Mexico has prompted scientists to speed up a plan for managing the blight in U.S. waters, sharing scientific knowledge with other nations and preventing outbreaks in the Pacific.
"Atlantic-Caribbean coral reef ecosystems are in the midst of an unprecedented outbreak of a newly described coral disease, Stony Coral Tissue Loss Disease (SCTLD)," says a summary for the plan from the National Oceanic and Atmospheric Administration.
The disease affects at least 22 ecologically important shallow water reef-building coral species. It typically spreads quickly, causing rapid tissue loss and high mortality rates in affected colonies.
SCTLD was first reported on Florida's Coral Reef in 2014 and reports from the wider Caribbean began coming in early 2018. By April 2022 SCTLD was observed in corals along all of Florida's 360-mile long reef system, and was reported in 23 Caribbean countries and territories, including the U.S. Virgin Islands and Puerto Rico.
Coral reefs off U.S. coasts are home to 25 percent of marine species and are valued at $3.4 billion annually to the economy, and disease losses could have major economic impact on reef fisheries and recreational uses.
In September 2022 disease symptoms were documented at the Flower Garden Banks National Marine Sanctuary in the Gulf of Mexico, 100 nautical miles offshore of Galveston, Texas. The sanctuary contains the northernmost coral reefs in U.S. waters.
During an October telephone briefing for news media, authors of the NOAA report said stony coral disease is spreading with alarming speed across the Caribbean region. A key goal of NOAA's plan is preventing a breakout in the Pacific regions, they said.
"In Florida it's really become endemic," said lead author Caroline McLaughlin, national coral disease coordinator with Florida Sea Grant. The disease appeared in the U.S. Virgin Islands in 2018 and is still staging a large outbreak there, she said.
"I don't think it's possible to completely eradicate this disease," said Andy Bruckner, research coordinator for the Florida Keys National Marine Sanctuary. But in Florida there are signs of progress moving toward management of the disease, based on the resilience of local ecosystems with help of restoration efforts, he said.
When reefs are first infected, there is a high percentage of damage, but over time corals can begin to show some resistance to the disease, said Bruckner.
"Because it's a colonial animal part of that coral can survive," he said. Some reefs show less impact than others, so researchers need to better understand the underlying factors to make interventions successful, he added.
"We are seeing corals that are more resilient and resistant to the disease," said Bruckner. "The lessons that we're learning in Florida, we're trying to share with other countries."
Water quality problems in coastal ecosystems, including point pollution from known sources, like sewage wastewater outfall pipelines, and non-point pollution that washes off the land from myriad locations, are major stresses on corals, the report says. The report authors say unsustainable fishing practices put a lot of stress on coral ecosystems too, and the arrival of the new disease overlays on those earlier troubles.
Bacteria that trigger coral disease can be carried in ballast water from ships, so maritime traffic throughout the Caribbean is a likely vector. The dredging of ship channels at Port Everglades, Fla., has been considered as a possible trigger for outbreaks in southern Florida and the Keys region.
"What we do know is the bacteria involved in this may be transported by currents at the sediment level," said Bruckner. "One hypothesis is it could have been re-suspended by dredging."
However, researchers testing that possibility on corals in aquarium settings have not seen infections, Bruckner added: "So we don't have that smoking gun."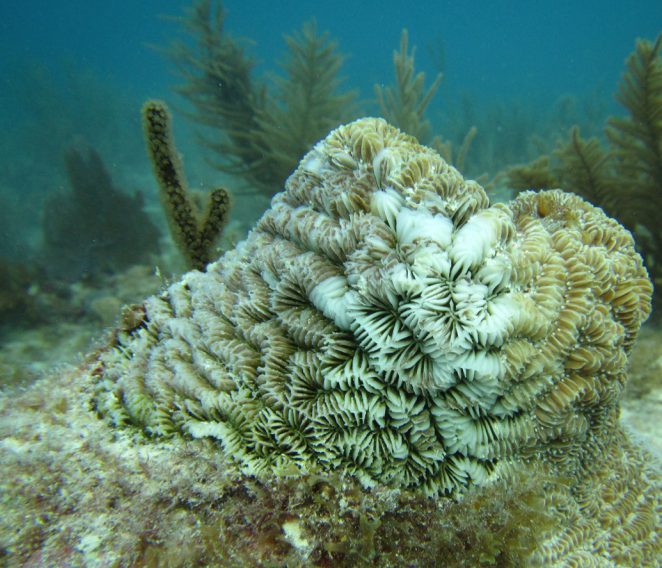 The NOAA plan lays out in detail a five-year program to deal with coral disease. Its keystone measures call for expanding response to the outbreak in the Atlantic-Caribbean region, and slowing the spread "by unifying regional efforts under a NOAA response framework that is national in scope."
The report stresses preparing to prevent and control outbreaks in the Pacific. Specific actions to control coral disease spread include:
- Working with the U.S. Environmental Protection Agency, the Coast Guard and state environmental enforcement authorities "to promote active enforcement of existing regulations as they pertain to ballast water discharge under current regulations and future regulations under the Vessel Incidental Discharge Act."
- Set up coral disease surveillance protocols to provide early warning and track how the disease is progressing. That should include "citizen science-based reporting systems to increase spatial awareness of SCTLD," with fishermen and others out on the water watching for outbreaks.
- Help other nations prepare to watch for coral disease outbreaks in their waters, and build the capacity for the U.S. and international partners to coordinate on coral disease surveillance, data collection, rescue, communications, and planning responses.