Working with the Gulf of Mexico menhaden fleet, NOAA researchers are working on a methodology for learning about potential sea turtle interactions with purse seines, using a combination of at-sea observers, drones and electronic monitoring cameras on menhaden boats.
One of NOAA's Gulf Spill Restoration projects – funded by the BP natural resources damage settlement stemming from the 2010 Deepwater Horizon explosion – the turtle study began in 2020 and conducted field trials with industry vessels over five days in October 2021, according to a NMFS summary Jan. 19.
Typically deployed in teams of menhaden steamers with 40-foot seine boats, the fleet harvests menhaden for processing into pet, aquaculture and livestock feeds, fertilizer and fishing bait. In the Gulf of Mexico that brings the possibility of protected sea turtles showing up in nets, but "there isn't a strong understanding of if and when sea turtles are caught," according to NMFS.
The project is developing methods for observing those fishing operations to better understand turtle interactions, and to identify how the industry can take voluntary measures to reduce and avoid those occurrences.
Working around a series of purse seine sets, the researchers tested how well observers, monitoring cameras, and drones were able to detect model sea turtles of various sizes in the nets. All three methods worked, and planning is underway for a pilot project when the next fishing season begins in April 2022, according to NMFS.
Electronic monitoring cameras were set up on the vessels, including a crow's nest position on the steamer F/V Wasp, according to a summary of findings completed in December.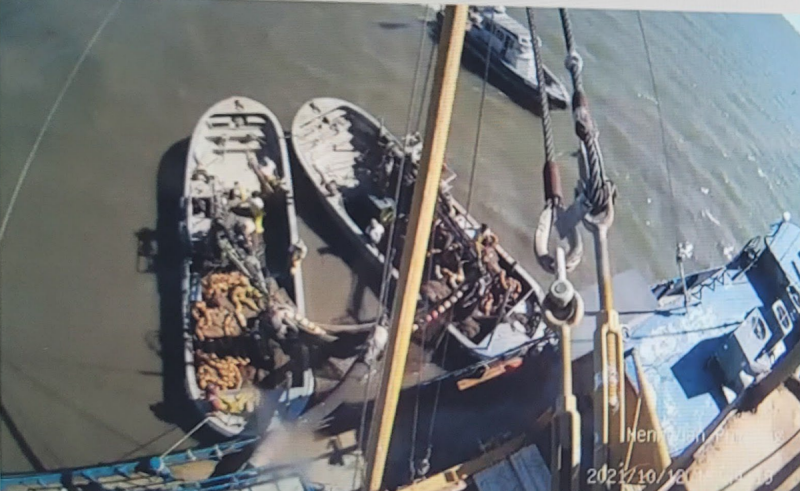 Planned with advice from fishermen, "the EM system was to be able to observe and record the pumping operation and net rollover, which is expected to be a primary location for observing any interactions with sea turtles that may occur," the summary notes. "An additional camera was also installed to observe the on-deck sorting grate and water discharge area."
The tests turned up some bugs, including sometimes poor image quality, sun glare, and power drop-offs that interrupted recording.
"Adjustments to camera settings, lens type, and location after the first couple of trips would resolve these issues when conducting operations over the fishing season," the researchers reported.
A team of two fisheries observers were contracted for the field studies, and watched operations from a steamer, a "run vessel" used for additional pumping and carrying of catch, and another boat as a third vantage point.
Watching operations from the steamer deck appears to be most effective, but there are safety issues to consider with observers transferring between boats, the report notes.
Drone video provided a vantage point for 13 sets. But using a remote aircraft carries its own safety issues of minimum altitude, keeping away from overhead of fishing crews, and NMFS requirements such as maintaining 100 feet minimum altitude when dolphins are present.
The researchers recommend "using a combination of human observers and electronic monitoring" for a planned pilot project over two fishing seasons.
"During the course of the pilot program, adjustments to camera systems/locations and human observer methods may occur as we learn more over the fishing season related to efficiencies, problems, etc.," the report concludes. "Drones will not be a primary component of the pilot phase due to operational limitations in flight time, altitude, and limited utility for observing the pumping/net rollover. However, we may pursue the use of drones during the pilot program on a periodic, opportunistic basis if possible."