"Seriously, dude. Who the hell puts crab in a Lowcountry boil?!" I'm sitting on the back deck of the Pour House in Charleston, SC, eavesdropping as the guys in front of me get into it. Onion, no onion. Beer, no beer. Good-humor insults of one's upbringing ensue.
The thing is, they're both right.
A Lowcountry boil consists of seafood found in the low-lying sea-level regions of the South Carolina coast known as the "Lowcountry." True to form, the name is also up for debate – you'll hear locals south of Charleston call it "Frogmore Stew" and "Beaufort Stew," each claiming the origin.
As with most Southern cuisine, the Lowcountry boil stems from the traditions of the enslaved. The Carolinas and Georgia enslaved people, the Gullah Geechee, harvested from the land and sea, using spices and traditional cooking methods that evolved into Southern, Cajun, and Creole cooking we know as "Soul Food."
Today, a classic boil in South Carolina will consist of white or brown shrimp (season depending), red potatoes, yellow corn, andouille sausage, and a mess of seasoning, like Old Bay. Regardless of how you make it, most will agree the best way to eat a seafood boil is elbow-to-elbow with family and good friends.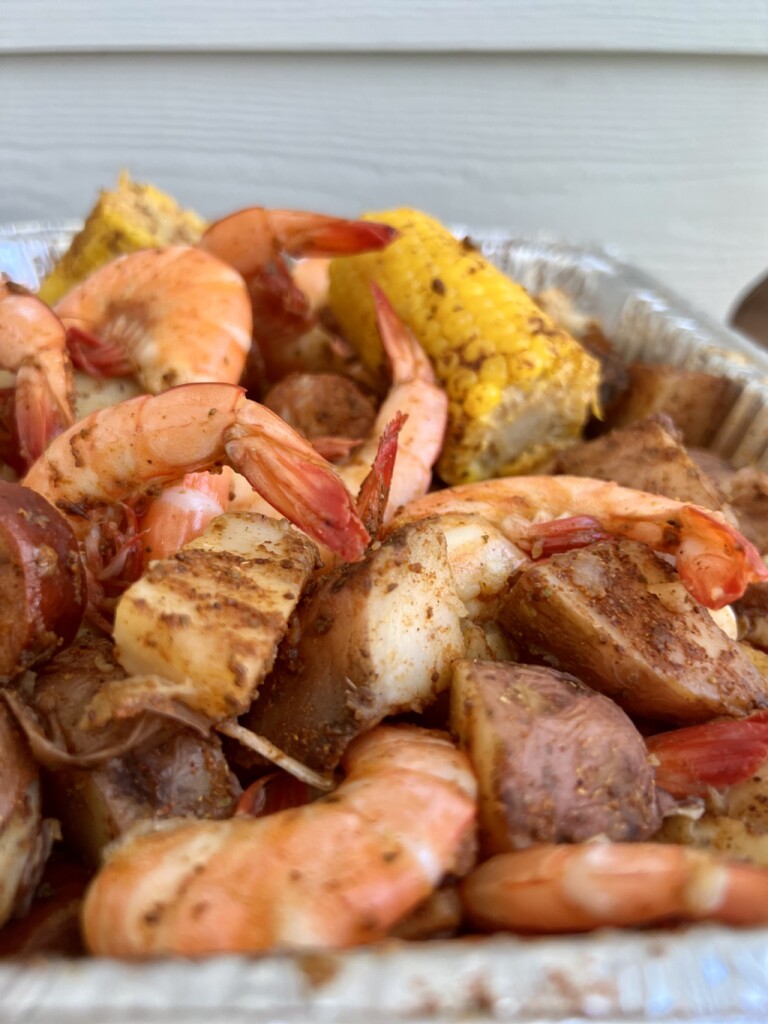 Classic South Carolina Lowcountry Boil
Serves 10-12
Ingredients:
3/4 cup seasoning, such as Old Bay. (Add more to taste.)
2 lbs. Red Potatoes
2 lbs. Andouille sausage
12 ears of fresh corn on the cob
4 lbs. Fresh raw local shrimp, shell-on. (It's a hands-on experience!)
Highly Contested Optional Ingredients:
• Any other local seafood like blue crab, clams, oysters, crawfish, mussels, crab legs, spiny lobster, etc.
• Beer. (Up to a quarter of a pot or whatever you have on hand. Non-alcoholic beer is another option.)
• Replace andouille sausage with kielbasa. Some people use a combination.
• 1 Large onion, roughly chopped
• Garlic cloves
• Hot sauce
• 1 Lemon, quartered
• 1-2 sticks of butter
• Drizzle with olive oil, butter, and/or a squeeze of lemon.
Directions:
Fill a large stockpot with 5 quarts of water or until the pot is half full. Stir in seasoning and bring to a boil over medium-high heat. Add potatoes and let cook until potatoes are almost tender (about ten to fifteen minutes). Add corn and continue to cook for three minutes. Add sausage and cook four minutes longer. Stir in shrimp and cook for two to three minutes until the tails curl and the shrimp turn pink. Drain and spread over a paper-covered table (newspaper or paper bags work great!). Sprinkle with extra Old Bay seasoning to taste. Take a picture before your hands get messy to capture the memorable feast. Cheers!
How do you make a seafood boil? What's the setting, and where are you from? Please share in the comments below!
For more tips from a partner of a commercial fisherman, visit meganwaldrep.com.

*Images of the "NC Lowcountry Shrimp Boil" made by Seaview Crab Company in Wilmington, North Carolina.