Hurricane Laura swept ashore early Thursday morning near Cameron, La., with 150 mph winds, but a storm surge that had been feared to reach 15 to 20 feet appeared to achieve about half that height, said Gov. John Bel Edwards.
Lake Charles, La., a center of the Gulf Coast petrochemical industry, suffered heavy wind and water damage as the storm surge pushed up to 30 miles inland from the gulf, funneling through ship channels and the Calcasieu River. Around 10:30 a.m. a large fire broke out at an industrial site just outside the city, prompting a warning from authorities for people to seek shelter.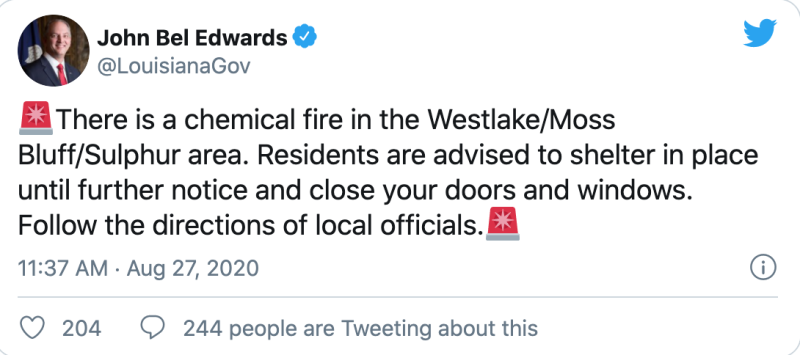 At landfall around 1 a.m. Central time a tide gauge at Calcasieu Pass recorded a peak water level of 11.07 feet above mean low-low water, far less than the peak surge height forecast by the National Weather Service. Still, Laura was the first hurricane to bring 150 mph winds ashore in Louisiana since the Last Island hurricane of 1856, according to hurricane meteorologist Philip Klotzbach at Colorado State University.
The speed of the storm's arrival may have lessened the surge buildup, but the center of Laura also shifted slightly east as it arrived onshore. That put the brunt of the forces on the sparsely populated marshlands and islands east of Calcasieu Pass, where state officials said the full impact of the surge has yet to be assessed.
The first death reported from the storm was of a 14-year-old girl who died when a tree struck a house in Vernon, La. About 150 residents were reported to have stayed in Cameron despite emergency managers urging them to evacuate.
With storm conditions continuing in much of the state and flooding expected to linger, search and rescue teams may not reach some areas until Friday or Saturday, according to state officials.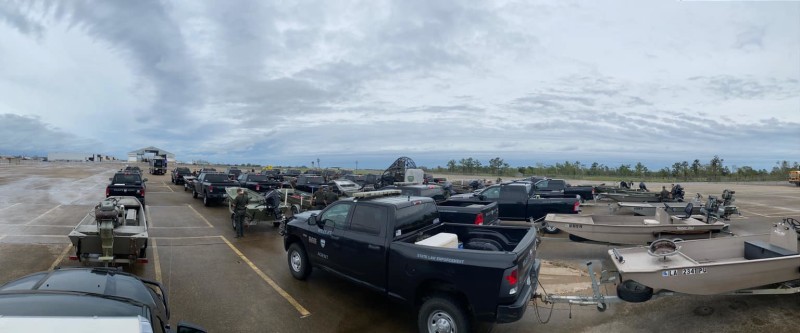 The Gulf of Mexico fishing fleet scrambled to secure vessels as Laura rapidly intensified Tuesday into Wednesday, approaching category 4 status by afternoon with peak winds rising to 145 mph. Battered by past storms – including the catastrophic Katrina and Rita 15 years ago – fishermen braced for consequences to the fisheries beyond immediate damage.
"I've seen some come and take it all out with it," Acy Cooper, president of the Louisiana Shrimp Association, told television station WGNO in New Orleans. "We just struggle the next year."
In days ahead, Laura will lose strength to a tropical depression, curving northeast and over eastern Kentucky by Saturday morning, according to the hurricane center. It could then emerge again Sunday over the Atlantic, resume storm strength, and barrel across the New York Bight and New England waters to end up over Newfoundland Monday, according to the center's modeling predictions.