Resilience defines fishermen who live on Louisiana bayous outside the protective levies.
We were rolling down the flat miles, driving just a few feet above sea level into the last parishes: St. Bernard, Lower Plaquemines.
"It's a Houma Indian word, Plaquemines – it means 'persimmon,'" says professor Brian Marks, a geographer at Louisiana State University who has spent years studying the impacts of farmed shrimp imports on these communities.
"This is the line," he says as we pass the levee and a flood barrier that can be closed across the road. "Beyond this you're on your own." The houses sit on pilings 30 feet in the air, in expectation of the next hurricane. What can be moved is ready to move.
"You see that wharf and office?" asks Brian. "It all comes apart and goes on trailers that they can move to the other side of the levee. When there's a storm coming the whole highway above the levee is lined with everything that can be moved."
It's a sunny day and the Mississippi Delta is "shining like a National guitar" as the Paul Simon song "Graceland" goes. "Where we're going ain't Cajun country," Brian says. "They pronounce Delacroix, Delacrow. Don't try any of that French stuff down here. A big part of the population is descended from Canary Islanders that the Spanish planted here when they were trying to colonize it. And there's Croatians, the Vichs we call them."
We start to see the boats, mostly 40-odd-footers rigged with skimmer nets. There are smaller crabbers, and oyster skiffs. It's duck hunting season and a few skiffs festooned with marsh grass for camouflage make their way along the bayou. A couple of young guys are cleaning crab traps and I pull into a driveway to talk to them.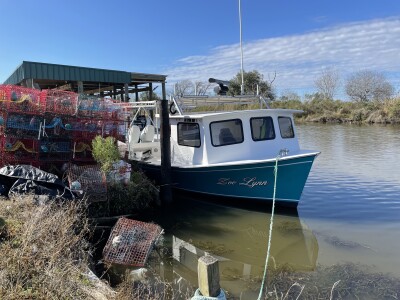 "Private property," I hear one say. Once we get out and introduce ourselves as industry supporters, the conversation shifts. "I heard there weren't so many young people in the fishing industry," I say. "Plenty down here," they say. "That's all there is to do." We chat briefly about the crabbing before they start up two compressors and resume washing traps.
We drive to the very end of the road, and on the return see some activity. So we stop. An older man is standing under a roof on a wide wharf. Alongside the wharf a skimmer boat idles. "You going out?" I ask. "No," he says. "Just running the engine a little bit." He introduces himself, Ricky Serigne.
As Brian says, not a French name. "No," says Ricky. "My family is from the Canary Islands. I guess it's a Spanish name." Ricky grew up in Delacroix and guesses he's been fishing since he could stand up on a boat.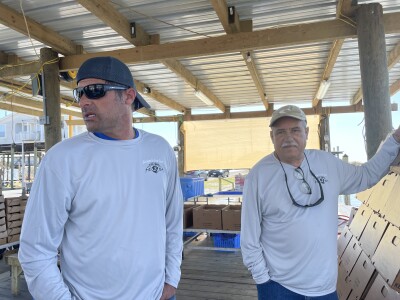 A younger man, in his 40s, approaches wearing a Serigne Live Bait T-shirt like Ricky's. "This is my son, Ryan," says Ricky. "We run this place together." It turns out that the Serignes own the wharf. Ryan buys crabs, and Ricky runs the 43-foot shrimp boat, the Miss Heidi, idling alongside. The fiberglass boat came from a mold up the road, and there are a lot just like it along the bayou bank.
"This is the first one," says Ricky. "The mold's still up there. It's in the weeds. Nobody's built one in a while."
The boat is 18 feet wide and sports two frames, one from each side. Each frame spreads a net just below the surface on either side of the boat, and each has a shoe on the outside lower corner to ride on bottom. "You can run them as deep as you want," says Ricky.
A C9 Cummins 400-hp main with a 2.5:1 Twin Disc gear drives the boat. Ricky acknowledges that 400-hp is more than enough power to pull the light gear. He shrugs. "It's what we got." Electronics are minimal: a Furuno radar, Simrad plotter and VHF radio. Ricky does not have a sounder. "We just feel our way along," he says. His family has been fishing the bottom around Delacroix for four generations, he knows it well enough.
But the Serignes have seen many changes. "We seen a lot of land disappear," says Ryan. "When my father was young you couldn't pass two boats the size of the Miss Heidi up through here. Where you go up over the bayou now and see all that water, that used to be all land."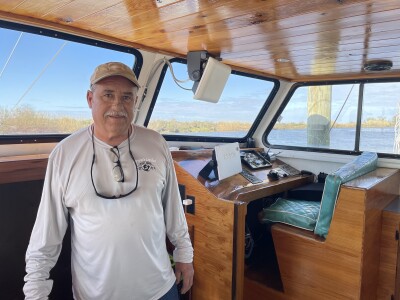 The denizens of Delacroix survived hurricane Katrina in 2005 and the BP oil spill in 2010. When asked which was worse, the Serignes don't even think about it: "Katrina," they say in unison. "BP, it was good and bad, they shut us down, but they supplemented the money with food and all," says Ryan. "That was the good. But Katrina, it leveled everything here," he says, sweeping his hand across all we could see. "Everything was gone."
Now they are fighting the shrimp imports that Brian Marks has spent years studying. "Prices are terrible," says Ryan. "But at least we had the volume. That made up for it." He takes out his phone and swipes through videos of his father's boat deck loaded with shrimp still snapping their tails.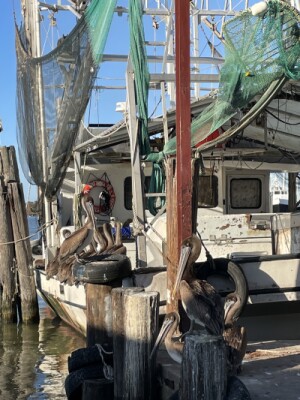 "And we had the hold filled too," Ricky says, pointing at the video. "On that day we had 20,000 pounds." It looks like a good life for those who have adapted, and the Serignes have learned how to endure what mayhem the markets, weather, and man-made disasters bring them.
On the way back up along the bayou, Brian points out a sunken skim net boat, its frames sticking up out of the water. "That one didn't make it."
At St. Bernard we turn south again and head down to Bohemia. "This is where the majority of the black fishermen are," says Brian, but all is quiet on this side of the of the river. From Bohemia we take a ferry across the main channel of the Mississippi. It's a short ride, but Brian mentions an incident from 1976 when a Norwegian tanker hit and capsized a similar ferry upriver, killing most people on board.
On the west side of the river, we drive south to Venice, where the Mississippi ends in the Gulf of Mexico. Shrimp trawlers and skimmers line the docks of the big harbor. "Those are the Vietnamese boats," says Brian, pointing to a row of trawlers adorned with perching pelicans. "Do you want to talk to them?" Brian speaks Vietnamese.
It's been a long day, and I'm hungry. "Nah," I say. "I hear a shrimp po'boy calling my name."