The latest death toll in Louisiana stands at 26, with 11 deaths reported by New Orleans officials Wednesday, mostly persons aged over 64 and attributed to excessive heat, along with two from carbon monoxide poisoning from portable generators.
The storm's swath across to the Mid-Atlantic states and New York City ultimately claimed 82 lives, most from flooding in urban areas and roadways.
Power provider Entergy restored electricity service to most of the city by Thursday, relieving weeks of daily heat indexes over 100 degrees. But conditions in New Orleans were improving faster than the hardest-hit southeast parishes, where power was not expected to return until the last days of September.
With heavy damage to vessels and infrastructure, the region's fishing industry must wait for repairs to locks and bridges across waterways. Without power docks and shrimp plants will remain idle for weeks, fishermen say.
The Coast Guard surged units and personnel from all over the country into southeast Louisiana to assess damage and environmental threats, with overflights and teams on the ground.
As of mid-week the Coast Guard and National Response Center had logged more than 2,000 reports of pollution, and the Coast Guard had been able to assess 826 reports.
In 454 of those cases, the Coast Guard was supervising mitigation efforts by responsible parties, and still investigating 86 reports, according to the Coast Guard.
Of the remaining reports, 197 were closed out or transferred to other authorities, and 88 were unverified without evidence of pollution on site.
"Coast Guard teams throughout the area are working overtime to respond to every report that comes in," said Capt. Kristi Luttrell, the federal on-scene coordinator for the Coast Guard's Hurricane Ida response. "We take each report seriously and are responding to ensure we mitigate threats to the environment."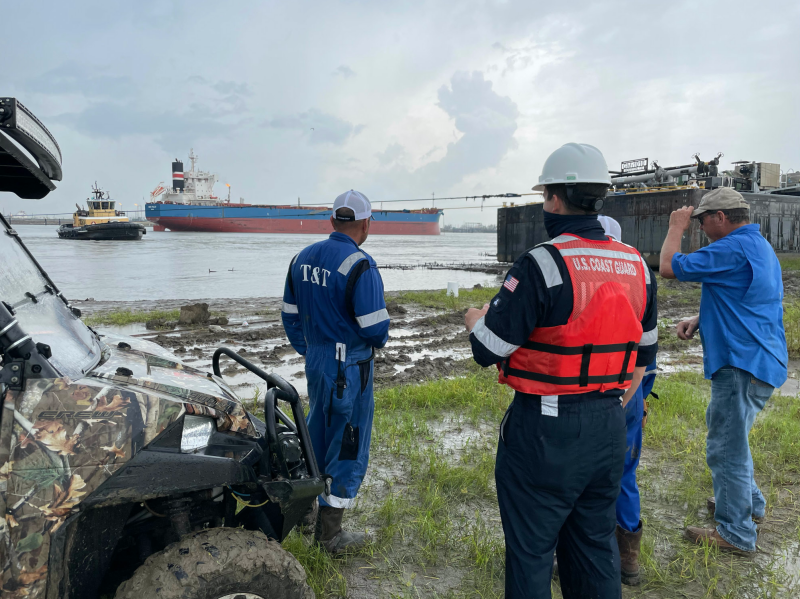 Coast Guard crews include the National Strike Force, Unmanned Aircraft System Teams, and personnel from Coast Guard Sector New Orleans and Marine Safety Unit Houma all conducting hazard assessments to ensure waterways are safe for marine traffic and "that potential pollution hazards are expeditiously identified and mitigated," according to a statement.
The pollution investigations ballooned after overflights Sunday, when a Coast Guard HC-144 crew flew over Bay Marchand south of Port Fourchon and the Enterprise Offshore Drilling rig in the Gulf of Mexico.
They did not see active discharges there, but spotted a wellhead belonging to S2 Energy discharging oil about five miles away from the Bay Marchand site. The S2 Energy facility reported they secured the wellhead and stopped the discharge, the Coast Guard said Sunday.
A day later, the teams were faced with prioritizing 350 reported incidents, and over 2,000 by mdi-week. NOLA.com reported the post-Ida pollution reports appeared on track to far exceed incidents after Hurricane Katrina in 2005.