Casey Streeter lost everything to the monstrous winds and storm surge of Hurricane Ian when it roared over southwest Florida.
His Island Seafood Market in Matlacha? Gone. Home in St. James City on Pine Island? Gone. Retail market on Sanibel Island? Gone. It's pretty much the same for most of his commercial fishing colleagues and neighbors in the region.
"We are devastated here," Streeter said. "Four out of five fish houses in Pine Island are gone. The shrimp fleet is gone. Nowhere to unload. No docks are here. Everybody went out of business at one time. We worked ten years and it was gone in ten hours. We're dealing with impossible things."
Despite his overwhelming losses, though, Streeter vows he's not giving up on the commercial fishing industry here. He's got four grouper boats that got tossed around that he's hoping he can fix, and a seafood truck he's been using to ferry food, ice, and other supplies from the mainland to Pine Island, now that a temporary bridge has been erected.
"We're gonna build back, " Streeter declared. "This is the next chapter of our island. It's important for our area to have a fishery. It'll be the people here that bring it back. We're not going to let this go away."
Nick Ruland is not ready to throw in the towel either. His restaurant and dock on Fort Myers Beach were badly damaged, along with three of six fishing boats that harvested grouper, snapper and stone crab. He's waiting for power to be restored and corpse-detecting dogs to complete their searches of the area before beginning the long process of rebuilding.
"I'm going to do it one way or the other," he said. "I can't really guess on when. I hope to be partially open within a month."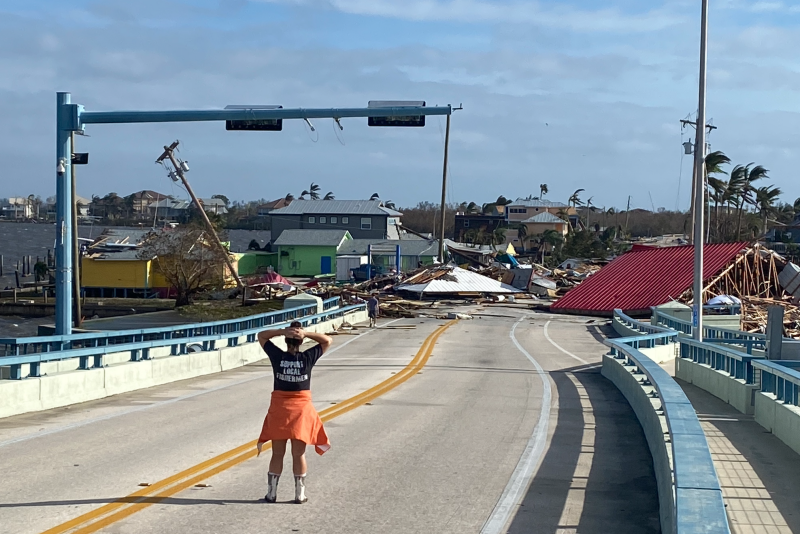 Help could soon be on the way.
The Florida Fish and Wildlife Conservation Commission's Division of Marine Fisheries Management says it will conduct a rapid damage assessment and anticipates making a request for a federal fisheries disaster declaration from the U.S. Secretary of Commerce.
It's not known exactly how the relief program might work, but Andrew Ropicki and Scott Jackson of Florida Sea Grant explained the possibilities in a blog post. They wrote that after Hurricane Michael struck the Panhandle in 2018, the program "included funding in the form of direct payments to impacted charter/for hire operators, aquaculture farmers, commercial fishermen, and commercial wholesale dealers, and reimbursements for improvement of uninsured repair to wholesale facilities and marina facilities."
However, Ropicki and Jackson cautioned, "it is important to note that the fishery disaster declaration and relief assistance program process involves multiple steps and does not provide short-term relief (payouts usually occur several years after the disaster). Industry members in need of immediate funding should look to other programs."
Helping displaced fishermen locate those resources, the Gulf of Mexico Reef Fish Shareholders' Alliance has posted a list of agencies, organizations and services on its website www.shareholdersalliance.org. The page is being continually updated.
While most of the post-Ian recovery operation has focused on southwest Florida, that region was not alone in experiencing damaging impacts from the storm.
In the Keys and South Florida, the spiny lobster fishery took a big hit.
According to Bill Kelly, executive director of the Florida Keys Commercial Fishermen's Association, Ian's 120-mile-per-hour winds may have destroyed up to 80 percent of the 50,000 to 70,000 lobster traps deployed in the Gulf north of the Keys approaching the height of the harvest season.
Moreover, Kelly noted, rogue storm surge waves that battered the Miami area moved or destroyed an estimated 20,000 more traps. He said the storm's aftermath likely will disrupt the start of stone crab season, set to begin Oct. 15. Keys fishermen, Kelly wrote, will join in requesting an economic disaster declaration from the feds.
As if the current misery weren't bad enough, Ian is expected to leave some harmful environmental impacts in its wake.
Early reports from the Florida Department of Environmental Protection say southwest Florida' Piney Point waste disposal site storing millions of gallons of phosphorus- and nitrogen-laden water from a defunct fertilizer plant seems to have held up to Ian's battering.
But fishermen, environmentalists and others are now worried about contamination of local waters from mountains of hurricane debris, discharge from leaky sewers and septic tanks, and other storm runoff.
"There may be some long-term impacts on some of the stocks that rely on inshore waters for spawning and development (e.g. gag and red grouper).....so we'll need to keep a close eye on those stocks. They're already at dangerously low levels," Eric Brazer of the Reef Fish Shareholders' Alliance wrote in an email. "We'll also have to keep a close eye on red snapper – a stock that was once thought to be effectively invincible and is now showing declines."
Red tide also is a big worry. Fishermen still shudder at the devastation wrought by more than a year of the widespread toxic bloom that killed fish, sea birds, and manatees following Hurricane Irma in 2017.
Captain Eric Schmidt, a 40-year veteran Fort Myers Beach charter and commercial fisherman, said he, for one, has had enough.
"I'm in shock. People throw around the term 'war zone'. Destruction everywhere. We don't have bullets flying, but it looks like Ukraine," Schmidt said. "It's gonna take five years. There's nothing left...I mean nothing. I'm out of a job. I may relocate to another part of the state."