It's hard to peg exactly when the average commercial fisherman first hauls in their first catch. It's a family-dominated industry, after all, and everyone knows someone who's been fishing since they were just out of diapers.
But if we're talking about when a career starts in earnest, generally federal labor law and state labor law agree: You can start working when you're 14, given certain carve outs for the amount of hours you can work and making sure you go to school. Once you're 16, you're basically free to work as much as you want, though you need a waiver from the Commission of Labor in Alaska, for example, if you want to work all seven days in a week.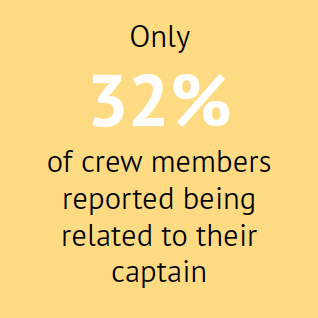 For the purposes of this chapter, however, we'll assume that not everybody starts out on Mom and Dad's boat and that the data we captured in our surveys tells a relatively accurate picture: For those people currently captaining a boat, they report an average age of 60, with 28 years of captain's experience and 17 years of crew experience before that.
Which makes sense: 60 - 28 - 17 = 15. Okay, maybe everybody really does start out on Mom and Dad's boat!
However, our data also says that only 32% of crew members reported being related to their captain. Anecdotally, this would suggest that many captains consider their early years on the boat as relative children "experience" and that some of the crew who responded to the survey are the sort of crew who work seasonally and travel to places like Alaska for work for a few years before moving on with their careers.
But there's no doubt we start them young in fishing: One 21 year old reported having 12 years of crewing experience!
For those not born into it, the methods for entering the profession are relatively straight forward, and there is generally high turnover due to injury and greenhorns deciding the profession just isn't right for them, even if the Bureau of Labor Statistics says the profession is shrinking slightly over the next decade.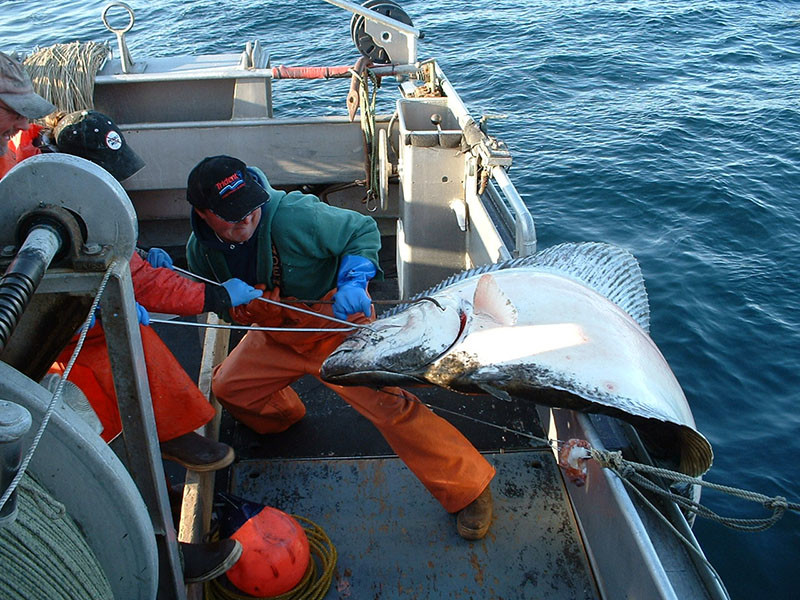 How do you find jobs?
• Online job boards: Some of the more popular ones include AlaskaFishingJobs.com and the Alaska Department of Labor' job bank, but it's also true that the regular job sites like Monster, Ideed, etc., all have commercial fishing jobs as well.
• Walk the docks: Just about everyone agrees that greenhorns can find work by showing up and looking for work amongst those readying up for the new season. Ask questions and don't be afraid to look dumb.
• Contact local associations that organize commercial fishermen: There are many unions, associations, and government agencies that are dedicated to promoting commercial fishing. Many of them will have job boards or will have resources to point you to a local job source. You can find a great list here.
How are you paid?
As with any profession, those early years generally involve training and — quite literally — learning the ropes. You should expect that you might not get a "full share" on your first voyage. Many greenhorns earn a "half share" for their first voyage. The most common way of compensating fishermen is via a percentage
of the value of the landed catch, after expenses are backed out. Essentially, each deckhand gets a pre-determined share of the profit, after the costs of fuel, ice, food, lubricant, and other potential fees are backed out. Make sure you discuss pay with your captain and make sure you're offered and sign a "crew contract For sure, there are other forms of compensation. Some vessels that return to dock every night will pay a daily rate. Others will pay an hourly rate. Rarely, you'll be offered a salary. Most important is to understand what you're being offered so there's no confusion or hurt feelings after the fact. There are many stories of disappointed younger fishermen who didn't get the giant cash infusion they were expecting at the end of a season.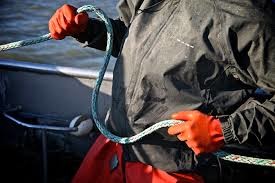 What do you need to get started?
Generally, you don't need to spend a lot of money gearing up. Your captain will tell you what you need before day one, and that might include:
• Bib pants to keep you from getting too wet on deck: $50-$150
• Deck boots: $75-$100
• All-weather jacket: $100-$200
• Gloves: $10-$50
And there a variety of other things like sunglasses, hats, etc., that any thinking person would have on hand for an all-weather, outdoor profession.
You obviously also need to be in good shape, be free of serious medical conditions, be able to stay away from family for weeks at a time (for certain gigs), and be able to follow directions closely. Listening skills may be most important for a safe and productive first voyage. Be heads up and ready to pitch in.
Finally, if you have a familiarity with diesel engines, that will likely go a long way in getting you ahead on the boat. Being handy, able to fix things in a pitch, and a good problem solver are always important for career success in a hands-on profession, but especially so on the open water.