It's that time of year again — the ultimate test of fishing skills is back at Pacific Marine Expo. The Fisherman of the Year competition pits fisherman against fisherman to determine who will take the title for 2022.
The contest consists of three heats, each measuring participants' dexterity in key fishing skills: the ability to put a rim-racked net back together in a flash, quickly and accurately tie a series of knots while blindfolded (you never know when you'll find yourself in a bind on a moonless night), and splice a line.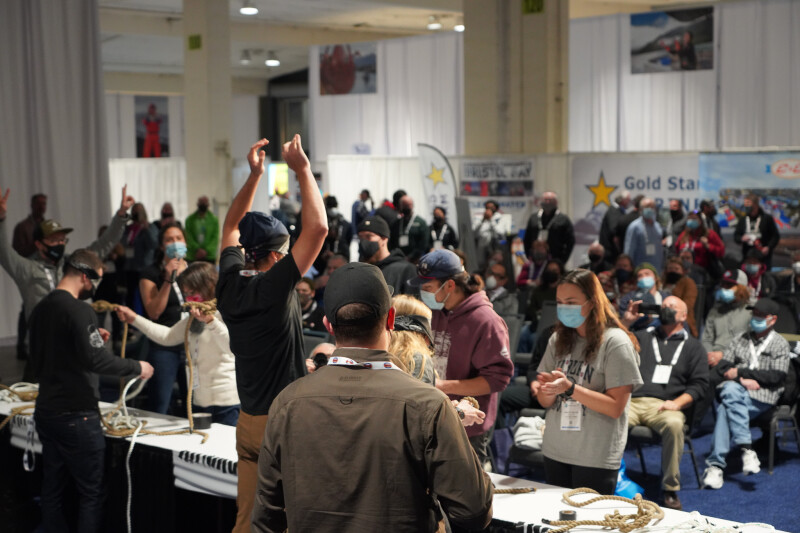 The winner of each heat gets a prize and the opportunity to take on the other winners in a final test: donning a survival suit in record time. Whoever can get the suit on first — zipped up with the face flap closed — wins the title and bragging rights! This year's winner will receive a Yeti cooler stuffed with swag from our exhibitors.
Do you think you have what it takes in Seattle? Sign up for the contest by clicking HERE
*Competition takes place at Main Stage at 11:30 AM on Saturday, November 19th.
Be a part of the once-a-year industry event that brings commercial fishermen and mariners from across the Pacific Northwest to do business, get industry updates, and connect with old and new friends!
Pacific Marine Expo November 17-19, 2022 | Event info: https://www.pacificmarineexpo.com/event-information/