March 30, 2020
Furuno redefines a real-world view for fishermen with the 3D Sonar Visualizer F3D-S
Furuno
Three-dimensional viewing and mapping of environmental data is transforming many industries, including helping commercial fishermen find their next catch. Furuno, which has been modernizing fisheries since the 1930s, has created a new product that gives fishermen a whole new concept of a real-world view.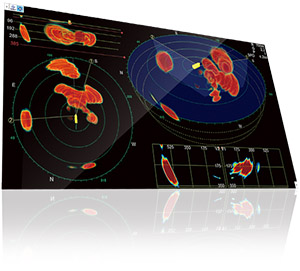 Developed recently as an add-on to Furuno's FSV25 commercial fishing sonar, the 3D Sonar Visualizer F3D-S came to market in late 2019. The device shows fish and sonar info in three dimensions, making it easier for fishermen to interpret and act on that info.
The F3D-S complements the power of Furuno's 2-year-old FSV 25, to provide a more thorough view. It uses the hull unit of an existing sonar but then processes the information in a unique way to show fish, peaks and seafloor data in a 3-D real-world view. Matt Wood, of Furuno's U.S. division, said the new 3-D feature gives fishermen a much stronger tool.
"One of the big distinctions of omni sonar is that it's not rotating around in a circle but is instead pulsing in 360 degrees all the time," Wood said. "The F3D-S ties together all the senses from the sonar and projects it in 3-D. The fisherman is actually seeing the sonar image in 3-D."
That image is that much more actionable because it is in 3-D. A greenhorn can get its meaning about as well as an old salt. The new sonar package is more precise in the info it displays, which is key for commercial fishermen.
"If you put a better tool in the fisherman's hands, that increased effectiveness means the ability to move the vessel, catching more fish, faster," Wood continued. "That's kind of the name of the game."
Because data values and video can be recorded with the new package, info like fish caught, catch effort, and where the net was set can be gauged over time to inform future decisions.
"This kind of visual presentation is new to the industry," Wood says.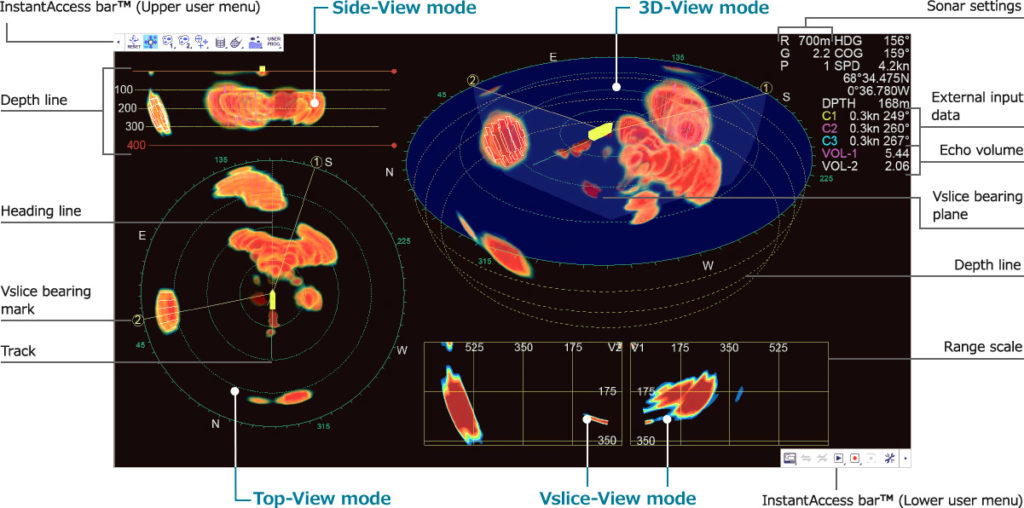 Seeing Is Understanding
While fishermen of any experience can use the product, the difficulty in comprehending a 2-D sonar image, as compared to a 3-D sonar image, separates the greenhorn fisherman from the experienced one. The correct interpretation of that 2-D image comes with practice and time.
"We've found the entry-level fisherman struggles to put together the Z-axis, Wood said. "That means struggling to comprehend how deep the fish are."
Part of that understanding can be derived with a feature of Furuno's latest sonar: the ability to remove the seabed from a 3-D view. Also with the new 3-D view, the surface and middle layer fish can be simultaneously observed. So more accurate information engenders wiser decisions.
As an add-on only for the FSV 25, the F3DS is basically software in a computer. Source data and video is used to create the 3-D image.
A longtime leader in sonar tech, Furuno aims to help "by giving visual form to that previously invisible. While Furuno's main manufacturing facilities are in Asia, it is stocked for any surge in demand.
"We carry inventory in two North America locations to meet demand," said Wood.
Learn more about 3D Sonar Visualizer F3D-S or many other marine equipment products from Furuno.