Boat work was a bit slow at Hansen Boat Co. in Everett, Wash., this summer, but no longer.
"We've got to run like crazy to catch up,' says Rick Hansen, the shipyard's vice president. In November two crabbers were tied up to the Hansen Boat Co. dock: the 130-foot Kari Marie and the 120-foot Sea Ern. With crabbing season cancelled, the boats had been salmon and herring tendering.
The Kari Marie was at Hansen's yard to get its bottom painted, a circulation pump in the fish hold repaired and rusted steel plating on the wheelhouse redone. On deck, having gone through a summer of tendering, the aluminum deck boxes, pumps and sorting tables needed minor repairs and modifications. They "get banged up pretty good," says Hansen.
The Sea Ern, which Hansen says, is" one of the older crab boats," is also one of the "original house-aft king crab boats." It had a small walk-around house that the shipyard pulled off in the early 1990s and replaced with a two-story structure consisting of a steel lower house and an aluminum upper house.
"It still looks great," says Hansen. "It's pushing 30 years old."
The Sea Ern had a damaged radio mast that needed to be replaced and two auxiliary Caterpillar engines that are being replaced with two new Caterpillar engines. "The auxiliaries are 30 years old," says Hansen, "and been rebuilt too many times, so we're pulling out the older Cats." There will also be new mufflers and the condenser pumps are being rebuilt for tendering work.
While that was going on, the Sea Ern was also waiting for a paint job. "When we get room in the dry dock, we'll put him in and do the paint job," says Hansen.
In the dry dock now is the 105' x 42' trawler Royal American, which fishes for pollock in the Gulf of Alaska and Bering Sea. Hansen Boat built the Royal American in 1980 and sponsoned it in 2005. The Royal American was hauled for a complete paint job, deck work and rebuilding of its Caterpillar engine.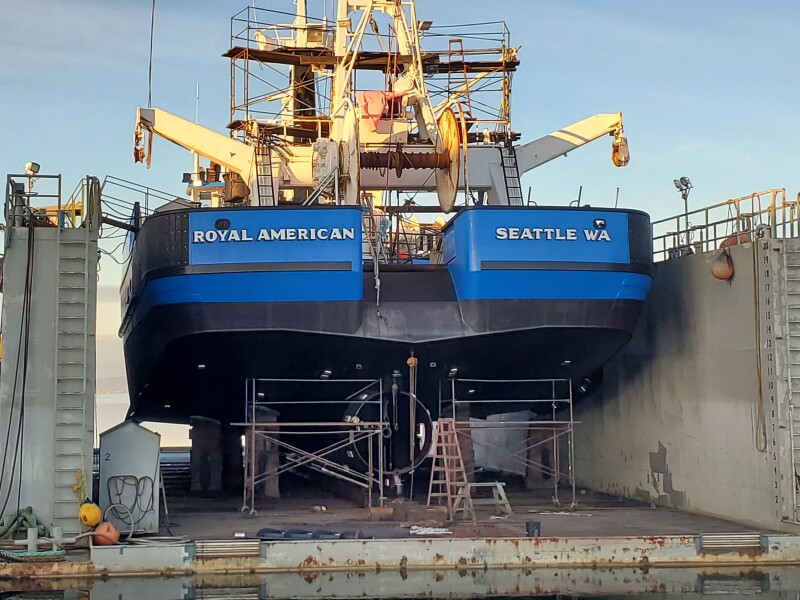 NC Machinery, Seattle, was the subcontractor for the engine work, which consisted of tearing down the main Caterpillar engine to the bare block and rebuilding it in place. A new crankshaft from Europe was installed.
Three years ago, the deck area where the net breaks over the top of the lazarette and then onto the deck when being hauled aboard was "getting thin," says Hansen. Temporary patches were welded down.
This time a 12' x 12' section of the deck was removed and the framing below was beefed up before a new 3/8" steel deck plate was welded down. Hansen says, "That will give it another 30 years' worth of wear." In addition, the Royal American's two fish holds have to be blasted down to the bare metal and repainted.
In the meantime, the Odin, a longliner and seiner was waiting for dock space. "As soon as we get a window, he'll be in," says Hansen. "The next couple of months there's plenty to do."