Paul Hebert, one of the stars of the TV show "Wicked Tuna," can't say enough good things about his new boat, the Wicked Pissah, built by H&H Marine in Steuben, Maine.
"I have never been on a more solid hull in my life," says Hebert. "And I've been doing this since I was 12 years old. I'm telling you, my boat, when it goes through waves, 6-footers, it doesn't even know it's in 6-footers. It's the most comfortable tuna weapon — it's an animal."
Eric Moores, who oversaw the building of Hebert's 40-foot Osmond Beal-designed boat, can't say enough good things about his hull lay-up crew.
"These guys deserve recognition," he says. "The boat starts with them." Moores himself started on a layup crew after graduating high school in 1985, and H&H has been building boats for 35 years.
The Wicked Pissah's 40-foot hull, based on Osmond Beal's old wooden boat design with a solid skeg, has a 14-foot and 10-inch beam, and draws 4 feet 2 inches.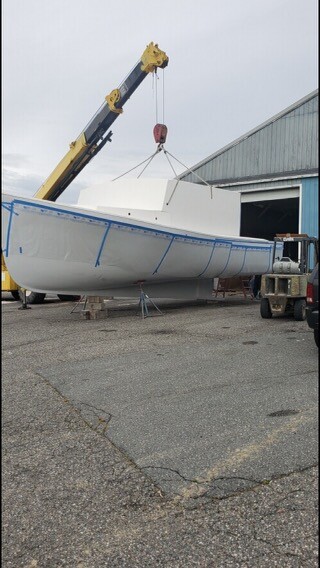 "They coat the mold with a release wax, then the gelcoat and an ounce and a half skin coat. Then your next layer would be a 3/4-ounce chop and a 17-ounce layer of a material that prevents print-through of your structural material." After the 17-ounce, Moores notes, a crew of three to six lays the heavier 32-ounce woven material and following layers and structural components. "It's all composite," he says. "No wood. The bulkheads are made from a perforated core coated with fiberglass on both sides. It's so light that one guy can lift a 4 by 8 sheet. You couldn't do that if it was 3/4-inch plywood and fiberglass."
While the global pandemic has crippled supply chains, H&H managed to get plenty of material for the boats the company has in the pipeline, and Moores notes that they had all they needed for the Wicked Pissah, which was begun in 2019.
"It took longer than expected," says Moores, who notes that there were numerous decisions that had to be worked out with Hebert's various sponsors.
"I researched engines for two years," says Hebert. "Looking for just the right horsepower for what I needed." Hebert opted for a 625-hp Volvo-Penta D-11 supplied by Jamie Thurlow at James Rich Boatyard in Bass Harbor, Maine, and partially sponsored by Volvo-Penta. "Jamie did the installation," says Hebert. "And he helped me figure out a lot of stuff with the fuel supply lines and the electronic controls. It's a complicated boat, and it's taken me all year to get things figured out."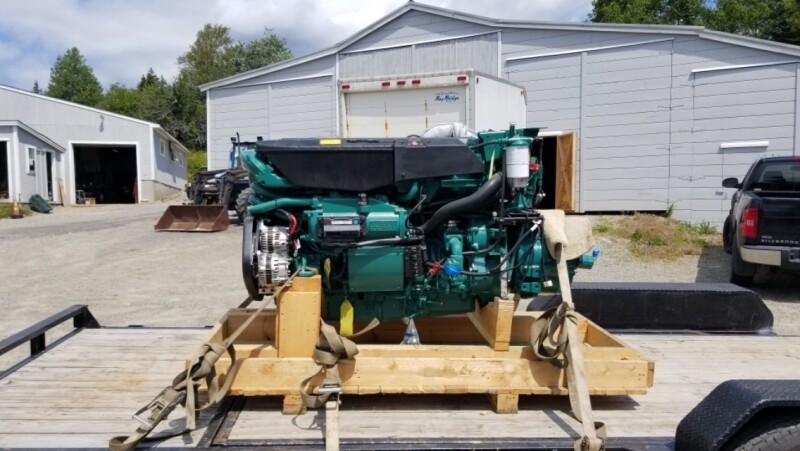 According to Moores, the engine has a 2.05:1 ZF 5082A gear, a 2 1/4-inch Aquamet 22 shaft that exits the hull through a dripless stuffing box and turns a 28 x 32 four-blade wheel. "Wide open, she goes 24 knots," he says. "Cruising is a around 19 knots. She's a heavy boat. She's got a lot on her."
Hebert fishes for bluefin tuna, which involves a lot of waiting, and if he and his crew want to be ready at game time, they need to wait comfortably. "We know where the fish are going to be," says Hebert. "Sometimes we'll go out to the southern end of Stellwagen and just camp out because we know sooner or later the fish are going to come through. It might take two or three days, but the boat has everything you need to live. I've got a 6-kW Northern Lights generator, hot shower, refrigerator. The bunks are 9 feet by 3 feet, with memory foam mattresses, wicked comfortable. With the genset we have all the electricity we need through the inverter." For entertainment, the boat has a Tracvision satellite TV system.
The vessel's 500-gallon fuel capacity gives Herbert confidence that he could comfortably stay out for quite a while.
"We could probably do a couple of weeks of fishing because the engine is so fuel efficient," he says. "I don't know how they do it. I'm getting pretty much one to one. If I run at 18 knots, I burn 18 gallons an hour; if I run 20, I burn 20."
While Moores reports that the boat can cruise at 19 knots, Hebert runs at 15 to 16 knots when fully loaded with ice and fuel.
"I'm very happy with this engine," he says. "The key is that I had the right people helping me. And the Volvo service is great, a phone call and in 12 hours I have what I need."
The Wicked Pissah has the extended wheelhouse that is part of H&H's sportfishing design option. But as a commercial fishing boat that fishes into November, it will undoubtedly see some heavy weather. "It's got Wynne windows all around," says Moores. "Four across the front, three on each side and two in the back, plus the door. The thing we like about aluminum frame windows is they're less likely to leak. The door is Bomar, supplied by Hamilton Marine."
Hebert equipped his wheelhouse with all Simrad electronics. "They sponsored me," he says. "I was a Garmin guy before this, so it's all new to me. I've got two 16-inch screens and I run everything on them, radar, GPS, color sounder. It's taken me a while to learn it all."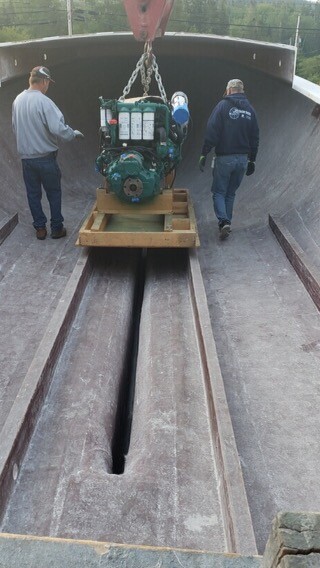 The Wicked Pissah has three steering stations with electronic controls sponsored by Volvo-Penta.
"In the wheelhouse I have two Stidd seats, they're great," says Hebert. "One at the helm and another for the mate. I have a steering station outside, where I haul the anchor, and another one on the transom for when we're fighting a fish."
All Hebert wants in terms of maneuverability is a bow thruster.
"It would help when fighting a fish, but also when docking, because in Cape Ann Marina when you get a north or northeast wind, it'll swing your bow around. My bow is big and that boat is heavy, so when the wind gets it, there's no stopping it. With a bow thruster I could get right in there, no problem."
According to Moores, the wheelhouse and deck were all gel-coated with white, while the hull is a very light gray. "The bottom paint is black. It's a special barrier coating from Sea Hawk Paints," he says. "It is good for three years."
Hebert notes that the paint works great.
"It's called Biocop," he says, of the environmentally friendly bottom paint. "It's amazing. There is no buildup of slime." Hebert has made a few changes to the hull and deck. "I had to change a couple of the through hulls for the generator," he says. "On deck we put a no-skid layer called SeaDek. It's a quarter-inch foam that you put down with a 3M adhesive. It's soft and makes it easy on the knees and legs." Hebert reports that he also made changed in the hatches for his fish hold and live wells.
"I've got an insulated fish hold that can hold a ton of ice," says Hebert. "It's big enough for three big fish. Right now, we can only bring in one per trip, but they might increase that. My live well is 218-gallon live well for herring, whiting and squid, and I have another one that is 75 gallons for the mackerel, so I can separate my bait."
Hebert is adding a Northern Lights chill plate system to his live wells for summer when the water temperature rises. He also has changed his deck hatches.
"I originally made the hatches out of the deck, but we found we didn't have room for a gasket, and the soap was getting into the hold and live wells. You don't want that, we don't need to clean the bait. So, we replaced them all with Bomar hatches. I wanted something I could dog down, and those work great."
For deck gear, Hebert has a 12-inch hauler that he uses mostly for hauling the anchor. The fish are all caught on rod and reel.
"His rods have a bent handle so that the rod holder tubes run straight down," says Moores. "They don't have a fighting chair or any hydraulics for bringing the fish in. They just do it all with the rods. He's got DuraBrite deck lights and some sort of underwater lights under the stern, because they'll fish at night."
The transom has a door in it for sliding the fish in and out for landing and bleeding.
"On charters I like to take about four people, plus a deckhand or two," says Hebert. "Right now, we're only going after bluefin, but next year we're going to run some haddock charters, and who knows, we might go down to the Carolinas for yellowfin, or I might make some canyon trips," he says, referring to the deep underwater canyons that cut into the outer edge of the continental shelf on the East Coast — areas known as pelagic fishing hotspots.
"The boat is in Gloucester (Mass.) at Cape Ann Marina," says Hebert. "I'm in Florida. I'll be up in May, work on the boat through June, and start fishing in July."