When spending hours on deck in dirty weather – windblown rain and spray, or seawater flying off a block or hauler – the rain gear fishermen wear allows them to work in relative comfort no matter what's happening around them. In some parts of the country, fishermen call their rain gear "oil gear," from the days when it was made of oil-soaked canvas.
These days fishermen have more choices, including the newly launched brand, Vallation Outerwear.
"Vallation comes from a Latin word. It means defense," says company founding partner, Cory Jackson. "I started out thinking I was going to make heavy duty hoodies, but then I was approached with an opportunity to make rain gear." According to Jackson, his partner in the venture had worked for Red Ledge, a rain gear manufacturer that saw serious setbacks during the covid pandemic. Based in New Jersey, Red Ledge had become very popular in Alaska and the Pacific Northwest, and its absence from the shelves there left an unmet demand.
"We saw this hole in the market," says Jackson, who lives and works in Poulson, Wash.. "And we thought, somebody needs to fill it. Why not us?"
His entry into the business was a no-brainer. "I grew up surrounded by people in the industry and knew a lot about it," he says. "One day I just decided it was what I wanted to do."
Jackson's father Dave worked in the industry for the Grundéns brand for many years. Initially, he provided his son with information, and eventually came out of retirement to join the team. "For 28 years, my brother and I were Grundéns USA," says Dave. "We built that company into what it was. Cory wanted to be in this business, and I told him, you need the right people."
At 24 years old, Cory Jackson believes he has the right people. "The design work is done in-house," he says. "It's basically us: my partner, my father, my brother, and others. We're listening to what fishermen want. We talk about details like the zippers we want and where the snaps need to be. When we are satisfied, we have a few made up and we test them. Testing is a big part of what we do."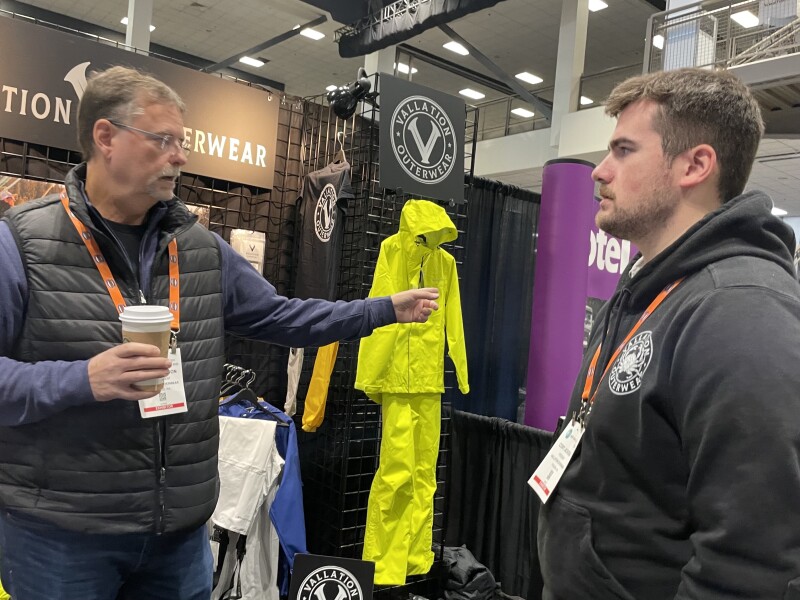 Since starting the company in 2020, Jackson has focused on research and testing prior to bringing the Vallation products to market. "We give the gear to fishermen in various fisheries, mostly good friends and family, people we trust, and ask them for their honest feedback." Jackson has given Vallation gear to crabbers, longliners, and others, including his brother who works on a salmon seiner.
Jackson notes that every fishery is different, and every fisherman has different preferences. "For now, we have the Ocean Watch, which is similar to the Red Ledge. It's not exactly the same, but it does the job of the Red Ledge, and we think it's better. We also have the Dark Rain, which offers more protection. It's a little heavier than the Ocean Watch, and a little more attractive on the price points."
Launching each Vallation product has been a careful process. Jackson and his father both emphasize the degree of research and testing they have done. "For the last two years that's really all we've done," Cory Jackson says.
Among the trusted testers is Taylor Jackson, Cory's 21-year-old brother. "I tested the Ocean Watch this fall," says Taylor. "I was running the skiff on a seiner. I was out there 18 hours in constant rain and it kept me dry."
Taylor used to wear another brand, and while he may not have the most objective opinion, he likes the Ocean Watch and claims he won't go back to his old brand. "I like the lightness of it when I have to jump around and clip on. You have to be fast. Also, I like the colors. Even when I'm on the street doing things, I wear them." Taylor notes that while he only tested the gear for one season, others have been using it for years.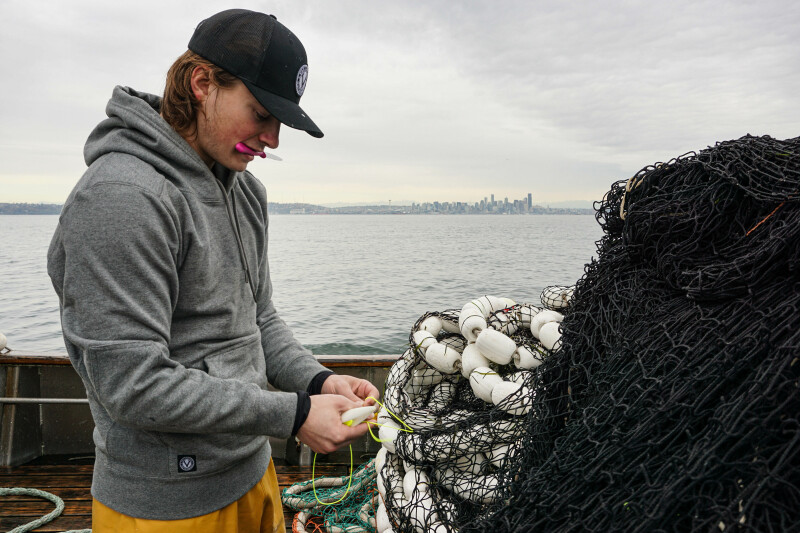 "It was only in the month leading up to PME [Pacific Marine Expo] that we introduced our products to the public," says Cory Jackson. The Vallation products are manufactured in Asia. "When you're ordering, you have to order in the thousands, so you want to make sure that what you're putting out there in front of the consumer is what they're looking for."
While the company's website says, "coming soon," and its Facebook page has little information, Vallation products are hitting the shelves of Pacific Northwest and Alaska marine supply stores.
"The website is under construction as we speak," Jackson says. "But it will be informational. We are not going to sell direct. We want to support our local marine stores, so we encourage people to ask for us there."
It's a big gamble, but Jackson, his family and partners believe they have the right stuff and the right team to carve out a place in the rain gear market – or oil gear if you're old school.