MSHS has built its name on servicing the engines that keep Alaska's big trawlers fishing
When big engines get tired and need rejuvenation, they often end up at MSHS in Everett, Washington. The company offers something like a spa for engines, where the big powerhouses can be fully rebuilt after thousands of hours of service.
Originally begun in the early 1980s as Motor Services Hugo Stamp in south Florida, MSHS has grown to three locations and acquired the Pacific Power Group.
"We have another location in Louisiana, and we started here in Everett (Wash.) in 2017," says general manager John Evans. "We've now grown to where we are working on big 17,000 horsepower engines from as far away as Montana. But the Alaska trawlers have always been, and still are, a big part of our portfolio."
According to Evans, the trawler engine makes that come through the shop are primarily Bergen, MAK, and Wartsila. "You could add MAN; we see them in some of the older boats, and ABC, the Anglo Belgian Company. Mostly what we work on are large bore – 180 to 650 millimeter, medium speed European engines. The trawlers will usually have around 6500-hp engines, times two."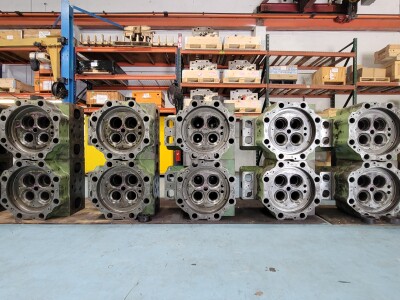 Working in something of a niche market, Evans notes that the relationships between MSHS and clients become more like partnerships. But MSHS territory manager Justin Roeser adds that it's a hardnose partnership.
"There's not a lot of friendly phone calls," Roeser says. "These boats are in for a short time, and it's mostly: 'get it done.'"
Roeser points out that most of the parts for these engines are stocked in the US. "Most of these owners want to know the condition of various parts of their engines, so we can figure out, for instance, if we can grind valves and clean them up rather than replace them. So, the owners don't always get the parts beforehand because they might not need them, and there is no returning them. But then, if you need a part it has to be airfreighted in."
Saying that MSHS rebuilds engines in Everett can be a little misleading because the blocks of these large engines seldom leave the boat. "When a boat is ready, we send our field crew out to start tearing down the engine," explains Roeser. "They send us the heads, pistons, cylinder liners, and all the components. The block and the crankshaft usually stay in the boat and get worked on there."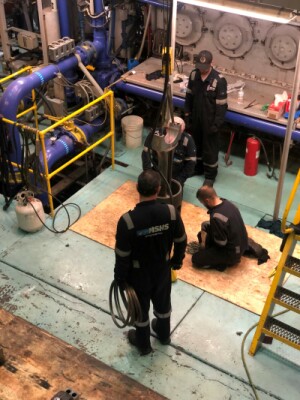 With all the pieces moving into the shop, Gysette Medina, workshop manager at MSHS, controls the flow of work. "We can be working with as many as six different customers at the same time," says Medina. "It takes anywhere from 7 to 12 days to finish an engine. The timeline depends on the availability of parts, among other things."
Roeser notes that the cylinder liners are usually the first pieces to get worked on. "It's kind of a dance with the field crew and trying to keep them moving," he says. "The liners are usually the first thing going back in. We take the most time with the heads."
According to Evans, the shop has been running 12 hours a day, seven days a week since December, with boat owners eager to get repairs complete and their vessels, back fishing. "Sometimes parts aren't available in time, in which case we'll work with the owners to assess the risks of running another 2,000 hours or so," says Evans. "We'll give them our opinion and help them determine whether they want to take the risk."
If something does go wrong up north, MSHS jumps into gear. "We had a customer who supplied his own aftermarket parts. We get a call on a Sunday morning – a valve cracked and took out the turbo. Within hours you're on a flight to Dutch [Harbor]," says Roeser. "I have known people to get on a flight in Europe with a part in their hand and come install it."
Evans notes that MSHS is aware of what the market demands. "We have an amazing support network in Europe," he says. "And while all the MSHS shops are growing, here in Seattle, we are growing the fastest. We started with seven individuals, now we are up to 18, and we are actively recruiting another two to four skilled people, hoping to get up to 22 in the next few months."
"We've expanded our turbo shop," says Roeser. "We've invested in very expensive equipment specific for working on turbo charges that can be running at as much as 25,000 rpms. Also, we're working on all makes of engines, domestic and European."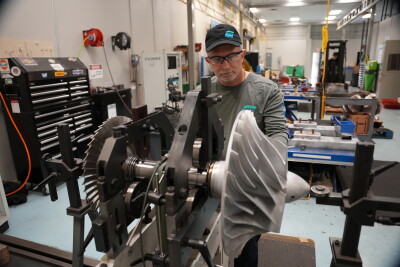 In addition, the MSHS team points out that its governor shop, while not huge in terms of square footage, is the largest in the US. "Maybe the world," says Roeser. "We're authorized to work on many types of governors, including Woodward, which is the most commonly used."
Evans notes that one thing that stands out about the MSHS culture is the low turnover. "There are people who have been here for 20 years," says Evans. "And the founders, Are Friesecke and Ben Lozano, still play a role in the company." Evans sees this accumulation of skill and experience as part of MSHS's strength moving forward in servicing commercial fishing vessels and exploring new markets.