A couple of new offerings in the jet market with an eye on the Bristol Bay market
It's not hard to spot a healthy fishery – just count the number of new boats being built for it, and the number of companies vying to equip those boats.
Most of the new Bristol Bay boats run on jets to get into shallow water. Hamilton, Hill, MJP and other big name jet manufacturers had large booths at the 2022 Pacific Marine Expo in Seattle, and they were joined by two other jet makers, Castoldi and AWT-Jet, looking to offer the Bristol Bay fleet more options.
The Italian jet manufacturer Castoldi has set up shop in Seattle with an eye on the Bristol Bay gillnetter market. "We're not new," says U.S. sales manager James Lagner, who previously handled Castoldi sales in South America. "We've sold over 40,000 jets, worldwide."
According to Lagner, the Castoldi jet should be of interest to Bristol Bay fishermen operating in shallow waters. "It's a very robust engine," he says. "It's built for abrasive water. It has a titanium liner and a stainless steel impeller." Lagner notes that the tolerance on the impeller is very tight to provide maximum thrust. "The liner is separated from the aluminum housing by a seal that keeps the two metals from corroding."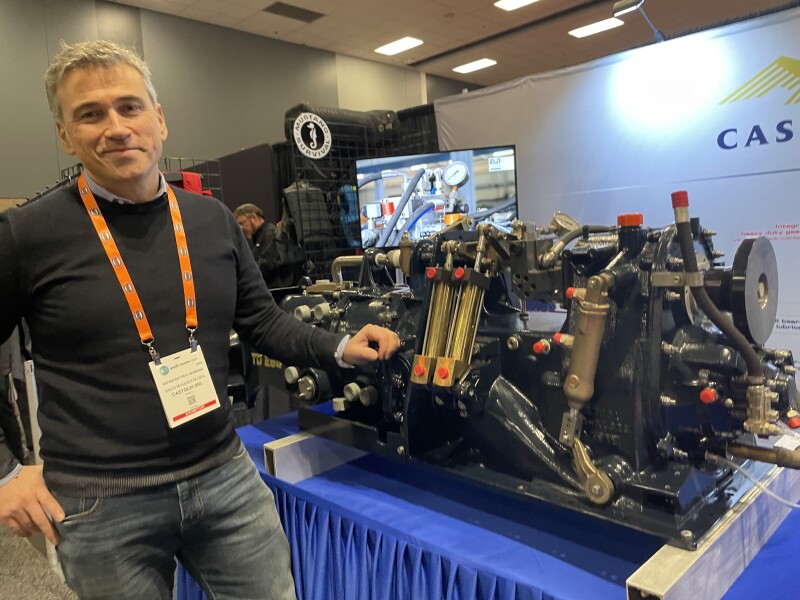 Lagner notes that while Castoldi jets carry a price tag on the high end, he believes they are worth it. "It's consistent with the cost of a Hamilton and a gear," he says, pointing out that the Castoldi jet is built with its own gear.
"It connects directly to the engine," says Castoldi's Giovan Battista Garziano. "And it has 22 ratio options, so you can set it up for your particular engine. It also makes the jet more compact, which we think will make them attractive to the Bristol Bay fleet."
Lagner emphasizes that Castoldi would prefer to sell to builders for new builds, not retrofits. "Conversions can be difficult. There are too many unknowns that could lead to the boat being tail heavy or a number of other things, and to be honest we only want to be part of successful projects. With a new built we can work with the engineer or designer to make sure the trim is right and we've got the right configuration."
The Castoldi jet's automatic flushing system is another feature that Lagner thinks will be attractive to Bristol Bay fishermen looking to build new boats.
"As far as I know we're the only company with an automatic flushing system," says Lagner. "If you feel the boat slow down, lose thrust, or you hear a noise that makes you think something got into the intake - you flip a switch, it opens the grate, reverses the thrust and flushes it out. Flip the switch back and the grate closes and you're ready to go again. It's all done from the helm, and takes about 15 seconds."
The jet also has an access hatch that allows operators to easily reach in to clear the impeller. "When the engine is off," Lagner says. "That's important."
An important aspect of selling to the Bristol Bay fleet is service. The fishery takes place in a remote area of Alaska and breakdowns can be expensive when they occur during an opening. "Our goal is to have all consumable parts here in Seattle," says Lagner. "Alaska Air has a flight every two hours, so we can have your part to you in hours. If there's a disaster like a hose coming loose and losing all your oil, or you crash into something, myself or one of our other engineers can fly up immediately."
Lagner understands that breaking into a new market is difficult. "Let's be honest," he says. "Hamilton makes a great product. Some people have always used them, or whatever brand they're committed to, and they're never going to change. But if you're looking for something different, come look at us."
On the other end of the cost spectrum is AWT-Jet, manufactured by Wuxi AWT Machinery Manufacturing Co., Ltd. in Jiangsu, China. Wuxi has been building jets since 2013, and they are distributed in the Pacific Northwest by Kodiak Marine Construction (KMC) in Sequim, Washington. Kodiak owner Ray Wadsworth and sales representative Ed Heater run a relaxed booth at the Pacific Marine Expo. The two men have been in the business for a long time and spend the day greeting old friends at the Expo.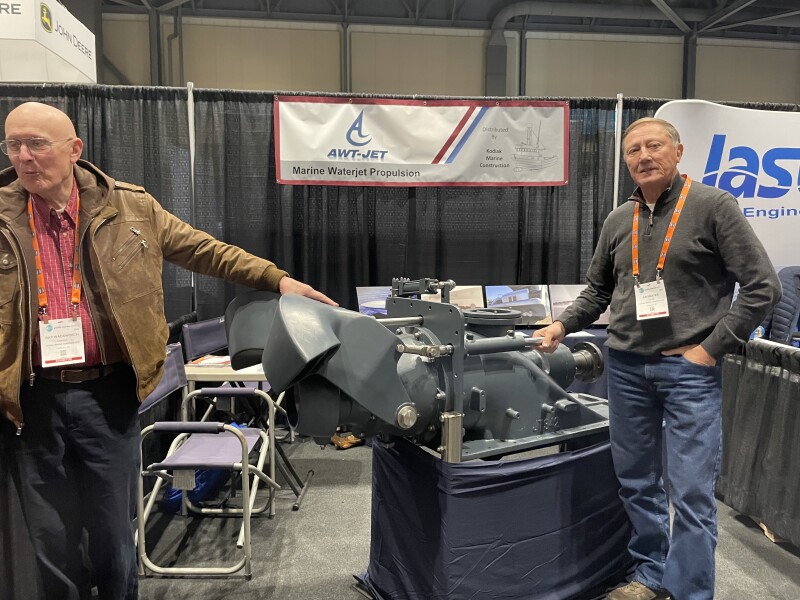 As far as jets go, the AWT wins on price points. "It's rated for 500 horsepower," says Heater. "It'd be good on a Bristol Bay boat and good for a power skiff too." The AWT differs from the Castoldi in the number of moving parts. "It's simple," says Heater, patting the very basic unit.
No one likes to be the guinea pig for a new product, so to test the jet Kodiak has built a 20-foot seine skiff powered by a 5.9 Cummins modified to produce 400 HP, and the model JT272 water jet. "It works really well," says Heater. "It was cavitating at first, but we put some trim tabs on her and she gets right up in step now. Ray used it all last summer, he likes to fish shallow so it worked well for him."
The Italian Castoldi and the Chinese AWT offer those in the market for a water jet a couple of more options in a competitive field.