Eric Sloth and his wife threw their belongings into their car and drove to Alaska in 1980. They found their way to Homer (as did this writer a couple of years later). "You know how it was in Homer those days," says Sloth. "You were a deckhand in summer and a carpenter in winter. I started working with guys here, working on boats, and somebody asks you to patch a hole in a boat, and you start learning, and you end up stretching boats." Sloth never intended to have his own business, but after 30 years as the owner of Homer Marine, also known as Eric Sloth Boat Builder, he has seen a lot of changes, and facilitated many of them.
"There was a real boom building these seiners in the '80s and '90s. Delta, Beck, LeClercq, Hansen were all building small fiberglass seiners. But now, with new boats costing $1.5 million to $2.5 million, fishermen can't justify that, so there's a boom on stretching boats. We just finished adding 5 feet to the stern of the Kailee Lynn, and are wrapping up the Thalassa."
The Thalassa, a 52-foot salmon seiner built at Hansen Marine in Seattle in 1989, is named after the primordial goddess of the sea, Thalassa, who among other things, created all the fish. The vessel arrived at Eric Sloth's yard in October 2019. Now she is hitting the water as a 58-foot limit seiner with a 50 percent increase in fish hold capacity, an all new RSW system, a new deck layout, a new shaft, and an articulating rudder.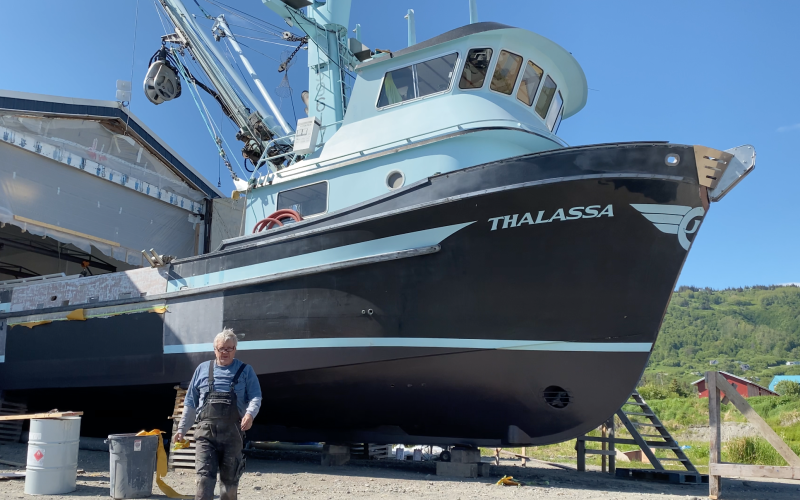 "We added seven feet in the middle," says Sloth. "I know, the math doesn't add up." How does a 52-footer get a 7-foot stretch and end up at 58 feet? "We squared off the bow," he says.
According to Sloth, the project started with the original drawings sent by Hansen Marine. "They were paper drawings," says Sloth. "We had to upload them into our program." Sloth uses the Rhino CAD vessel design program with Orca, which enables him to create 3-D imagery of the entire project, and also see how a vessel will lay under certain conditions. The Thalassa was built with a 65,000-pound fish hold capacity, which Sloth increased to 100,000 pounds.
"We designed three new fish holds," he says. "He's got a small 20,000-pound hold forward, for when things are slow and he doesn't want to tank up the whole boat. Then there's a 50,000-pound hold that kind of wraps around that, and a 25,000-pound hold behind that."
Besides designing the tanks, Sloth had to design the 18-ton refrigerated seawater system that will enable the Thalassa to land top quality product.
"We got the chiller from IMS and the condenser from Cold Seas. Mark Volinski at Cold Seas customized that for us; my son worked for them." According to Sloth, he has piped the system mostly with 4-inch, schedule-80 PVC. The main circulation pumps are electric and run off the genset, the hydraulics run off the main, a 500-hp 6140 Lugger.
With the addition of 7 feet, the Thalassa needed a new shaft. From the Twin Disc MG 5111 with 2.5:1 reduction to the 36 x 28 propeller, Sloth's team installed a single 3-inch-diameter by 28-foot Aquamet-22 shaft — no tail shaft. "It's the biggest one they make," says Sloth. "They shipped it from Boston, by truck and then barge."