Slayer Skiffs are hard to find on the used boat market. "It's a tool," says Slayer Skiff builder Mike Vernese. "Why would anyone get rid of a tool that works?"
Vernese has been building the Slayer Skiff in his Perry, Florida, shop since 2012, when he made a swap for the mold with Mark Moore of Port Saint Joe. Says Vernese, "He (Moore) said, 'You build me a couple of shrimp boats and don't kill me on the price, you can have the mold.' "
Vernese had a bit of a shock when the mold arrived at his shop.
"It was in bad shape," he says. "It was made of woven roving - you never want to use woven roving on a mold - and it was thin and floppy. I called him up and told him, this mold is a mess. I can make your boats but they ain't going to be pretty. And he said, 'What do I care? I'm a commercial fisherman. I don't need them to be pretty.'"
The name of Vernese's company is Ugly Boats, and he built the 24-foot Slayer Skiff for a couple of years, primarily for commercial fishermen. But not everyone wanted a 24-footer.
"A fellow said to me, 'I really like your boat, but I need it bigger,' so about 8 years ago I built the mold for the 30-footer. My son learned lofting when he was 13, and so I asked him how we could stretch the 24. I wanted to find the right spot to cut it so that I could add more length. He figured that out for me and we cut it and made the 30."
The 24- and 30-foot Slayer Skiffs can be found all around Florida and the Gulf Coast employed in a variety of fisheries - oysters, crab, mullet, as well as snapper and grouper.
"One guy in Louisiana made his into a double decker and he says he can put 350 crab pots and three guys on there," says Vernese. "A lot of guys use the 24-footer for oystering. Some of these guys are crazy, they put 18,000 pounds of mullet in a 30-footer. Just so it could still float, and they came in with that."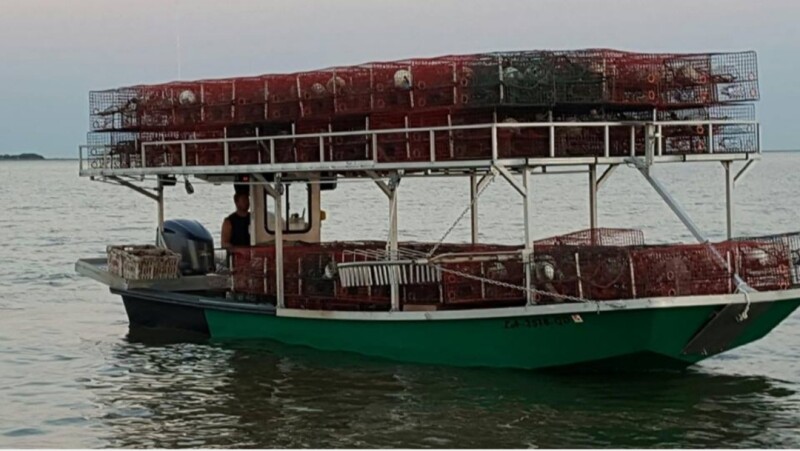 In 2017, after building forty or fifty of the 24-footers using the old mold, Vernese built a new mold. "It was about 2 inches thick," he says. To make a mold, Vernese starts with some PVC foam that he shapes. "You're working with your hands," he says. "You shape that and then you use fairing compounds to finish it. And if you want to make it perfect, you're down to 2000 grit."
Vernese notes that the mold needs to taper out some so that the hull will pop out of it. "When you're a mold maker, and all my three sons are mold makers, you have to be able to think in reverse."
The original 24 came from a fisherman named Fred Buskins. "I can't take credit for the design," says Vernese. "It was this fellow Buskins, and he knew what he was doing." The 24-foot Slayer Skiff has a squared-off bow a few inches above where the V-bow leaves the water, but Vernese thought he might give it a pointy bow.
"I got Buskins on the phone, he was an oysterman up in Apalachicola. I asked him what he thought of the idea of making it pointy. He says, and this is just how he said it, 'Listen here sonny boy, you ever come across the bay with 5,000 pounds of oysters when it's blowin' 30? Leave it alone.' The 30-foot Slayer Skiff, as Vernese describes it, is just a stretched 24, with the same 9-foot beam, and the same ability to work in shallow water.
From above, the Slayer looks like any other square-bowed skiff. Most of the unique features of the Slayer Skiff design are out of sight, below the waterline; its V-bow, partial keel and tunnel are what give the vessel its speed and sea handling qualities.
As Vernese describes it, the V-bow is not sharp. "If you look close, it flattens out an inch or two, and that keeps it from going down in a wave, and getting you all wet. It lifts."
The partial keel extends aft about a third of the way on the 30-foot Slayer, and helps the boat stay steady on course.
Moving aft, a wide shallow tunnel opens up about a third of the way forward from the transom, providing good flow to the propeller. "I have a video of one in Texas with a 250-hp Mercury going 68 mph," says Vernese. "It's not a deep tunnel, it's shallow and wide, on the 30-foot it's 11 and a half feet. It gives them direction and flow to the prop."
According to Vernese, the shallow tunnel allows just enough flow without creating space for cavitation. "At the same time, when you stop it creates bubbles in there that help the boat stick in the water, so when you slow down or stop you don't have a lot of movement."
The hull design enables captains to control the trim of the slayer skiff and operate in extremely shallow water. "You lift that engine up, you can go 100 yards in five inches of water," says Vernese. "I mean you can't go all day like that or you'll burn up your engine."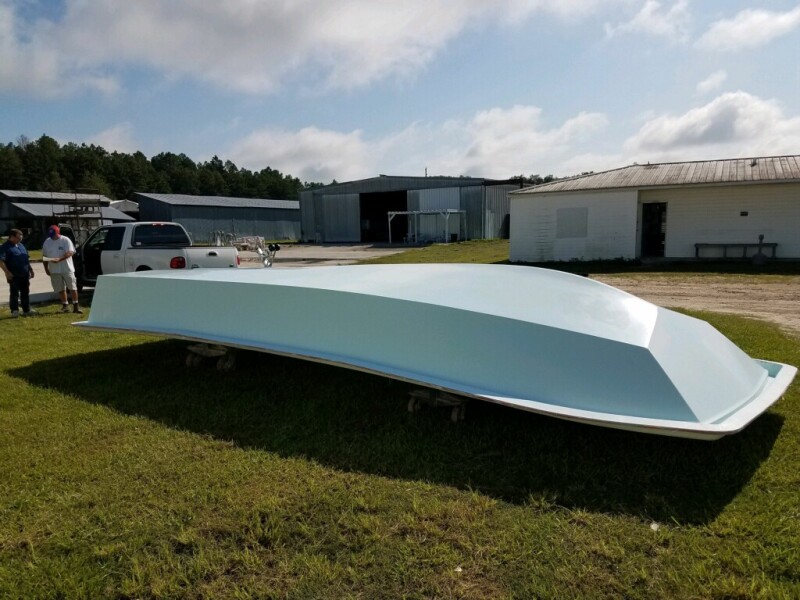 Vernese points out, however, that the hull's amazing capacities cannot be realized without a Porta bracket, the engine mount he puts on all Slayer Skiffs. "I had a fellow come and look at a skiff, a charter operator, and he said he wanted it, but without the Porta bracket. I said I wouldn't sell it without the Porta bracket. So he took it and used it, and now he has Porta brackets on all his boats."
Scott Porta makes the Porta bracket in New Smyrna Beach, Florida. According to the Porta Products website, "The Porta Hydraulic Transom Bracket goes where no engine bracket has gone before…What makes it unique is that it lifts the motors vertically, up to 22″, with setbacks of 17″-21″-26″. This allows boaters more access to shallow water and unparalleled navigability."
That pretty much sums up why Vernese swears by the Porta bracket. "Without a Porta bracket, it's not a Slayer Skiff," Vernese says.
The Porta bracket and hull design enable the slayer skiff operator to control vessel trim without the use of trim tabs - "If you need trim tabs, you've failed," Vernese says - while opening up more options for weight distribution. "It's almost impervious to weight. I'll put gas tanks right up in the bow," says Vernese. "Or batteries mid-ship."
Like the hull shape, other features that make the Slayer Skiff such a durable workhorse are its hull construction and quality components.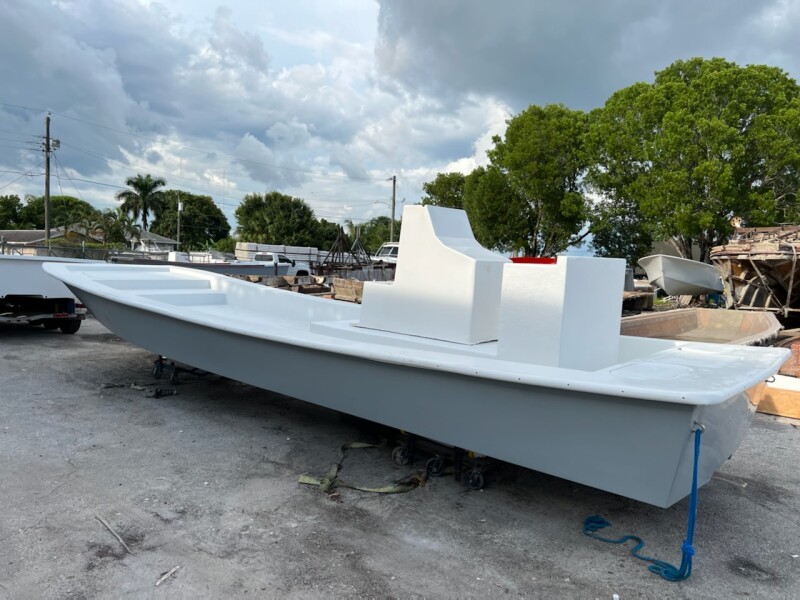 The gas tanks come from a local manufacturer in Perry, Florida. "I get them from Danny Ezell, right here in Perry," says Vernese. "I might be able to get them cheaper someplace else, but I'm not going to. I'm going to use the best available and Danny is very focused on quality, and he uses heavy high quality materials."
The rugged durability of the Slayer Skiff comes from the stringers and bulkheads out of sight. "Our stringers are 5 inches on top, 8 or 9 inches wide on the bottom, and a grid of bulkheads," says Vernese. "I tell people, you'll give this boat to your grandkids."
Covering all that is the deck and cap system that is now being built by Jermaine Lewis of Fort Myers, Florida.
"I used to stick build every one" of the decks, says Vernese. "But now I'm working with Jermaine to build just the one. We have a roll rail on there that helps stiffen it and makes it easy to get your gear in over the side."
For power, Vernese likes the 250-hp Honda, which he also sells. "I can sell them almost wholesale to commercial fishermen," says Vernese. "They like them because they are clean and quiet."
Vernese says he does his best to offer value within reason
"By the time a fellow gets all set up, boat, motor, and trailer, he's spending around $45,000, which is a lot for a fisherman around here," says Vernese.
"I never made much money at this," he adds. "And been told I'm leaving money on the table, but these fishermen can't afford that and that's who I'm building for."