Regardless of where one stands on the mask mandate for commercial fishermen, it's safe to say coronavirus has affected almost every aspect of fisheries. The marine electronics market is working a double-edged sword.
"Demand is through the roof," says Furuno's Matt Wood. "And we have products back ordered."
Furuno is not alone. More than 18 months of restrictions aimed at combating the pandemic resulted in a significant slowdown of imports from Asia, including marine electronics products. But as fishermen gear up for a return to something more like normal, suppliers and installers of the latest fishfinders and transducers have their hands full.
Among the rising stars in the Furuno line is the DFF3D echosounder, introduced three years ago. Fishermen are using the split-beam sounder with different transducers in a variety of applications.
"These have really caught fire," says Wood. "And we've just scratched the surface of what they can do. In the East they are using them with Time Zero for bottom building, in Southeast Alaska, too."
Some salmon trollers have reported good results with the DFF3D. "They can use it to steer side to side," says Wood. "Salmon are hard to see on any sounder, but if you look at it long enough, you can see them."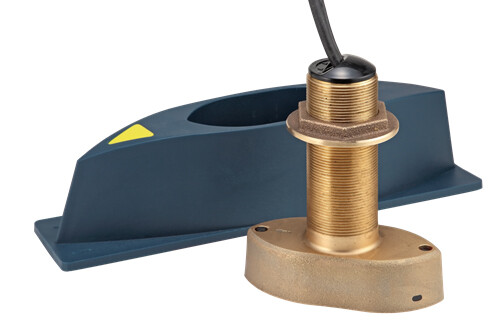 The DFF3D is also selling well in the Caribbean. "We have a guy down there in Venezuela putting them on refurbished boats that were damaged in Katrina," Wood says. Snapper and grouper jig boats, he notes, can use the DFF3D with a low-frequency transducer down to almost 200 fathoms.
According to Wood, pelagic longliners are using a combination of a traditional 50/200 downsounder, along with a CI68 broadband sounder. "That's really important, because it can give you five slices of the water column."
But having the right equipment isn't everything, proper installation can make all the difference. Most marine electronics installers base their recommendations for transducer placement on experience. Tony Vieira of T&K Electronics in New Bedford, Mass., often travels to the boatyards of the Gulf Coast to install electronics.
"I usually just go down and put an X on the hull, and that's where they put the tube for the transducer," he says. "You place the transducer where there's less bubbles. The best placement is about three-quarters of the way forward from the stern, a quarter way back from the bow. Sometimes there's one on each side, for backup."
Vieira started working on marine electronics before he could drive. His shop in New Bedford occupies the building that once housed Tomtronics, the shop where he got his first job. Technological advances keep him honing his skills.