Sometimes the hull of an old boat is just too good to get rid of.
That's what Ronnie Bevans decided when he went to Larry Jennings of Jennings Boatyard in Reedville, Va., to talk about having a new boat built.
About 15 years ago, Bevans, of Bevans Oyster Co. in Kinsale, Va., had Composite Yacht LLC in Trappe, Md. build the Yeocomico, a 46' x 14' fiberglass deadrise boat. Bevans has used the boat since then to dredge oysters and to work oyster cages on his state-leased oyster grounds.
"We talked about building a new boat, but when I saw the quality of construction in the hull of the Yeocomico we both agreed that a rebuild was more in order," says Jennings.
The Yeocomico was originally built with the pilothouse and steering station aft and the mast/boom mounted forward of the house – a standard configuration for working oyster cages. The boat was powered with two Mercury MerCruiser sterndrive gasoline engines.
Bevans wanted diesel engines, so Jennings has taken the two gasoline MerCruiser engines and outdrives out and is installing two Cummins QSB6.7 diesel engines. He has plugged areas where the sterndrives came through the stern and installed tunnels for a tunnel drive shaft system.
"We had to make molds to fabricate the tunnels," says Jennings. "We cut the tunnel shape in the stern and bottom to mount the tunnels and then glassed them in."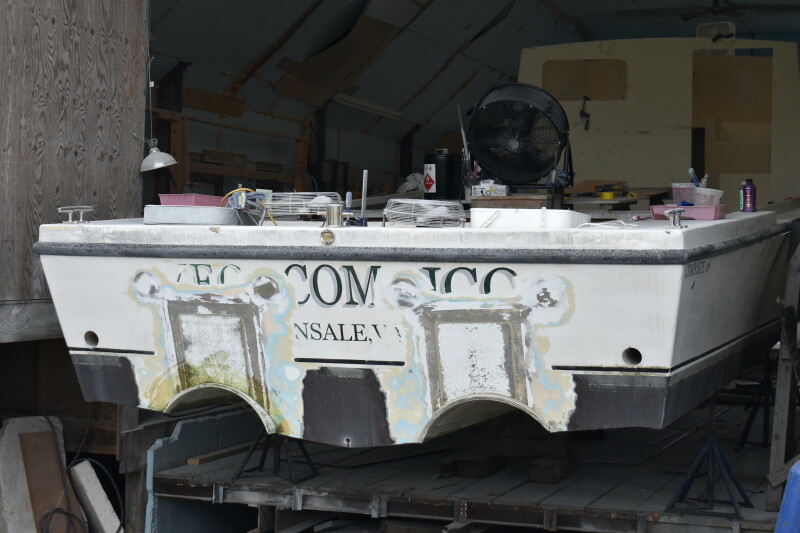 The aft pilothouse has been taken off and a new traditional style house/pilothouse mounted forward.
"Ronnie wanted a more comfortable, faster boat for working and traveling to and from his oyster grounds on James River," says Jennings.
The new larger house will provide more comfort and better visibility for the helmsman. The boat is expected to cruise about 20 knots with the new Cummins engines, says Jennings. The old aluminum mast/boom for hauling dredges and cages has been removed but will be reinstalled and used on the boat.
The Yeocomico is getting all new electrical systems, electronics, hydraulics, and steering. The steering is going to be hydraulic power steering where the pump will run off the main engine. Marine Installations LLC of Kilmarnock, Va. will be installing the electrical, electronics and hydraulics.
Jennings has a backlog of work, including orders for three 27'x10' garvey style oyster boats and another for a 38' traditional style deadrise for a pleasure boater.
"He wants it to be the same style and layout as a standard Chesapeake Bay deadrise workboat," says Jennings. "I'm thinking about making a mold and offering a 38-footer to commercial watermen."