Two new fishing vessels, the Uyak and the Nordic Fox, were built by Fred Wahl Marine Construction in 2022, and were among projects ongoing at the Reedsport, Ore. shipyard over the past year and into 2023.
Work on the Uyak began last Memorial Day weekend, when the shipyard laid the keel for the 68' x 29'6" Dungeness crabber, shrimper and salmon tender designed by Fred Wahl Marine. Named after the bay off Kodiak Island, the Uyak is powered by a 684-hp Mitsubishi with a Twin Disc gear. Crew quarters are comprised of a 4-man and a 2-man stateroom, plus the captain's quarters in the wheelhouse.
The vessel, which underwent sea trials in December, is set to leave in January and will be operating out of Alaska and Oregon. It should pack 270,000 pounds of salmon when tendering and between 125,000 to 130,000 pounds of crab.
This past May, the shipyard also launched the 58' x 29' 6" Nordic Fox, another Fred Wahl Marine design. "It's the widest 58-footer we've done," says owner Fred Wahl. Once launched, the Nordic Fox steamed to Kodiak for Dungeness crabbing but is homeported in Seattle, Wash., where she will be salmon fishing.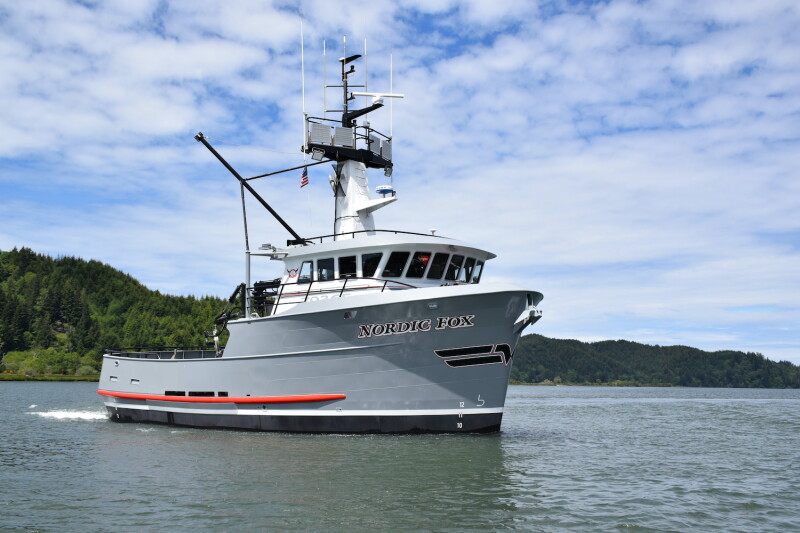 The vessel is also powered by a 684-hp Mitsubishi, and packs about 110,000 pounds of crab and 250,000 pounds of salmon, Wahl says.
In 2023 the shipyard will be working on the Progress, a mid-water trawler which Wahl Marine had previously widened and lengthened to 130' x 41' after the vessel encountered a rogue Bering Sea wave in 2018. Among other things, the ship will be repowered from a 1,280-hp Cat 3512 to a 2,000-hp diesel, whose make and model hadn't been determined at the end of 2022. "It's just time to repower," says Wahl. The Progress is also getting a new gear, prop and nozzle, though Wahl says the rudder and shafting "is good enough" to stay.
Though the Reedsport boatyard hasn't had its usual influx of Alaska crabbers in for repairs, alterations and maintenance because the crab season was shut down, the boatyard has kept busy with repowers and shafting work on vessels in other fisheries and upgrading key pieces of boatyard equipment.
That included bringing in a new 820-ton Ascom boat hoist. It's an upgrade from the 685-ton lift "that we maxed out all the time, so tried to get one a little bigger," says Wahl. The Ascom's first pick was Silver Bay Seafoods 154' x 36' tender Provider on Nov. 12, 2021.
This January there should also be a new 350-ton Ascom lift that had been on order for over a year. "It's for the main yard so we aren't wearing out the big travel lift."
The yard's existing 75-ton Travel Lift is pretty much reserved for "picking boats out of the river. The really small guys," says Wahl.