Saturday, June 19, was the day — the first race of the 2021 Maine lobster boat-racing season. That was in Boothbay Harbor, which last year canceled its race because of the coronavirus pandemic. (Four more races would also be canceled.) The Rockland Lobster Boat Races were the next day, followed on June 25 by races in Bass Harbor, and on July 3 at Moosabec Reach.
Altogether there are 11 races on Maine's racing circuit, with the last one scheduled for Aug. 22 in Portland. The Maine Lobster Boat Racing Association runs each event with 28 to 30 races, over a course averaging just under a mile long.
At Boothbay, 44 boats arrived to sign up for a racing schedule that started off with Class-A skiffs 16 feet and under powered by outboards up to 30 hp and ended with the Fastest Working Lobster Boat Race. Jon Johansen, president of the Maine Lobster Boat Racing Association figures bad weather kept more boats from showing up.
Spectators watched from the shore, and from 30 to 40 boats that lined the course.
A race that got a lot of attention was Diesel Class K — 701 to 900 hp, 28 feet and over. Blue Eyed Girl, a Morgan Bay 38 with a 900-hp Scania, won that race at 50.6 mph, just ahead of Maria's Nightmare II, a Mussel Ridge 28 with an 800-hp Nanni, which crossed the line at 47 mph.
Maria's Nightmare II then edged out Blue Eyed Girl in the Diesel Free For All at 50.1 mph, but Blue Eyed Girl won the fastest working lobster boat race at 51 mph.
At the end of the day about 35 lobster boats set off on a 40-mile run to be in Rockland for the next day's races, where 64 boats showed up for racing.
Blue Eyed Girl continued her dominance in Rockland, winning Diesel Class K at 50.6 mph, the Diesel Free For All against seven other boats at 47.5 mph, and the Fastest Lobster Boat race at 45.6 mph.
A boat that still brings back memories is the 32-foot Foolish Pleasure that when owned by the late Galen Alley and powered with a 2,000-hp alcohol running engine, set the record of 72.8 mph (there was an unofficial time of 80 mph). Mark Freeman, her current owner, put a smaller, 650-hp engine in Foolish Pleasure. Still, that was good enough to win the Gasoline Free For All at both Rockland and Boothbay with a best time of 46 mph.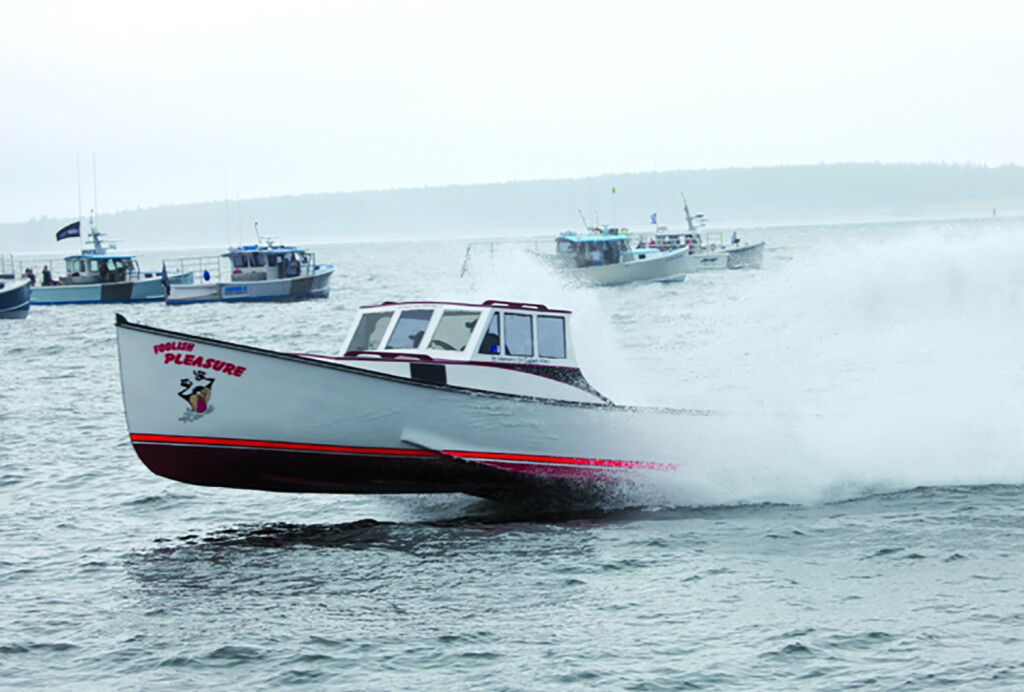 Miserable weather predictions knocked down the enthusiasm of some would-be racers as only 36 boats showed up for race No. 3 at Bass Harbor on Mount Desert Island. That was down by about 14 boats down from a normal Bass Harbor race day.