In trawl fisheries, vessels usually spend costly amounts of time and fuel searching for fish. Even with advanced technology, the cost of finding fish comes with the price of investment. To increase efficiency, Kongsberg Maritime of Norway has developed an unmanned surface vehicle that can hunt for fish at a fraction of the cost of a fully manned fishing vessel.
"The vessel is equipped with high-definition SX95 omnidirectional sonar," says Richard Mills, head of marine robotics sales at Kongsberg. "Then there is a moon pool in which we can put other equipment. We just put an EK80 echosounder in one for a company we can't name, and we are hoping to demonstrate it next year for NOAA." According to Mills, the USV can search large expanses of ocean and transmit data to land-based receivers and fishing vessels. "We sit down with our customers and look at cost benefits," says Mills, noting that the USV could operate for as little as 15 percent of a manned vessel's crew costs and fuel costs.
The 26.5-foot USV has a 7.3-foot beam and draws 2.3 feet. For receiving commands and transmitting data, the vessel has a mast that reaches 14.4 feet above the sea surface. The vessel can run autonomously or be operated from a laptop PC or radio control with data telemetry via a Kongsberg's K-MATE control system, with communication through Maritime Broadband Radio and Iridium satellite (VSAT optional).
A 125-hp Steyr Diesel engine can power the vessel at 12 knots, and at that speed is expected to cruise for six to 15 days. But at 4 knots, the USV reportedly can cruise for 20 days.
TASA, the largest fishing company in Peru, has contracted with Kongsberg to put the first USV in operation, and some large U.S. companies are reportedly interested in the new technology. Kongsberg Maritime is developing a whitepaper for the Alaska groundfish fisheries.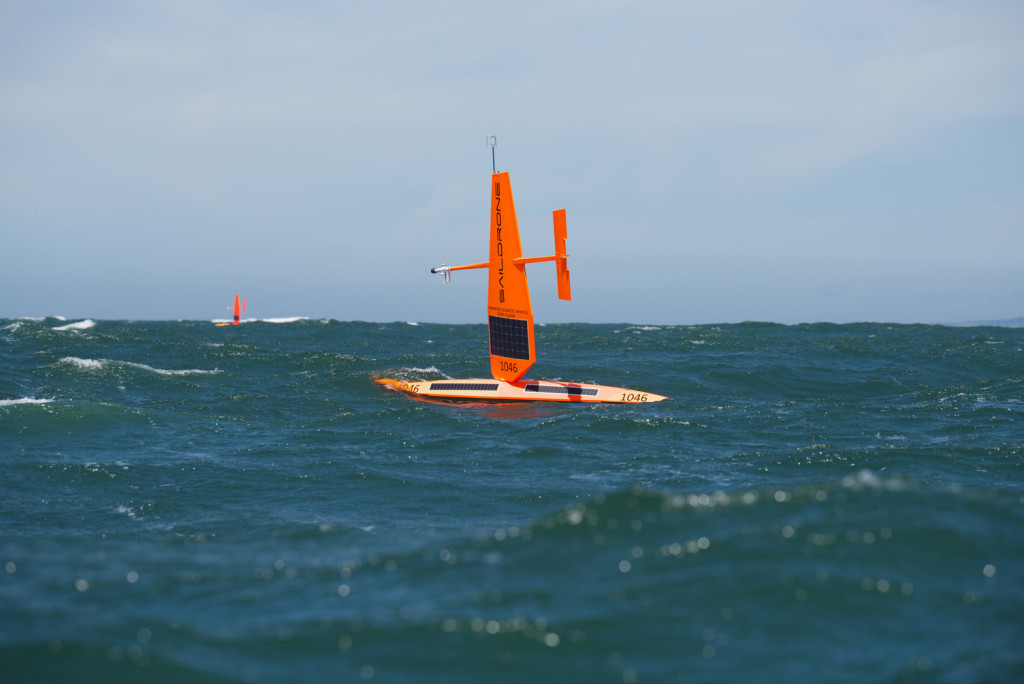 In the states, Saildrone Inc., based in Alameda, Calif., has also been working with Kongsberg Maritime, and NOAA, since 2015, developing a sonar-equipped sail-powered USV to conduct climate change and other surveys. This year, with its survey cruises canceled because of the pandemic, NOAA has utilized three saildrones — each equipped with a Simrad EK80 split-beam sounder — for its Bering Sea pollock survey.
According to NOAA, the agency's scientists believe using acoustic technology on saildrones to survey in the eastern Bering Sea will — based on past comparisons of the technology with ship-based surveys — provide a reliable estimate of pollock abundance. It also helps that pollock are the dominant fish species in this area, minimizing the need to further sample with a trawl net to confirm species identification.
Three 23-foot saildrones, each weighing more than 1,500 pounds, arrived in the Bering Sea in late June and split up to cover most of the U.S. EEZ. Each saildrone will cover a third of the 600-nautical-mile-wide survey area, which is bordered by Alaska's Aleutian Islands to the south and the edge of the eastern Bering Sea shelf to the west. Cruising at an average speed of 2-3 knots, the saildrones are expected to complete the survey in two months.
According to Jenn Virskus, content manager at Saildrone, no fishing companies have sought to use the company's USV in active fishing operations, yet. "But the Bering Sea Fisheries Research Foundation did participate in the king crab survey we did last year," Virskus says.