Commercial fishermen are, among other things, businesspeople, and their decisions should make economic sense. While the cost of converting to hybrid electric power can run over $100,000 dollars for a small diesel-powered vessel, a growing number of electric outboard manufacturers contend that using their engines on harbor skiffs and in some nearshore fisheries can pay off for fishermen.
A German company, Torqeedo, has been a pioneer of electric engines, having put its first outboard in the water in 2005. A host of other players have since followed the company into the growing electric engine market.
"We have seventeen years of experience and a global service network," says Tess Smallridge, Torqeedo's marketing and communications manager in the U.S. "Everything that could go wrong has already happened to us," she says, noting that Torqeedo engines have numerous safety features.
"Our commitment to safety slowed us down," says Smallridge. "There were no standards at the time, so we had to create them." According to Smallridge, Torqeedo developed systems for safe venting and shock absorption. "In a car, you might have to deal with a bump in the road, but on the water, you can be slamming over waves, and the shocks are constant."
Torqeedo's Deep Blue outboards come in 25-kW (33.5-hp) and 50-kW (67-hp) models, with a 40-kWh battery, and are designed for commercial use. "They have our TorqLink system that allows you to connect everything to one control center," says Smallridge. "So you can have your electronics connected to the same system."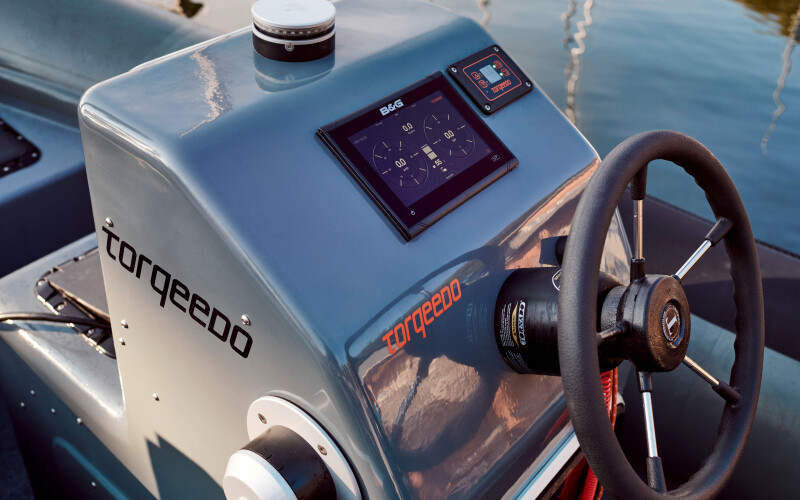 Smallridge estimates that a 50-kW engine package with batteries and controls weighs 700 to 800 pounds. "The price for everything is about $50,000 dollars, but what you're buying with the battery is 10 years of gas," she says, noting that Torqeedo guarantees its batteries to be at 80 percent after 9 years.
"A buyer would have to look at what the price of gas is doing and what they're likely to spend over that period. With electricity, prices are more stable so you can know what you're going to pay. For a commercial user, the payback period can be just a few years. We have one oysterman who told us he paid for his engine in fuel saving in just three years."
Marketed in 50 countries on five continents, the Torqeedo engines are built in Germany. "We sell the most electric outboards in the world," says Smallridge, noting that the company has expanded and now offers inboard packages and hybrid diesel-electric conversions.
While Torqeedo pioneered the industry, more companies are targeting the growing market, among them, Flux Marine, based in Bristol, R.I.
"Our founder, Ben Sorkin, started playing around with a design when he was at Princeton," says Flux spokesperson Zach Heath. "He kept kicking it around and realized it had commercial potential. It needed to be built."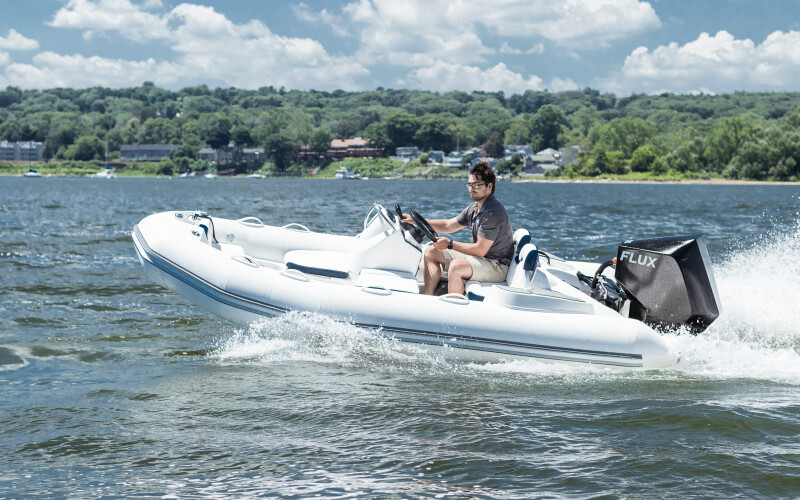 According to Heath, after several years of research and development with a six-person team, Flux Marine scored $15.5 million in funding and has expanded to 30 employees.
"The Flux engine is designed specifically as a marine engine, it doesn't have any legacy parts from other electric motor applications," Heath explains. "It has a self-contained lower unit, and a self-contained cooling system, which means no salt water is coming into the engine. We actually had a little accident where one of these engines went to the bottom. We hauled it up and ran it. Almost no salt water got in."
Flux rates its outboard in continuous-duty horsepower to save customers from having to convert. "We've got 15, 40, 70, and 100 horsepower engines," says Heath. "With a variety of battery packages." The 70 and 100-hp outboards come standard with a 3.3kW charger or a 6.6kW upgrade for faster charging.
While Heath notes that Flux is not aggressively marketing to commercial fishermen, nearshore small boat operators, especially those in shellfish industries, are ideal candidates for electric outboards.
"We absolutely see a market opportunity with commercial fishermen," says Flux brand consultant Zach Shapiro. "We have already received significant interest and a number of pre-orders from that community."
Shapiro notes that Flux uses a top-tier lithium-ion battery cell supplier and builds its power modules in house. "We can leverage the existing electrical infrastructure that already exists in harbors to charge our vehicles," he says. "With standard outlets, it would roughly take 8 hours to recoup a full charge."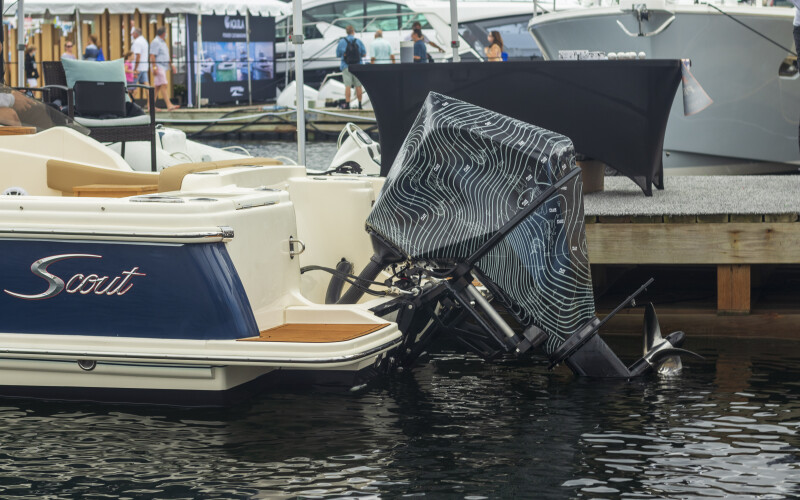 In addition to Torqeedo and Flux, Vision Marine Technology in Montreal has brought a 180-hp electric outboard to market, and Norwegian company Evoy is selling a 120-hp complete package for around $66,000. The Evoy packages include some with high-power density batteries that could give the engine a range of 57 miles but would weigh almost 3,000 pounds.
Like Toqeedo, Evoy also offers inboard and conversion products, and its website includes a page that enables people to configure their own systems.
While these companies focus exclusively on electric outboards, gas outboard makers are also getting into the game. In February 2022 Mercury announced its small electric concept, the Avator, and in 2021 Yamaha unveiled an integrated electric propulsion unit and steering control system called HARMO, which the company calls a stepping stone into the electric outboard market.
Electric outboards are on the way. Whether they will work for commercial fishermen, practically and economically, will soon be seen.