Oxe outboards has muscled its way into the workboat market, but outside of aquaculture, the company has yet to make a sale to commercial fishermen.
"Fishermen don't like the price," says David LeBlanc, regional sales director for Oxe. "We're working with crabbers here to help them see the savings in fuel and maintenance. We're talking to jig boats and red snapper longliners. Our other distributors are working with fishermen on the West Coast. There's interest."
At around $50,000 the Oxe diesel outboard is a big investment compared to comparable gas engines, and the diesels are heavier.
"The 150-hp and the 200-hp are about 200 pounds heavier than gas engines that size. The 300-hp is about 150 pounds heavier," says LeBlanc, who contends that the benefits of the Oxe engines more than compensate for the price and weight considerations. "It's out-performing other engines in its class in every metric: durability, speed, load capacity, you name it," says Leblanc.
Oxe is upping its game in the United States with a new manufacturing plant and dealer training facility in Albany, Ga.
"We're just getting started," says LeBlanc. "Right now we're manufacturing the 125-, 150-, and 200-horsepower engines. The 300 is coming next."
As yet, commercial fishermen haven't bitten on the Oxe, but the engines are selling strong in a number of workboat markets. Penn Cove Shellfish, an aquaculture company in Washington, chose Oxe for several reasons.
"We saw an Oxe diesel outboard displayed at the Pacific Marine Expo and admired the belt drive and heat exchange cooling," the company said in a statement. "We know that diesel engines have more torque and last longer than similar gas engines and the Oxe brand has engines available in the horsepower range [125-300] that we use, so it appeared to be a perfect fit for our needs."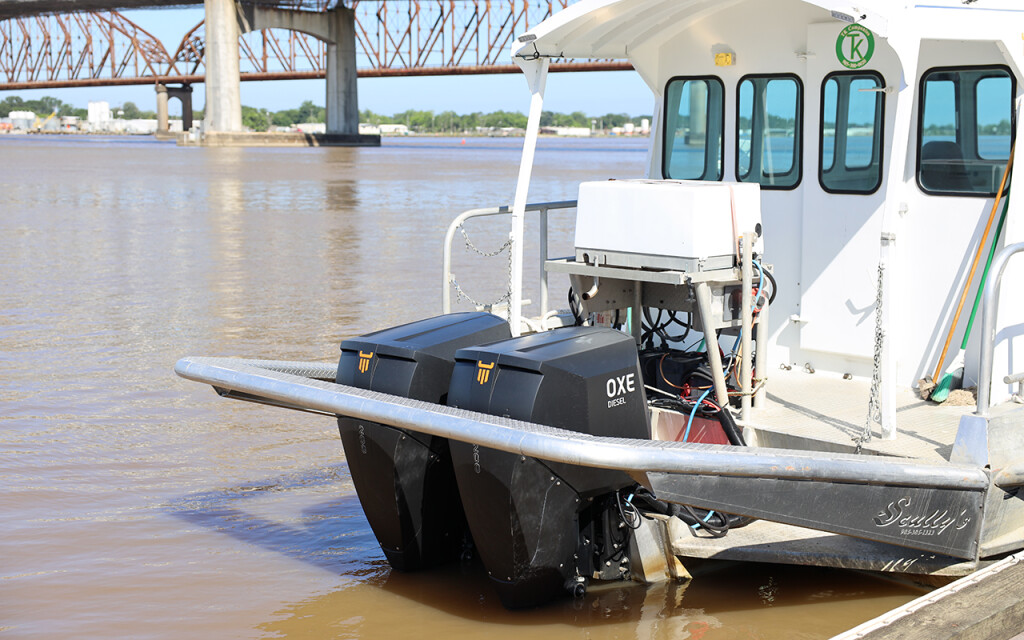 Another European engine company, Bourdeaux, France-based Nanni, has been building marine engines since the 1950s, but has only found its way into commercial fishing hulls primarily in the last decade. Distributed by Kraft Power, Nanni marinizes a variety of engines.
"Nanni marinization is simply the best," says Brook Streit, in charge of distribution of in the Northeast.
"We specialize in marinization," says Streit. "Up to 150-hp, they're all Kubota based, and then from 200 to 400 hp are Toyota based. Then we have a gap while we work things out with John Deere. We sold at least 70 John Deere based engines in Maine alone, but right now we can't import the John Deere based motors," he adds, noting that Nanni and John Deere are renegotiating their arrangements. "From 600 to 1,150-hp are all Scania based."