Brian O'Neil has his roots in Alaska and the Pacific Northwest, and has built Bristol Bay boats, sportfishing boats, and other vessels for the region's fisheries, always refining his craft.
He had some ideas about a boat he wanted to build an outboard powered, trailerable bowpicker for low key salmon fisherman in Alaska. "I wanted to build something 28 feet, 10 feet wide, so you could get it on a trailer, and I wanted to get into the outboard market, because I think that's a coming thing."
In a little shop in Steuben, Maine, way Downeast, almost to the Bay of Fundy, Willie Pinkham had exactly what O'Neil wanted – a 28-foot lobster boat style hull, 10-feet wide.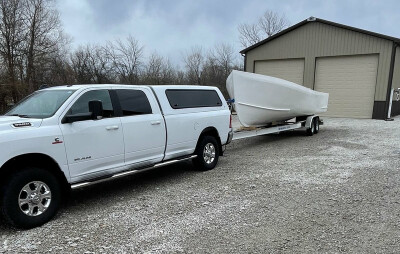 "I bought the molds from Terry Jason," says Pinkham. Although the mold has skeg for a shaft and propeller, Pinkham blocked most of that off, and left only about five inches of keel when they laid up the boat. "I also raised the sheer for him so he could make the deck higher and the fish holds deeper."
While a pair of gas-powered, 300-hp Suzuki outboards will propel the new boat on the water, it came across country under the power of the Cummins diesel in O'Neil's Dodge Ram. "I brought it back here to Missouri in January 2022, just the bare hull, and started work on it. I had some Bristol Bay boats I was working on, or I could have punched it out in about 6 months," says O'Neil, who gets some help from his father, and 15-year-old-son, Andrew.
"My grandfather used to do a little gillnetting in the Columbia River, nothing serious, but it planted the seed in my father, and he invested in Alaska. I grew up fishing Cook Inlet with him, then he started building 24-foot bowpickers. I learned a lot from him. He helps me. My son is in high school, but he helps when he can."
Documenting progress on Instagram, O'Neil used Plascore honeycomb and Coosa board to build up the bulkheads, deck, and cabin.
"All the decks are Plascore coring," he says. "We put in 4 watertight fish holds. There's no RSW, but they'll put Nomar brailer bags in there with ice and some seawater. It has a salt water washdown pump and a pump out in each fish hold. That's all they need; it'll be a day boat when they're fishing. When they're not fishing, they'll use if for longer hunting trips and other things," says O'Neil.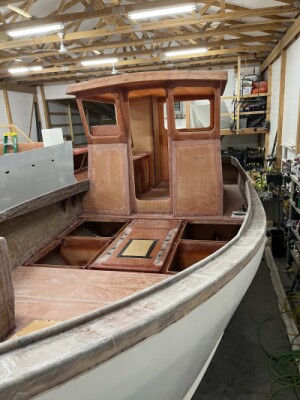 The Hi Spartan's cabin is built of Coosa board and Plascor, with a Dimond Sea Glaze door. "I had them put dogs on it," says O'Neil. "So, you could really cinch it down." To accommodate the proposed overnight adventures, O'Neil has worked three bunks, a dinette and a shower and head into the small cabin. "There's a double bunk down underneath the dinette, and that folds down to create a single bunk. The captain can use that so he's right near the radar and controls."
The shower and head fit into the aft starboard corner of the cabin, forward of that is the helm. "I try to maximize space," says O'Neil. "I design and build everything. The only thing I contract out is the aluminum."
For the bow roller, radar mount, aluminum outboard bracket, and more, O'Neil has Mike Kearn, owner of Kearnco in Bellingham, Wash., fabricate his designs. "He built the davit that can be used for lifting a four-wheeler or whatever on and off the boat. The only thing Mike didn't build was the drum. I got that from LaConner Maritime. They built a beautiful little two and half shackle drum. It doesn't quite hold 150 fathoms, but if they want to fish that much, they can pile what doesn't fit on the drum on deck."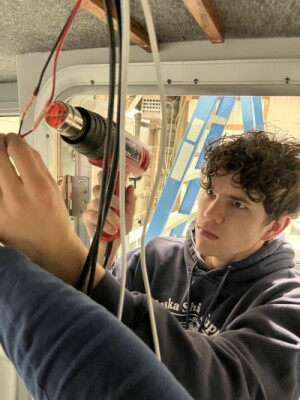 To power the drum and other hydraulics, such as the steering, and anchor winch, O'Neil has equipped the boat with a 9-hp Honda Mariner powerpack that drives an 8-gpm hydraulic pump. "You see a lot of them out here, a lot of the outboard crabbers use them. You don't need as much power with a bow picker," says O'Neil. "With a bow picker it just lifts the net."
When the owner wants to go hunting or has other uses for the boat, the Honda powerpack can be easily removed, O'Neil points out. "It's strapped to the deck," he says. "If you want to take if off, it's just four bolts."
The real power of the Hi Spartan is on the stern. "I went with twin 300-hp Suzukis with the dual props," says O'Neil. "It's really the same engine as the Suzuki 350, but to get that rating they had to increase the compression ratio and play with the timing. I wanted an engine you could run on regular 87 octane, something more user friendly."
According to Suzuki, the model DF300B engines utilize the dual propellers to maximize efficiency and reduce the size of the gears of the powerful engines. "The contra-rotating propeller provides more 'grip' underwater," says Suzuki. "And because contra-rotating propellers distribute the engine torque evenly over two propellers, the torque per propeller decreases and we can reduce the gear size and design a smaller, more hydrodynamic gear case."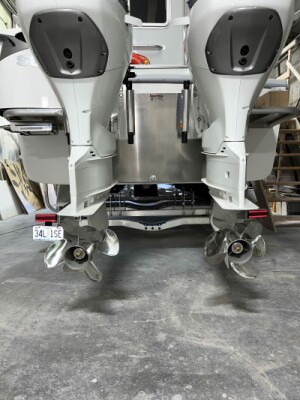 O'Neil mounted the engines on an aluminum bracket fabricated by Mike Kearn, and connected them to the two 125-gallon fuel tanks, a Seastar hydraulic steering system, and Suzuki precision controls. "It's got a dual helm," says O'Neil. "There's the helm in the cabin and then another up near the roller. All the steering is hydraulic. Suziki just came out with a fully integrated steering system, but this boat is more conventional. The controls are Suzuki electronic drive-by-wire."
Suzuki Precision Control (S.P.C) drive-by-wire system offers more responsive engine control, according to the company literature. "The new single-lever feature on the dual binnacle allows you to control from two to six engines with a simple push of a button," says the Suzuki web page. "S.P.C is a technologically advanced computer-based control system that makes shifting easier and smoother than traditional cable controls." The system also features automatic trim control.
The compact gillnetter has a simple and basic Garmin electronics system, with radar, sounder and plotter on a multi-display screen. Communications consist of a single Standard Horizon VHF. It's also possible the owner will carry a satellite communication device like Garmin InReach. "I used to carry one when I fished in Bristol Bay," says O'Neil. "But most places they'll be fishing they'll have cell coverage."
Along with help from his father and son, O'Neil's wife installs indoor-outdoor carpeting throughout the cabin. "It cuts the noise and keeps it a little warmer," says O'Neil.
"We finished it in June of this year and took it to Bellingham for sea trials," says O'Neil, who put the boat together at his shop in Missouri – about halfway between Maine and Washington. "Top speed was 52 mph." With the boat ready, O'Neil put it on a barge and sent it to Alaska for its first salmon season.