Look out at the radars atop the wheelhouses in almost any fishing port in the United States and Canada, and one name stands out — Furuno. The company's blue-on-white logo is visible on the domes and open arrays of vessel after vessel.
According to Eric Kunz, senior product manager at Furuno USA, customers are seeing huge leaps in radar technology. Since World War II, Kunz says, radar has relied on the magnetron, a high-powered vacuum tube that works as a self-excited microwave oscillator. Crossed electron and magnetic fields are used in the magnetron to produce the high-power output required in radar equipment.
As Kunz tells the story, the British developed an innovative magnetron early in 1940, but concerned it might fall into German hands, they sent it to the United States in exchange for aid.
"They sent it to MIT, where it was used to develop the first radar, and then RCA and Bell started mass producing it. They used it to spot U-boats, and it helped us win the war of the North Atlantic."
But after 80 years as the foundation of radar, things are finally beginning to change. "Since 2018 we've been delivering NXT radars," says Kunz. "These are not your traditional magnetron radars. They are solid state, with transistors and digital signal processing."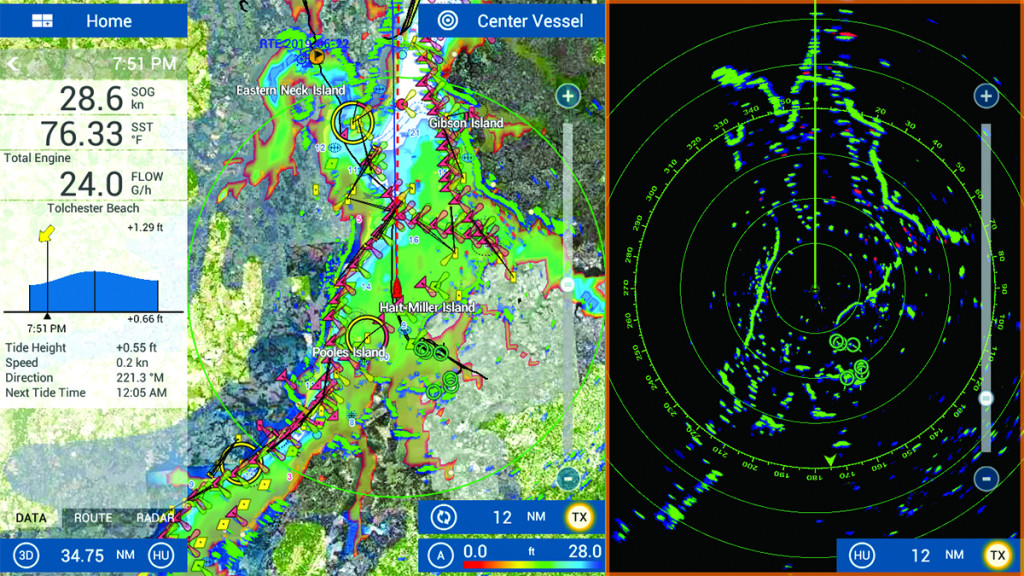 Kunz explains that while the magnetron enables radar to collect information on range and bearing, the solid-state technology provides a third piece of information — radial velocity, or Doppler.
"With Doppler," Kunz says, "you can see if a target is coming at you. And if it's coming at more than 3 knots, the radar turns it red, tracks it and gives you its CPA, its closest point of approach."
Among other features, Kunz highlights Furuno's rain mode on some radars. "Solid state allows us to look at the signal quality, and our target analyzer can differentiate targets from rain. This is all developed by us."
Kunz goes out on fishing boats and talks to fishermen about what they want. "What a lot of fisherman like is our True Target Trails. A heading sensor in the satellite compass is integrated with the radar to give true radar trails so that they can see at a glance what is moving in relation to them. If they have an AIS overlay, they can find out what kind of vessel it is and where it's going." Kunz notes that besides collision avoidance, True Trails can give fishermen an idea of what other fishing boats are doing. "Some use it that way," he says.