While we may all agree that 2020 was an unforgettable year that we would like to forget, the fishing industry forged forward under adverse circumstances. Industry giants and a host of new innovators kept their shoulders to the wheel to help our fleets increase their catch and quality in the safest, most efficient way possible. Here are some of our favorites from a year that was decidedly not our favorite.
Engines
In 2020, European maker MAN Engines introduced the new D2676 LE426, an 800-horsepower, inline-six engine for light-duty workboats that is an upgrade of its popular 730-horsepower D2676 LE443. MAN's American division expects the engine to be popular for shallow-water gillnetters in Bristol Bay, as well as lobster boats in Maine and Canada, and crabbers in the Keys. The engine offers a factory-fitted keel-cooling option, a feature that cuts weight by 5 percent over the previous engines cooled by heat exchangers.
The LE426 also has a new cylinder head and new injectors that boost the engine's power density, bumping up the total power by 10 percent over the previous 730 horsepower version and providing plenty of thrust for boats across a number of fisheries.
Suzuki Marine also rolled out two new smaller four-stroke outboards, the DF115BG and DF140BG, which have 115 and 140 horsepower. They are the first in their smaller class with drive-by-wire technology, which has proved popular over past years in larger Suzuki outboards from 150 up to 350 horsepower.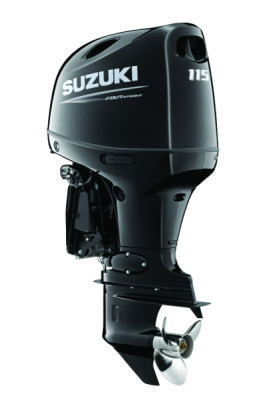 "In addition to drive-by-wire precision, these new outboards provide performance characteristics commercial fishermen will appreciate. For one, they deliver improved fuel economy at cruising speeds when compared to our existing 115- and 140-horsepower models. A higher compression ratio and aggressive gearing provide the robust hole shot needed to get heavily loaded boats up on plane. And these motors' 40-amp alternators provide more charging output at lower engine speeds, to help keep electronics, pumps and other important gear humming," Suzuki said.
Maintenance is easier, too. The oil filter can be replaced by clicking off the engine cover, and a new surrounding Oil Spill Catcher keeps waste oil off the ground and out of the water, while the engine is protected against fuel contamination by a Water Detection Fuel Filter.
Other exciting developments came about across the pond, with Norway's Evoy putting the finishing touches on an emission-free 150-horsepower electric outboard, the most powerful on the market. Battery life means these electric outboards are not viable for most commercial fishermen, but Evoy is worth monitoring as batteries make consistent improvements.
UK-based Cox Powertrain completed its first U.S. installation of the new CX0300 Diesel Outboard. The classic four-stroke, V8 engine is the world's most powerful diesel outboard.
Technology
Computers are everywhere else, so why not stick one in your trawl net? SmartCatch thinks the time has arrived and has spent years developing its DigiCatch, a realtime HD video, lighting, and sensor system that provides immediate, granular feedback from your net. CEO and SmartCatch co-founder Mark Dahm told NF that the device is all about efficiency.