Staving wood are short, narrow planks used by Chesapeake Bay boatbuilders to shape the V in the bow, known as deadrise, on wooden commercial fishing boats.
Anyone with any degree of boatbuilding knowledge on the bay knows about staving. But, in most cases, even the purest boatbuilding gurus would scratch their heads in wonder when terms like "chunk forefoot, head block or chunk bow" are brought up.
Before staving, the V or pointed shaped bow and stern on the Chesapeake Bay log canoes were made from large chunks of wood and chopped out and shaped with an adze.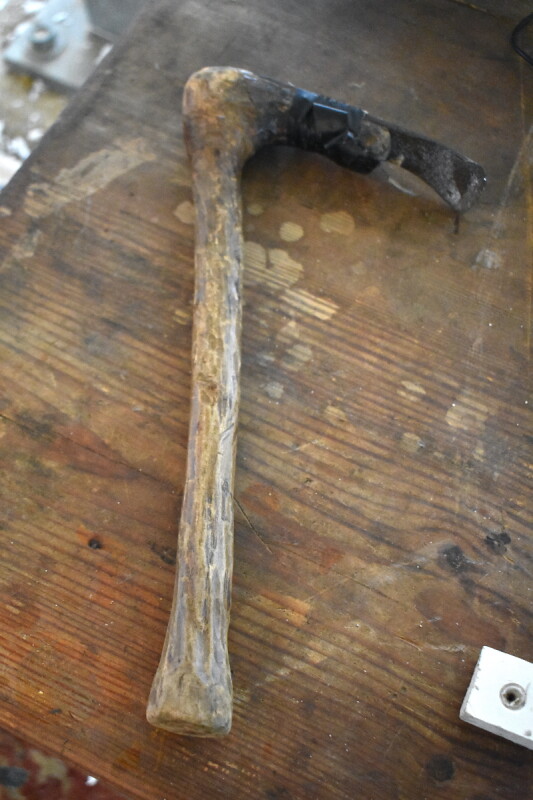 Eric Hedberg of Rionholdt Once and Future Boats in Mathews County, Va., is building a 20' x 7' classic Chesapeake Bay deadrise skiff out of PVC sheets and planks. He has built several of these style boats that have gone to recreational and commercial fishermen, but this is the first time he has built one using a chunk forefoot.
Traditionally, Chesapeake Bay wooden boats are built by rack-of-eye with no boatbuilding plans. The beauty in a Chesapeake Bay deadrise boat, even today, is tied to the precision of the eye of the builder. Hedberg says that if a builder has a good eye for shaping the V in the bow, it is just as easy using a chunk forefoot versus staving.
The main reasons he went to the old style of construction, however, was "for the fun of it." It is a faster moving construction process than staving, and he felt he needed more weight in the bow of his PVC skiffs.
"The chunk forefoot gives me about 20 more pounds in the bow (compared to staving). It makes the boat more solid and adds to the stability and performance of the boat when underway," he says.
The skiffs can carry up to 70-hp outboards and are used by commercial oystermen and crabbers.
"I've had no complaints, but I just think a little more weight in the bow provides a better ride," he says.
Hedberg learned about chunk bow construction in the 1970s when he landed a job at Jennings Marine Railway in Fairport, Va. Two well-known boatbuilders in the Northern Neck of Virginia, the late Raymond Bray and Jay Barrett, took Hedberg under their wings and provided him with knowledge of generational boatbuilding skills. The chunk forefoot was one of those skills he learned.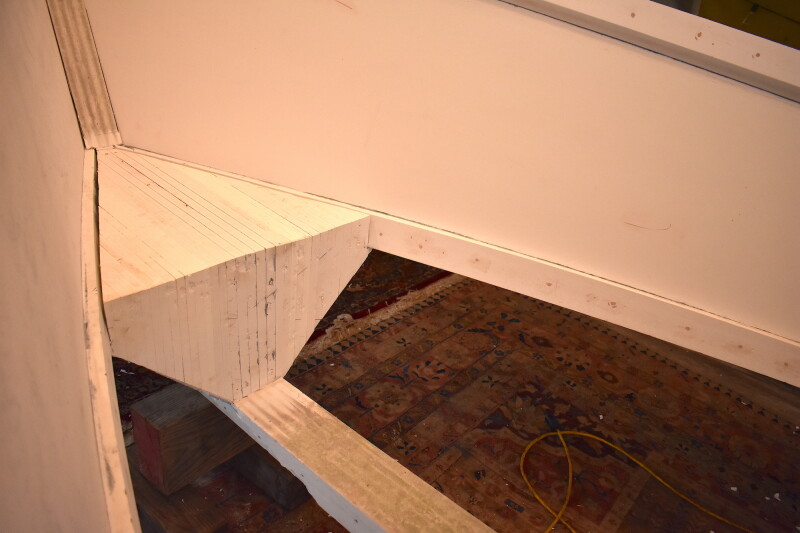 Hedberg's forefoot is made from 30 pieces of 1-inch and 3/4-inch-thick glued-together PVC planks. He shapes the V in the bow by hand with an elbow adze using rack-of-eye to finish it off.
The Haida tribe of the Pacific Northwest use this tool (elbow adze) for boatbuilding and totem (pole) building," he says.
The chunk in the bow is glued in place but is also fastened with 3/16-inch stainless steel rod. Hedberg welds a bolt head on the rod to make a long bolt. The chunk has two through-bolts attaching it to the keel and two to the stem.
Hedberg took the lines of a 20-foot skiff built by Lewis Wright of Deltaville, Va., for his PVC skiffs.
"I doubt Mr. Wright ever put a chuck forefoot in his skiffs but I know he knew what they were," he says.