The cost of batteries has plummeted, while power density and longevity have soared. Though the carbon footprint and human cost of lithium ion battery production has not made them the green energy solution they are often promoted as, they may be a big part of future fishing vessels.
According to Sveinung Odegard, North American representative for the battery design and manufacturer Corvus Energy — a Canadian and Norwegian company, with headquarters in Vancouver, British Columbia; and Bergen, Norway — the combination configuration, used primarily in larger boats, does away with the batteries and allows both main engines and electric motors, powered by gensets, to drive the propulsion system separately or together.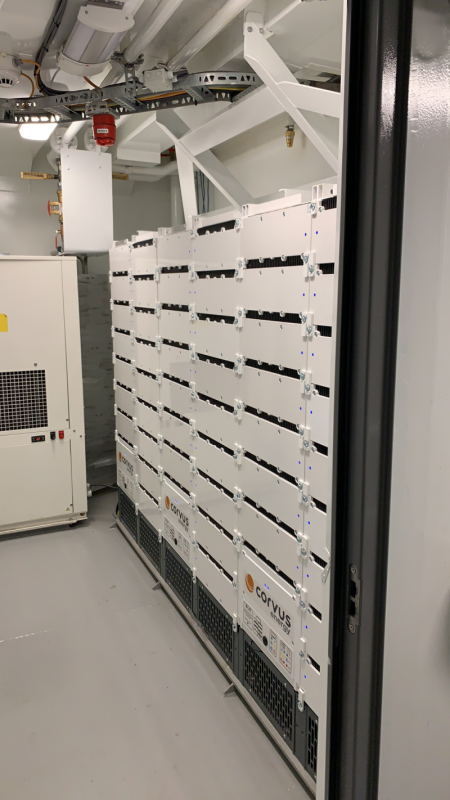 "For example, we are talking to a large freezer-trawler that has to shut down its freezer system when they haul back the net. It's only this short period of time that they need this power, and we are proposing to add electric power so that they do not have to get a bigger engine."
At the same time, the advantages of electric propulsion and the declining cost of batteries is making them attractive to larger boats as a means of making big diesel engines more efficient.
"There are three main areas of functionality for batteries," says Odegard. "The first is what is known as peak shaving. When you kick in additional power, instead of transferring that peak down to the engine, the batteries can take the load so that the engine can run under a steady load all the time."
Another functionality, according to Odegard, is the harvesting of energy from deck equipment like cranes and winches.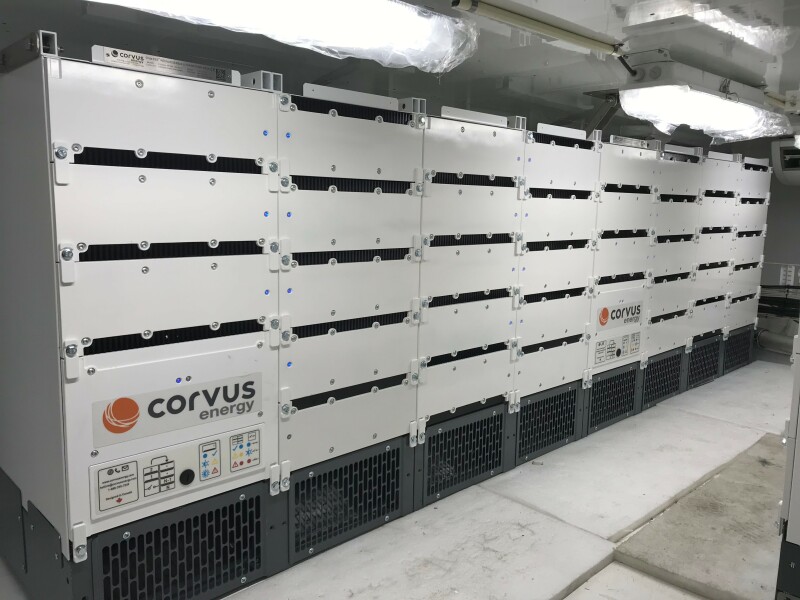 "You know how in an electric car like a Tesla or a Prius, when you are braking, the power is going back into the battery. The big boats before used to use what they called a braking resistor, and they just burned off that energy. But now, with the batteries aboard, they can regenerate that energy, when a winch is lowering for example, and capture it in the batteries."
With the batteries connected to the main switchboard, Odegard notes, a vessel can utilize a power management system that could shut some gensets down when the batteries can handle the existing loads.
"This is especially useful on diesel-electric boats," says Odegard. In addition, he points out, batteries are needed if a vessel uses a hydrogen fuel cell. "A fuel cell is not designed to handle certain load changes. The batteries protect the fuel cell by taking those load changes." At the same time, Odegard notes, the batteries themselves are changing to meet demand. There is essentially a trade-off in battery chemistry.
"It comes down to energy per kilogram," he says. "Then if the power demand is low, then the energy is high, the longer it takes to charge and discharge." For ferries using electric power, Odegard explains, the power demand is high and the recharge time fast, but those batteries are heavier. Corvus's Blue Whale system uses cobalt-free, lithium-iron-phosphate batteries with a lower energy density.
For fishing vessels using batteries to augment diesel, it's the other way around, the batteries can be lighter and smaller and give sustained low power for longer periods of time, but they use standard Lithium NMC (nickel, manganese, cobalt) chemistry, which is dependent on limited minerals, particularly cobalt.
Odegard notes that with a C-rating of 3, which measures rate of charge and discharge, Corvus's forced-air-cooled Orca batteries are somewhere in between.
They are in that sweet spot," he says, noting that the price has gone down as volumes have increased. "Ten years ago, the cost was far above $1,000 per kilowatt hour; now we see prices at much lower levels.
As the price drops and performance increases, some boats that want to add battery power will bring a package aboard.
"We can put 1,500 kWh in a 20-foot container. It's a special container but the same size as a shipping container," says Odegard.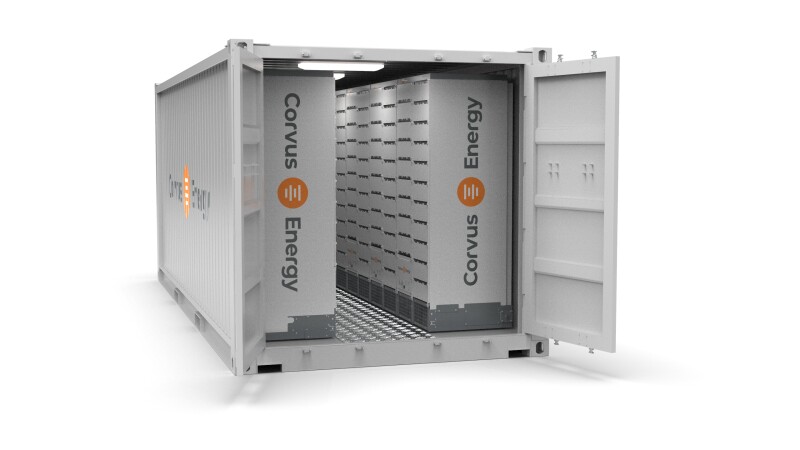 Although his focus is on larger vessels, Odegard notes that for smaller boats, the advantages of battery power may come during fishing. Corvus Energy and Siemens have developed a propulsion system for an all-electric fishing vessel, the Karoline, a 36-foot longliner operating out of Tromsø, Norway.
The Karoline's batteries are charged in port every night, and if power drops too low while fishing, an 80-horsepower diesel engine can charge the 30 Corvus AT6500 battery modules that drive the Siemens electric motor. The vessel reportedly caught 58 tons of groundfish burning only 12 gallons of diesel per ton of fish landed,.
While Corvus can offer more bang for the buck in the big boat market, small boats are still paying around $1,000 a kilowatt hour, according to Juneau, Alaska-based hybrid-vessel consultant Bob Varness.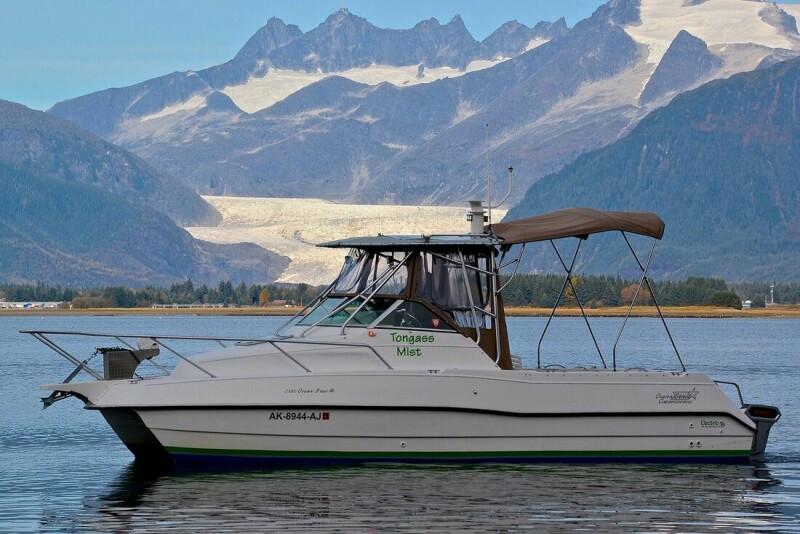 "If you're running less than 50 miles a day at low speed, you're definitely a candidate for electric power," says Varness, who works with some commercial fishermen in the Southeast Alaska. "For most people, the price isn't coming down, but the performance is going up."
Varness mostly builds with batteries from the Germany-based manufacturer, Torqeedo.
"They're lithium NMC batteries," he says. "They have the energy density."
Torqeedo's latest innovation, the 24-3500 battery, packs 3,500 watt hours (3.5 kWh) into a small package and sells for around $3,000.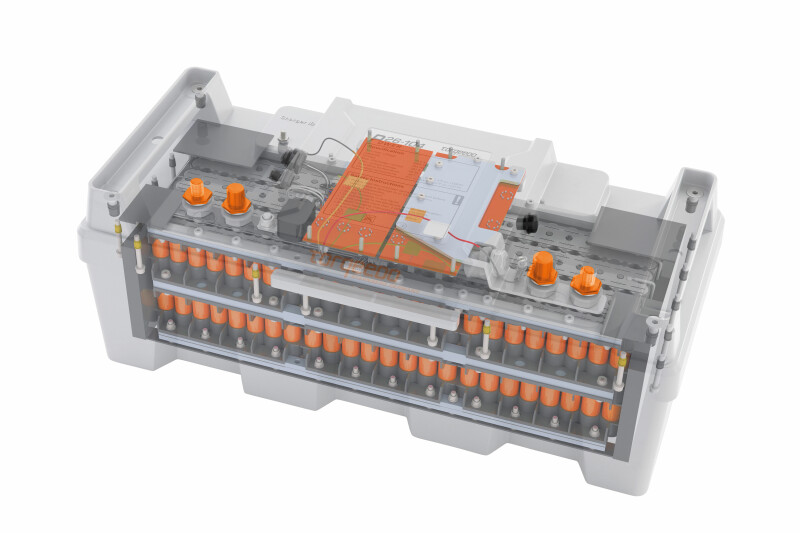 "It's like buying an expensive fuel tank up front," says Varness. "But with the hydropower we have here, it only costs 11 cents a kilowatt hour to fill it up."
According to Varness, the potential for electric power in Alaska's fisheries is just beginning to be tapped.
"The Alaska Longline Fishermen's Association has a study on their site," he says. "They're looking at it for the trolling fleet."