What is it really like for those considered "Shoreside Support?" You met some of our fishing families in the previous article, Fishing Family Point of View: Regulations and Policies across the Coasts, but what does it take to love a commercial fisherman? My fellow Partners of Commercial Fishermen and I can tell you straight.
California Love
Lindsey Hoadley is the owner of the lifestyle brand Mothersun and the Captain, wife to John Hoadley, and mama to two girls, Soleil and Echo. John is a spiny lobsterman, urchin, and sea cucumber fisherman out of Santa Barbara, California. The husband and wife team are currently building their new business, thegoodcaptainco.com.
Their love story began as a decade-long friendship before love, marriage, and John becoming a stepfather to her oldest, Soleil. "When we gave birth (to our second child), we had just bought our lobster permit to start our first lobster season, so we birthed a baby and a new business at the same time," Lindsey said. "It has been a thrilling ride growing a family and our businesses."
Challenges of this lifestyle vary from fishery to fishery, and Lindsey can testify. "John's original fishery is sea urchin, which is WAY different than lobster. So it's diving vs. trapping, which is not similar in any way, really," Lindsey said. "I had to talk to my therapist about his line of work because it really scared me that he was underwater all day, every day, out at the islands where there are tons of sharks and weather and current."
To calm her nerves, Lindsey remembers that John has been diving for over thirty years and enjoys his work. "When he is (lobster) trapping, I actually do not worry about him at all. Maybe it's the difference between being in the water and being on the boat," Lindsey said. "He tries to make me feel better by saying it's more dangerous to drive on the freeway than to dive at the Channel Islands."
A silver lining that many POCFs agree is time alone. "When John is gone on fishing trips, it allows me to miss him immensely but also gives me time to curl up by myself, work on my business, and do the things that I want to do." Another bonus for her family is the sporadic days off. "When the weather is bad and the flexibility to change a schedule for a special occasion."
Carolina Connection
On the East Coast, Alyssa MacNair of N.Sea Oyster Co. shares a slice of life with her husband Conor, CEO and founding farmer of the family business. N. SEA. Oyster Company is a self-described shellfish farm "dedicated to raising craft sustainable shellfish that embodies the taste of North Carolina while maintaining a positive impact on the environment."
The MacNairs are parents of two, and the company's Instagram account, @n.sea.oysterco, shows their four-year-old son, Finn, "working" the farm from time to time with cameo appearances by their one-year-old daughter, Sage. However, their romance kinda began like a Hallmark movie – in grade school.
"I met my fisherman at eight years old. We were on the same competitive swim team and woke up at three-thirty each morning to head to practice before school, Alyssa said. "We hit it off in college and soon after began our shellfish farm together. With similarities in how we grew up, our drive and motivation to run a successful farm was fitting."
With all hands on deck, Alyssa said that the greatest reward is seeing a well-grown finished product that took two years of hard work. "Farming is a pure love of creating food, and oysters are nourishing and a direct representation of the area it was grown," Alyssa said. "You can taste the pride in our product."
The farm's home base and processing facility is called The Oyster Barn in Surf City, North Carolina. "My POCF lifestyle has been an ever-evolving role," Alyssa said. "I started out side-by-side on the water with my partner and now run the "on-land" portion operation while caring for my two kids, and my husband tends the farm."
On weekends, the barn hosts food service of freshly harvested oysters and local fish dishes caught by the local fishermen and created by renowned local chefs. Oyster fans can order directly from the website, www.nseaoyster.co.
From California to the Carolinas
My husband, Chris Dabney, and I split the year between California for the spiny lobster season and North Carolina in the off-season. But our love story began almost eight years ago.
I met Chris while I was Editor at a local newspaper in Santa Barbara, California. His childhood friend was the publisher, and he swung by the office to say hi after a summer in Bristol Bay, Alaska. To make a long story short, I asked him out, and a two-hour lunch turned into a long-distance relationship for a year before I moved to Bellingham, Washington, his home at the time, to live with him on a sailboat with the promise of sailing to Mexico, which we did for two off-seasons. I had no idea what I was getting into when he said he was a commercial fisherman, but like many POCFs, I learned to adapt.
For me, one of the biggest rewards has been traveling. Thanks to his seasonal work and my remote work as a writer, we have the freedom to roam in our Sprinter Van twice a year from his fishery in California to our home in Wilmington, North Carolina. I love that we get to have a great adventure together right after and before he starts fishing.
I'm also with Lindsey on alone time. I love the fact that we can grow as individuals in careers we love and then come back together with a newfound sense of belongingness. For us, it keeps the relationship fresh.
The toughest part is worrying about his safety, which is an ongoing theme in our community. I trust in his abilities, but the weather and potential accidents get to me. When I'm anxious, I force myself to "let go and let God."
After years of connecting with partners from around the world, I've discovered there's a lot of suffering in our community – anxiety, isolation, depression, overwhelm, and relationship issues that also affect the fishermen. However, we don't have to suffer alone because now we can connect with other POCFs worldwide through a private forum, and it's the only place on the internet where this type of community exists. (You can gift a membership to your partner through this link!) I want partners to feel empowered and not feel guilty or judged for having any type of feelings about it.
There's also an all-inclusive beach retreat happening in September in Wrightsville Beach, North Carolina. The retreat is a chance to hang out with others who "get us" in real life and to recharge for upcoming seasons, and the positive effects will trickle down. Because when a partner feels supported, the family and fishermen feel the benefits, too.
Married to Maine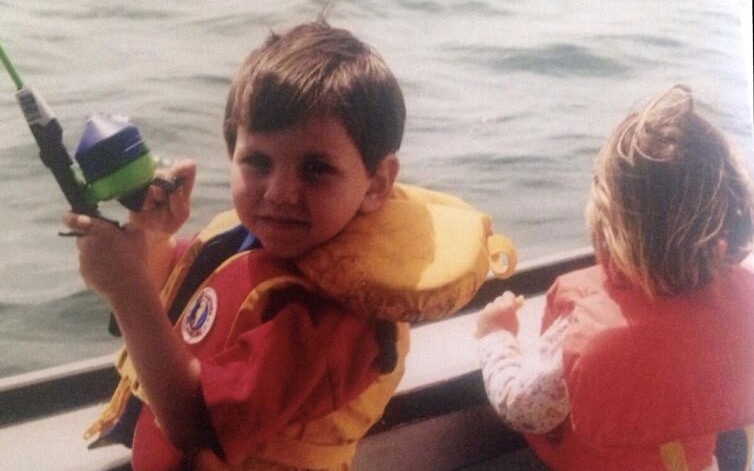 When I asked Megan to write a duo piece with me, I was ecstatic when she agreed! Getting the ability to connect with fishing families and commercial fishing partners has inspired me to help unify these communities from coast to coast. As a kid, I never dreamed that falling asleep on an engine box with an old boat engine purring below me would spark a love and respect for an industry. One that would lead to advocacy for those in the fishing world. It's funny where inspiration can reach out claws and take hold of you. I have always been inspired by how lobstering is more than just an occupation; it's a way of life.
There's something so beautiful about how men and women are married to the sea, but the ocean holds their lives in such indelicate hands. Growing up, I watched my dad wake up before the sun to trawl the waters to feed our family and those near and far. Navigating the coast of Maine is a skill that few possess, with tides greater than any other sea in the world. Doing battle with the elements, unpredictable markets, and ever-changing governmental regulations takes folks with formidable grit, determination, and a love for what they do.
Over the summer months as a kid, when I went out lobstering for the day, I observed how the ocean was my dad's zen, religion, love, and home. His daily routine has remained almost unchanged but has always been so untraditional compared to the lives of others. He slipped into his Muck Boots the same way every morning, no matter who was on the back of the boat working with him. He would row his punt out to his boat no matter the weather. He hauled when the weather permitted and did boat repairs if the weather was sloppy. He untied and tied the same knot to his mooring every time he went out, came back in, and tied multiples of that knot if a gale was coming.
Watching my dad and seeing his unwavering commitment and love for fishing is part of why I don the boots to defend this unique way of life. Being "one of the fishermen" is essential to connecting with my dad, brother, grandfather, uncle, cousins, and the whole coastal island community that raised me. Although I wasn't the one swinging lobster traps over the rail, I still felt like my job was important. I was responsible for putting bands on the "keepers" we caught. Depending on the time of year, one band on the new shells and two on hardshell.
Some mornings were colder than others, but hearing Bob Seger and Billy Joel echoing between the rusty speakers and my dad's voice in the wheelhouse made it worth it. I loved the freedom the ocean presented on the days I joined my dad. I was never allowed to be out on the days with the undeniable uncertainty the sea could bring, and I never once complained about that. I always got anxious when the weather was bad with my loved ones being out there, and I always will be. I truly used to think the weather was the most unpredictable part of fishing and how fortunate I was to be so naïve at the time. The ever-increasing fuel, equipment, and bait prices combined with the often-stable low price for catch is a struggle that all fishing families face.
Over the past few years, my brother Cody and I have brainstormed what we can do to further support the community that occupies our dad and us. We began getting in touch with the Maine Lobstermen's Association (MLA), an organization that represents Maine's lobstering community and endeavors to balance the economic realities of the industry with the conservation needs of the resource. Our father (Craig) sits as vice president of the board for the MLA. We decided to host a lobster bake event last summer where all proceeds would go to the MLA. We chose to throw it in Auburn, Maine, (a landlocked town) to involve and inform more of the Maine community about the regulatory issues and uncertainty that Maine lobstermen face. The event was a great way to involve the greater community and bring our family together and remind each other that we are in this together.
Our stepmom Mary has helped support the family over the past decade and quickly learned what it meant to become a POCF and adapted quickly to this lifestyle while being a registered nurse. In addition to being the support on land for us kids and our dad on and off the water, Mary has always shown support by getting involved in MLA events and connecting with other fishing families that live similarly to us. Though she didn't grow up engulfed in fishing as we all did, she wouldn't have life any other way. She appreciates the flexibility and hard work that goes into lobstering and very much enjoys the support that this community has. We have quite a blended family, and we have always enjoyed coming together for a family cookout on the island in the summertime or an event that we know supports our family and the MLA.
"It took myself and my two kids, Eva, and CJ, a while to fully comprehend this lifestyle, but within our blended family, we can provide nothing but support for one another and other families in our community. I worry about my husband out there, but I also know how stubborn and tough he is," says Mary. "I've seen the skill and experience with the sea that this kind of work requires. I have cared for many retired fishermen throughout my nursing career and learned the ins and outs of this industry through Craig and Cody. It's always been a family effort to support one another, and I believe this way of life is something we all find important enough to carry on through generations."
Our fishing family will continue to fight to keep the opportunity of this way of life alive. In hopes of seeing my children nod off to sleep on an engine box, rocked by gentle swells as we steam for home. Like my dad and stepmom, I hope to watch my kids one day band the lobsters that will help support our family. The individuals that make up this community want these traditions to carry on to the next generation for those who can imagine nothing else but being on the water.