I'm gonna keep this brief because this interview is so good. (If you're a writer or reader interested in the creative process, you're in for a treat.) Spirit Things, a collection of essays by Lara Messersmith-Glavin, is a cathartic dose of poetic prose that is both an immersive yet a fly-on-the-wall perspective on what it's like to grow up and work on a commercial fishing boat as a child, teen, woman, and fisherman.
The essays are like the conversations partners of commercial fishermen desire to know but rarely hear of what it's like "up there" in Alaska, reflecting on a fisherman's experience and the emotions that go with it.
When Lara isn't dominating the blank page, she teaches Developmental English and Creative Writing at Portland Community College. She is also a personal trainer specializing in kettlebells and Animal Flow.
You can catch Lara at the annual Fisherpoets Gathering in Astoria, Oregon, from February 24th to the 26th, and if I didn't have plans already, I'd be sitting front row. (You'll see what I mean by her answers below.)
Here's a link to buy the book from the publisher. For signed copies of Spirit Things, click this link to Annie Bloom's Books, and you can add a note to your personalization request. You can also find Lara on her Instagram account and website, queenofpirates.net.
Ok, time for the good stuff. Here's Lara!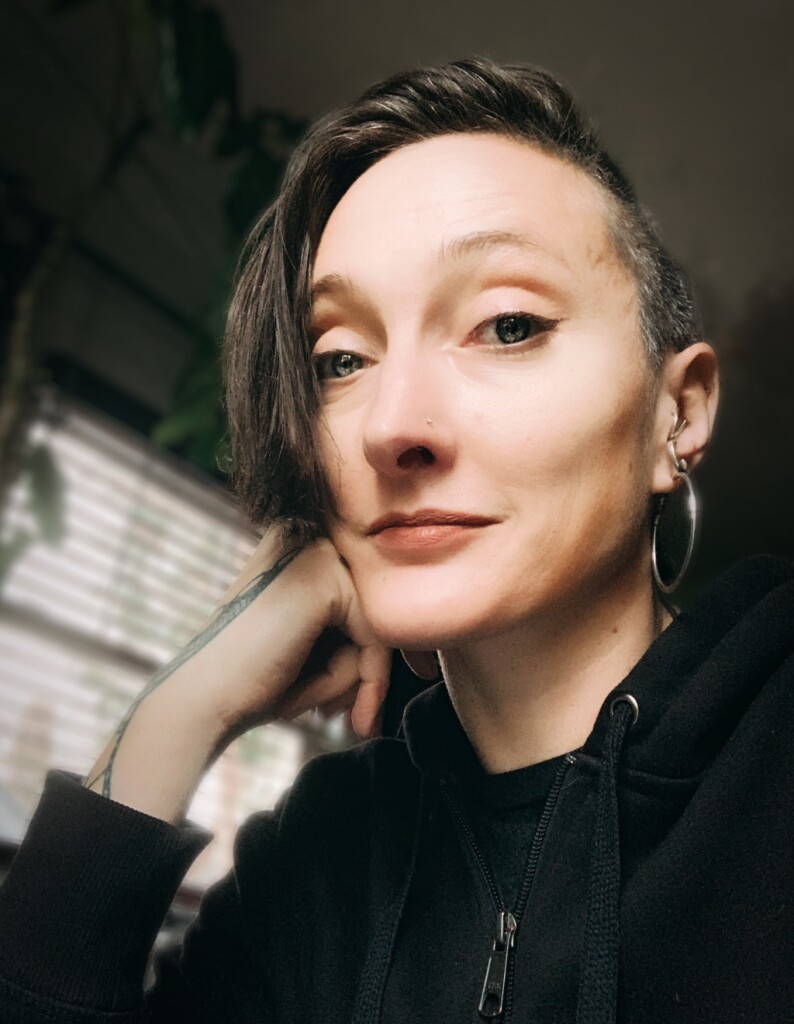 Q&A with Author Lara Messersmith-Glavin on Spirit Things
MW: I'll start at the end of the book to get to the beginning. I read in the Acknowledgments that you thank boatbuilder Ed Opheim for encouraging you to write (and I believe he is mentioned in an essay as well if I remember correctly). I'd love to know what that spark was like for you. Had you written before, and what was the first piece you created with that new awareness?
LMG: The first piece I wrote about Alaska was called "The Fisherman's Daughter," which I'm pretty sure was inspired by "The Coalminer's Daughter," about Loretta Lynn. It was carefully illustrated by hand and bound in a tabbed folder, written in painstaking cursive. I was eight years old.
I came of age at a time of great changes in the fishing industry, both technologically and culturally, so when Ed charged me with writing the stories of "how it used to be," I think he was craving a witness for that transition, someone to carry forward parts of the past into the future. I was only eleven at the time, so it was a solemn charge that I wasn't quite sure what to do with, but it stuck with me.
I had wanted to be a writer since I was a very small child, but it wasn't until I was an adult that I started trying to capture experiences with real intention. For years, most of my writing energy went into letters and journals. I spent a year in China in 2007, and there I started writing for an audience through a blog, a project which ended up being very well received, and that inspired me to take my work more seriously. Friends who performed at the annual Fisherpoets Gathering in Astoria, Oregon, encouraged me to do a reading there, and it was really that experience and community that finally got me to start documenting my history in Kodiak.

How do you reach into memory? Were stories fresh off your mind? If not, how did you dig for details?
Once I had the organizational concept for Spirit Things, the ideas came out in a rush. Using objects as focal points is a kind of mental trick, a way of looking sidelong at a topic so I can think around the things that might evade me if I try to examine them directly. Having the object to fall back on when I needed to change directions made the exploration simple—there were always more questions to ask: How was it made? When did we use it? Are there precursors or other versions from history? What senses does this trigger?
Recalling these memories is a bit like going into a trance. I have a very immersive process when I do this kind of work, and it requires a lot of time and silence. It feels similar to diving down deep underwater and retrieving heavy objects from the seafloor. They are stuck in the muck sometimes, buried, and I have to figure out how first to get a grip on them and then to heave them up to the surface where others can see them.
Working from memory is a slippery thing. When I teach creative nonfiction writing, I always encourage my students to confront this—the fact that our memories change, that we revise them in retrospect, and that we suppress some details in exchange for others, depending on the narrative we're telling ourselves at the time. There were many aspects I had to research to confirm they were correct, sometimes double-checking against the memories of others, like my parents, or resorting to documentation and outside sources. Some creative nonfiction writers believe the "creative" part is a license to write impressions or to offer details that feel right but may not have any objective referent. I'm sympathetic to this, and there are ways of sharing impressions without drifting into pure fantasy or fiction. Alaskan writer and journalist Tom Kizzia really influenced my thinking in this regard; when I studied with him at Fishtrap, Tom helped me develop an orientation toward maintaining a strong pact with the reader: if it's on the page, it's as accurate and true to events as I can make it.
There were many times I read a passage, then put the book down with an inaudible "Wow." The "Letter" shares what it's like on the other side to receive a care package from home, and, as a military kid with many homes, "Land" really hit close to the heart. Which essay was the hardest and easiest to write and why?
The "Food" chapter might have been the easiest to write. Food rarely gets talked about in literature about maritime cultures, yet it's such an essential part of the experience. I had so much fun pulling up the habits, challenges, and joys of cooking and eating on the boat—and talking with my parents about their recollections really helped fill out the little details. For someone like me, who is preoccupied with sensory details, that chapter was a goldmine of opportunities for recollection.
One of the oldest essays in the book is the chapter called "Wake," which was originally a standalone performance piece that was previously published in Anchored in Deep Water: the Fisherpoets Anthology. That was a really tough one to write, as it was a means of processing the death of one of my dearest friends, Gary Edwards, with the sinking of the F/V Big Valley in 2005. It did, however, teach me an important thing about revision—I read early drafts aloud and felt nothing, which told me I was flinching away from the heart of the piece. When I first read aloud to myself the version that exists today, I burst into tears and couldn't get through it. I knew then that I was telling the truth. That experience has turned into a little rule of mine: "Revise until you cry."
Which essays are on the cutting room floor, if any?
There is only one piece that I decided to leave out of the book, which was the essay entitled "Knife." It was an exploration of the many uses of blades, from filleting to gear work, but in the braided, symbolic style that I like to use, it also looked at the idea of blood—blood as heredity, blood as anger, blood as release. I examined the intergenerational transmission of emotional patterns and epigenetic rage, as well as things like cutting and body modification in response to trauma. It was an important essay for me to write and an interesting one, but it ultimately felt too dark for the rest of the collection. There are some aspects of the fishing industry that I don't explore in the book because I wanted this work to create a particular kind of feeling, a focus on wonder and loss and history, and some topics pulled the center of that feeling too far astray. I also wanted to honor the presence of that darkness, however, even if I was the only one who could see it, which is why I requested a knife be the object on the cover.
Who are your author influences, and what are the most memorable books you read either on or off the boat? (Did the place and time make it more special, and why?)
On the boat, we had limited access to books, and trading reading material with tenders and other fishermen was a real form of barter. As a child, I had to read what was available, which mostly meant books written for adults. I remember reading Gone with the Wind when I was seven and realizing I had a lot to learn about the US Civil War. I was also exposed to material that probably could have waited until I was a little older—like many kids, I got an early sexual education from Jean M. Auel's Clan of the Cave Bear and The Mammoth Hunters, as well as from a historical bodice ripper that got left behind at a cannery called The Lion of Ireland, by Morgan Llywelyn. I was also far too young when I encountered Stephen King's collection of short stories, Skeleton Crew, and I'm pretty sure reading "The Raft" while living on a boat did some permanent damage*. ;)
*Note: Lara was interviewed on Oregon Public Broadcasting's art show, State of Wonder, in a segment on "Summer Reading," where she speaks on "exactly this—what we read on the boat and why." The section is called "Back Country Book Club." (Start at 27:58)
The writers who influence my nonfiction work the most are probably Robin Wall Kimmerer (Braiding Sweetgrass), Helen MacDonald (H is for Hawk), Rebecca Solnit (The Faraway Nearby), Diane Ackerman (A Natural History of the Senses), and Brian Doyle (The Wet Engine). I love naturalist writing, where the authors give themselves over to a profound or joyful sense of astonishment at the results of their own research, where they find delight or meaning both in their inquiry and the language they use to explore it. That enthusiasm is infectious. I am an avid reader of science writing, mostly natural history but hard sciences as well, and the work I find most engaging generally frames that material so that it does more than just contribute to our shared knowledge of the world but also sees clearly how the same questions that drive scientific pursuits are those that drive art and philosophy, as well.
I am also a voracious reader of fantasy and science fiction, and I think those are the genres where we are the most honest about what we hope for and fear in our own worlds. The authors that move me right now in those domains are NK Jemisin, Nnedi Okorafor, Kim Stanley Robinson, and RF Kuang.
The ultimate artist question: How do you know a piece is finished? What makes you stop editing or feel good about a piece?
That is the ultimate artist question! Sometimes it's hard to set a piece down and let it be done. I know it's true if something in it makes me cry, as I said before. I know it's done when I no longer feel the terrible burning, tugging, longing sense of urgency that draws me to the page, to begin with. I work pretty intuitively at the start, and I often don't know how a piece is going to come together until it does. When I feel the click of the different elements falling into place, I know I'm close. Then I just make sure the reader can see what I see. I also make sure I can read it aloud, as that is the true form of the work for me. It's done when it can sing. I want to read it to people, which is why I'm so excited for the audiobook of Spirit Things to come out in February 2023.
What advice do you have for writers? Fishermen writers?
It's pretty cliché, but it's true: the only way to be a writer is to write. I spent a long time feeling like my writing was something I had to do in my free time, of which there never seemed to be enough. I tucked it into the tiny cracks and corners of the rest of my life, and so my work didn't have room to grow. One day, I asked myself, "What if I treated writing as if it were the most important thing? What if it actually were the priority?" I then set aside some time every morning, and I made that time inviolable; I protected it with all that I had. To my astonishment, the world didn't stop or burn down. My family and friends didn't hate me, or resent me, or abandon me. They were proud of me and helped create that space. And before I knew it, I'd written three books and was publishing like crazy. It had just been waiting for me to give it the attention it needed.
I think that there are a lot of stereotypes about what fishing is and who fishermen are. My advice for fishermen who want to write would be not to give into the pressure to write the common story. Each of us have wildly unique and different experiences working in the industry—it's in telling the individual truths that our work becomes universal or relatable, I think. I want to hear the stories of fishermen who think differently, feel differently. I want to read more from fishermen of color, of all genders. I want to learn what it's like to be autistic on a fishing boat. I want to read the thoughts of a fisherman who hates fishing. There are so many aspects to the life that remain unexamined and untold. And if you are a fisherman who writes, you are the only person in the world who can tell your story.
What are you currently working on?
I am writing a lot of fiction these days. I wrote a novel-length middle-grade moon myth told through a deck of tarot cards that I'm trying to find an agent for. I'm also in my third (and hopefully final) round of revisions with an epic YA fantasy novel that will be the first of a trilogy. It's about navigational stones and combat through storytelling. I'm very excited about that project. And my next book is in the works, which is a fiction/nonfiction hybrid—it's mermaid/climate horror interspersed with essays about ocean science. It's going to be pretty wild.
How can people connect with you and your writing?
The best way is to visit my website, queenofpirates.net, and sign up for my newsletter. I won't spam your inbox, but I will keep you up to date a couple times a year on interviews and events, as well as any new publications. There are some exciting things coming up this spring, so it's a good time to connect.
*Lara was kind enough to share a sample of her book! (Thank you, Lara!) To read the essay "Letter," visit meganwaldrep.com.