Finally, it's here! Four years in the writing, but there it was in my mailbox:
"Catching a Deckload of Dreams: Chuck Bundrant and the Story of Trident Seafoods" by John van Amerongen, a hefty 357 pages with color photos, beautifully put together and mesmerizing to read. Miss this one, and you miss the boat.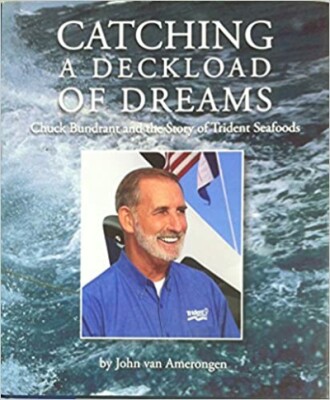 It starts out typically enough. A kid from Tennessee takes a hard look at his future as a farmer or maybe a veterinarian. It doesn't add up to his expectations, and on hearing there is money to be made fishing in Alaska, he quits school in Evansville, Ind., and takes off with two buddies from Tennessee, one who had never been out of the state, the other never out of the county. Off they go in 1961 driving a '53 Ford station wagon with a straight shift that only Bundrant knows how to operate… Alaska or bust!
Of course, it was bust. Their $350 "grub stake" went fast in California. The two Tennesseans headed home, but Bundrant stayed on. He got a job with a circus company putting up tents, eventually working his way up to Seattle, and on to Alaska where he started out as a fisherman and ended up building the largest seafood processing company in the country: Trident Seafoods.
How did he do it? By hard work? Goes without saying. Luck? He had plenty of that, too, although he wouldn't call it luck. The Lord gets a lot of credit for his success. His partners? Them, too.
But I had to wonder how such a nice guy — I knew him slightly over the years, same office building, even wrote a story about him once for the Alaska Fisherman's Journal — could have accomplished all that he did. True, there was plenty of opportunity in Alaska, but no one was rolling out the carpet for farm boys from Tennessee with no money or fishing experience.
Some farm boy! I have space for one sample, which should answer any question about what he had. I'd call it the power of persuasion.
Bundrant: "The Fourth of July… that was the night Clem Tillion came in from Seldovia alone and fell over the side of his boat. His head was down, and his hip boots were full of water. I got him with a pike pole and pulled him out and rowed him ashore, and as it turned out, he proved to be a guy well worth saving. He told me at the time, 'Hey, boy, if there's anything I can do for you, let me know.'
"Ten years later when the 'Billikin Bill' was being passed by the Alaska Legislature, already through the House and the Senate, all that remained was for Clem Tillion, the President of the Senate, to sign it." (The Billikin was the flagship of Trident Seafoods, a 135-foot crab catcher-processor, the first of its kind.)
"So I flew up to Juneau, and I said, 'Mr. Tillion, do you know this Billikin Bill is going to kill me?'"
"Son, there's not a thing I can do about it — not a thing. It's done."
"I said, 'You remember July 4th 1963? You fell over the side and you said, 'Boy, if there's anything I can ever do for you, let me know.' Well this boy's asking.
"He looked over his glasses and slammed his fist on the desk and said, 'Thank you, son. The bill's dead — but you've got to promise me that you'll never fish in the Gulf of Alaska.'" And he killed the bill. If he hadn't done that, I'd have been dead."
Bundrant's day had arrived. He was no longer broke, and this was only the beginning. The history of Alaska's seafood industry is the history of those who made it happen, many of whom you will encounter in this extraordinary book as told by Chuck Bundrant and masterfully written by John van Amerongen — or "Van Am," as we used to call him at the Alaska Fishermen's Journal where we worked together for many years. We also fished together one summer off La Push, Wash., and later taught together at a prep school in Tacoma where Van Am was Captain Hollywood's football coach. I'm proud to know both these gentlemen.
As for the book, I would have to say that this industry of ours has been blessed by many gifted writers whose works will last as long as there are fisheries in Alaska, and none better than this one. My congratulations to Van Am for writing it and to Chuck for holding him to it for four years. Many kudos to both of them.