A trio of sail-powered autonomous vessels are underway in the Bering Sea to conduct a two-month survey of pollock, aimed to fill NMFS data gaps with the forced covid-19 cancellation of standard surveys by crewed science vessels.
The saildrones launched from Alameda, Calif., in late May and cruised under sail for 40 days at around 2 knots over almost 2,700 miles – roughly the transcontinental distance between Miami and Seattle, according to NMFS officials.
The robotic boats – equipped with the same acoustic technology used on research vessels to estimate pollock abundance – arrived at Unimak Pass in the Aleutian Islands at the end of June.
"At this point the saildrones separated," according to a July 15 updated issued by NMFS. "Each saildrone will cover a third of the 600-nautical-mile-wide survey area, which is bordered by Alaska's Aleutian Islands to the south and the edge of the Bering Sea shelf to the west."
The saildrones will steer through a series of north-south transects moving from east to west, on a mission plan designed to mimic a typical ship survey as closely as possible.
Each vehicle carries a Simrad EK80 high-precision split-beam echosounder to map fish abundance.
This survey builds on work instrumenting saildrones with the sonar technology used in fisheries surveys that began in 2015 involving NMFS' Alaska Fisheries Science Center, NOAA Research's Pacific Marine Environmental Laboratory, Kongsberg maritime, and Saildrone, Inc.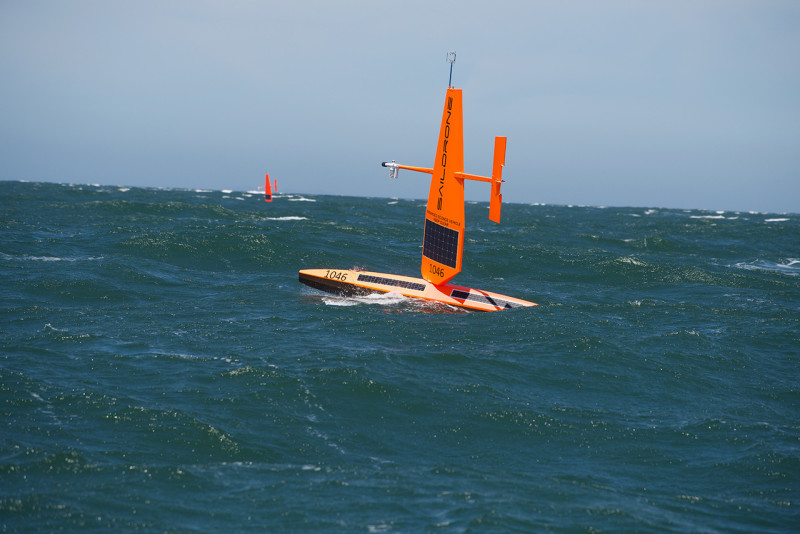 "In previous studies in Alaska, scientists and engineers developed and refined the technologies now being used," according to the agency. "The systems they designed together through this exciting public-private partnership are capable of collecting comparable acoustic data to those from NOAA research vessels."