The pandemic and a growing public concern about the effects of climate change loomed large over the committee conversations at the Alaska Seafood Marketing Institute's virtual All Hands on Deck conference this week.
Alaska fisheries had a remarkably successful story to tell in terms of coping with the threat of covid-19 over the spring and summer, as tens of thousands of fishing and seafood industry workers converged on remote coastal towns across the state.
While the Bristol Bay salmon fleet matched that success with robust returns and a harvest of 39 million fish, statewide salmon returns were down overall, and the bay's base price was half what it was in 2019, coming in at 76 cents. This year marks the state's seventh lowest salmon volume since 1976 with run failures in the Chignik and Artic-Yukon-Kuskokwim districts, and disaster declarations in Cordova, Petersburg and Ketchikan.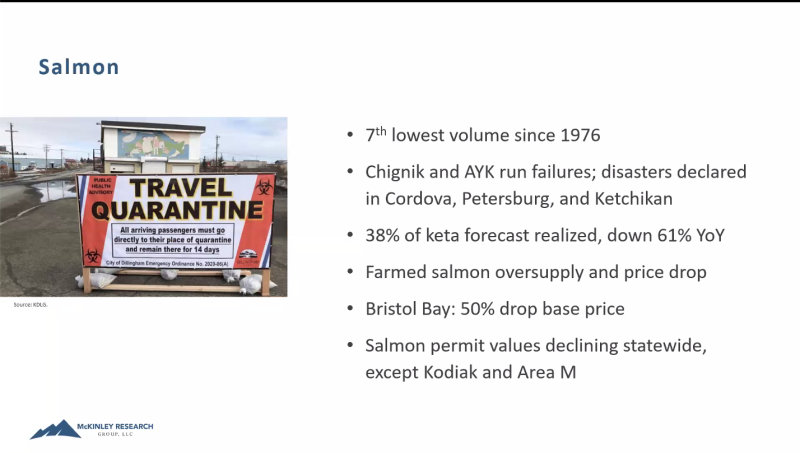 "The [chum salmon] didn't show up, with only 45 percent of the forecast harvested. On top of that, the ex-vessel prices were quite low," said Dan Lesh with McKinley Research (formerly McDowell Group). Total value for the 2020 chum fishery was $26 million, less than half the previous 10-year low of $63 million in 2014.
Alaska's salmon export volumes overall were down 48 percent as of September. A low global wild supply managed to compensate for a glut of farmed salmon and pushed export prices up 26 percent for wild Alaska salmon.
ASMI's operational teams shifted marketing efforts to capitalize on domestic demand for convenient and simple meals, as well as a rising consumer tendency to pack and cook from the freezer.
"The four tenets of our strategy moving forward are cooking at home, health and wellness, direct-to-consumer ecommerce, as well as telling the local and sustainability story," said Megan Rider ASMI Domestic Marketing Director.
The pandemic also created a resurgence in demand for canned seafood, a processing method that had seen a slow phase-out before 2020.
"It brings in a new challenge. What product forms do we make this year? How much will it cost us to bring people in to safely work in the processing plants? We will have to make a lot of different choices coming into the next salmon season," said Emily Matlock of Trident Seafoods.
The shift from eating out to eating in also affected demand for sizes of blackcod (sablefish).
"5-7 [pound] and 7-ups are more of a restaurant fish, which is not a high demand right now," said Jessie Keplinger of Icicle Seafoods.
Mark Callahan, a member of the Halibut and Sablefish Committee, predicted that restaurant and foodservice are not going to rebound for a couple of years.
An uptick in direct-marketing efforts was noted across the board, as fishermen pivoted to find new access points to an established consumer base. However, those efforts were hampered for more remote fishermen when delivery providers became markedly less reliable. Kendall Whitney, manager of the direct-to-consumer program for the Seafood Producers Cooperative, noted that FedEx has been 300 to 400 percent less reliable.
Despite hopes for an effective vaccine, industry members voiced concerns about preparations for the fall and winter fisheries as case counts continue to rise.
Alaska's processors have spent upward of $60 million so far in 2020 to mitigate covid risks.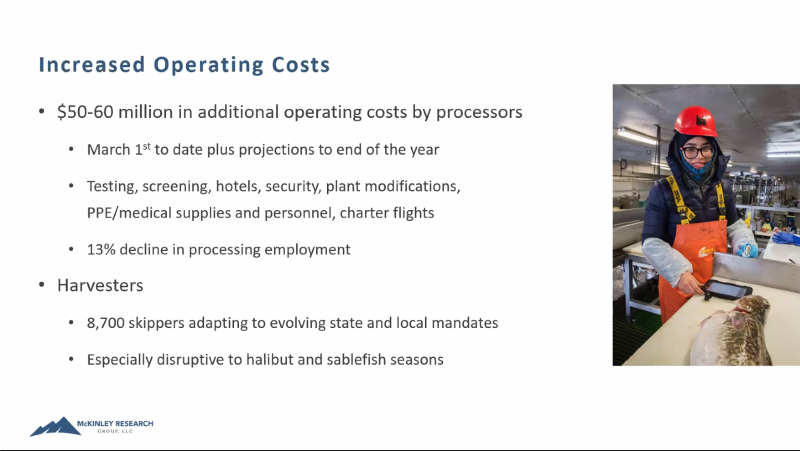 "One of the biggest challenges we went through this last year was the covid virus and the costs to get people fishing and get our processors into the plants," said Sandy Souter of Silver Bay Seafoods. "We're fighting lower priced farmed fish and tariffs and that's a big challenge."
In addition to mobility issues related to covid-19, some fisheries were facing consumer fears of covid contamination of processed product and on packaging.
For Alaska's Pacific cod, however, that concern led to an increased demand out of China, as strict covid testing protocols kept much of the P-cod harvest from Russia out of Chinese markets.
With a new administration coming in the new year, the landscape could shift even more dramatically, as the industry navigates changes in tariffs and trade partnerships, not only for the United States, but resulting from the UK's breakup with the European Union.
If the news from the EU this week is any indication, the seafood industry will continue to see a mixed bag. A new slate of tariffs is expected to spare U.S. pollock and lobster producers, but still hits salmon and scallops at 25 percent.
Brian Hagenbuch contributed to reporting for this story.