The last time I saw Chuck Bundrant was November 2019. He was holding court at the Trident Seafoods reception in Seattle — not that he would have asked to be centerstage. It happened naturally out of respect for the company's founder.
Like so many things about the company Bundrant founded in 1972, the annual Trident party is legendary. It's a who's who of Alaska fisheries and Pacific Northwest seafood, but first and foremost, it's an offering of gratitude for the thousands of fishermen who enable Trident to be Alaska's seafood industry leaders year over year. And those fishermen turn out in force.
So there we were in the middle of a boisterous reception with hundreds in attendance — feasting on piles of crab, pollock noodles and wild Alaska salmon — and at the center of it all was Chuck Bundrant, happily meeting with a steady stream of his fishing family in the concrete and steel foyer of Seattle's Mariner's stadium. (When you run a seafood empire, you may have to rent out a stadium to say thanks to your crew.)
Lots of people have been sharing stories and photos of Bundrant since word of his passing at age 79 on Sunday, Oct. 17, spread quickly through the industry.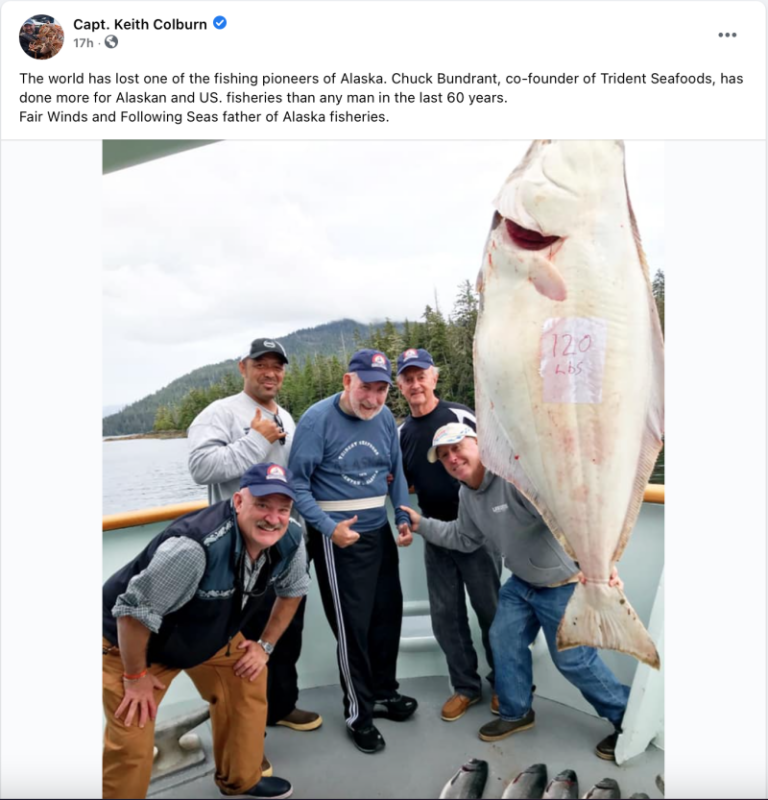 But none can hold a candle to our beloved John Van Amerongen — or Van Am, as many of us know him. In the spring of 2014, Van Am's profile of Bundrant's journey from Tennessee to Indiana to Alaska landed on bookshelves across the country. "Catching a Deckload of Dreams: Chuck Bundrant and the story of Trident Seafoods" was a four-year labor of love.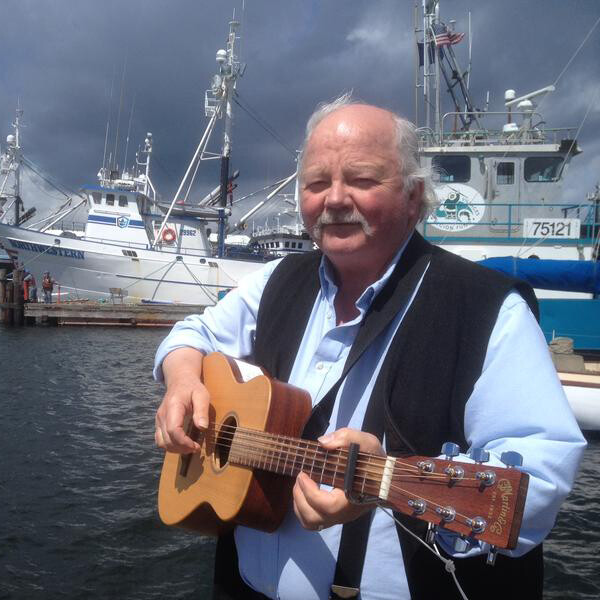 Van Am was the editor of the Alaska Fisherman's Journal for many years. In 2006, he moved over to a post at Trident and eventually to the honorable title of Bundrant's storyteller. Roger Fitzgerald, a colleague of Van Am's at AFJ and a longtime NF columnist, reviewed the tome for our May 2014 issue.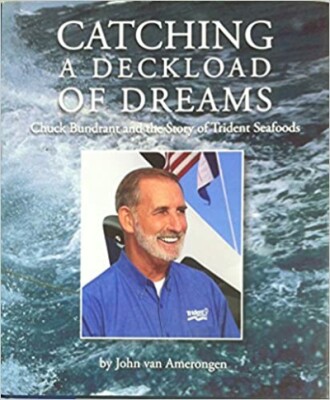 From the book comes Bundrant's voice, offering a peek behind the scenes of how Alaska's seafood pioneers got things done:
"The Fourth of July… that was the night Clem Tillion came in from Seldovia alone and fell over the side of his boat," Bundrant is quoted in the book. "His head was down, and his hip boots were full of water. I got him with a pike pole and pulled him out and rowed him ashore, and as it turned out, he proved to be a guy well worth saving. He told me at the time, 'Hey, boy, if there's anything I can do for you, let me know.'
"Ten years later when the 'Billikin Bill' was being passed by the Alaska Legislature, already through the House and the Senate, all that remained was for Clem Tillion, the President of the Senate, to sign it." (The Billikin was the flagship of Trident Seafoods, a 135-foot crab catcher-processor, the first of its kind.)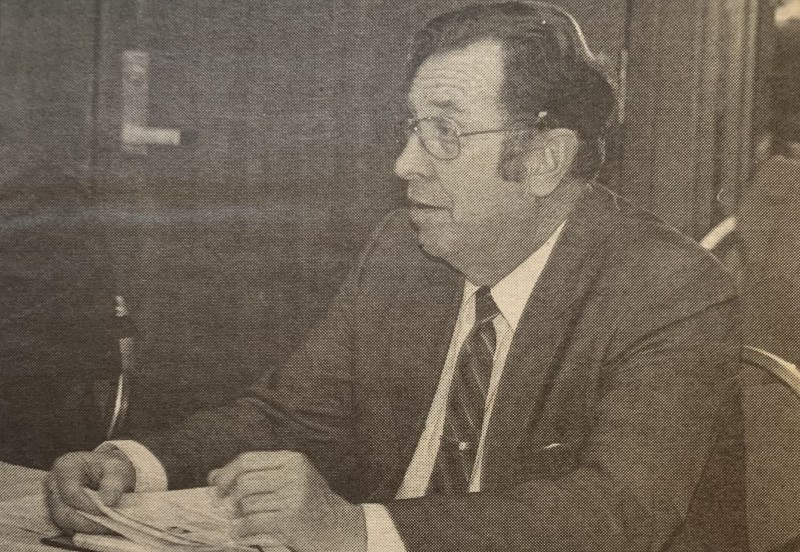 "So I flew up to Juneau, and I said, 'Mr. Tillion, do you know this Billikin Bill is going to kill me?'"
"Son, there's not a thing I can do about it — not a thing. It's done."
"I said, 'You remember July 4th 1963? You fell over the side and you said, 'Boy, if there's anything I can ever do for you, let me know.' Well this boy's asking.
"He looked over his glasses and slammed his fist on the desk and said, 'Thank you, son. The bill's dead — but you've got to promise me that you'll never fish in the Gulf of Alaska.' And he killed the bill. If he hadn't done that, I'd have been dead."
Instead it would prove to be the beginning of the next big thing for Bundrant and Trident. (Read the full review from Roger Fitzerald.)
Tillion,who left this world just four days before Bundrant, was also a force of nature in Alaska fisheries and politics.
We say goodbye to another great leader in less than a week. Fair winds and following seas to the king of Trident Seafoods.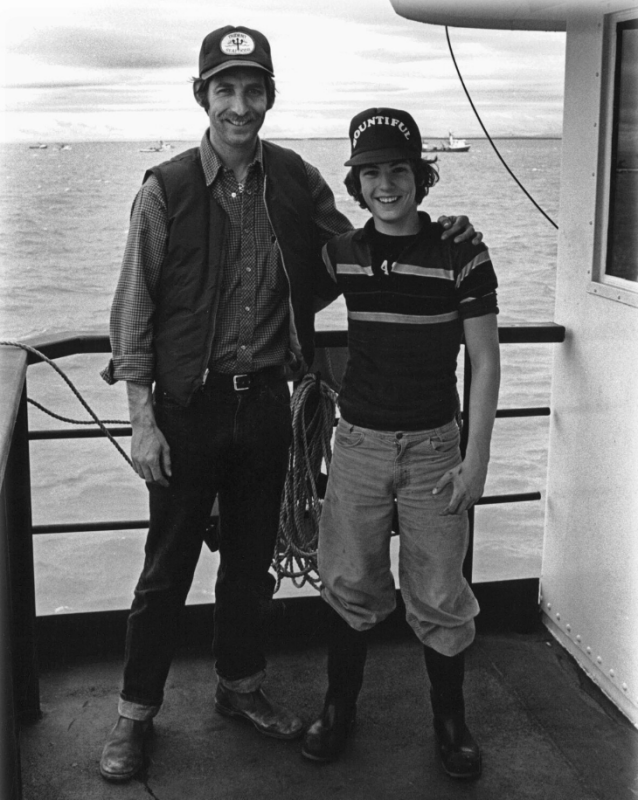 Bundrant is survived by his wife, Diane Bundrant; his son Joe Bundrant and daughter-in-law Mary Bundrant; daughter Jill Dulcich and son-in-law Frank Dulcich; daughter Julie Bundrant Rhodes and son-in-law Randy Rhodes; 13 grandchildren and five great-grandchildren. Bundrant also is survived by his sister Linda Nelson and brother-in-law Doug Nelson.