As of July 22, more than 64 million sockeye had returned to Bristol Bay this year, making it the largest sockeye run since recordkeeping began in 1893. The previous record of 62.95 million fish was set in 2018. Though the peak has passed, there is still effort and returns to be counted for the year.
"This is natural abundance on a truly epic scale," said Andy Wink, executive director of the Bristol Bay Regional Seafood Development Association. "These records aren't being set while overfishing. All escapement goals were met to propagate strong future runs."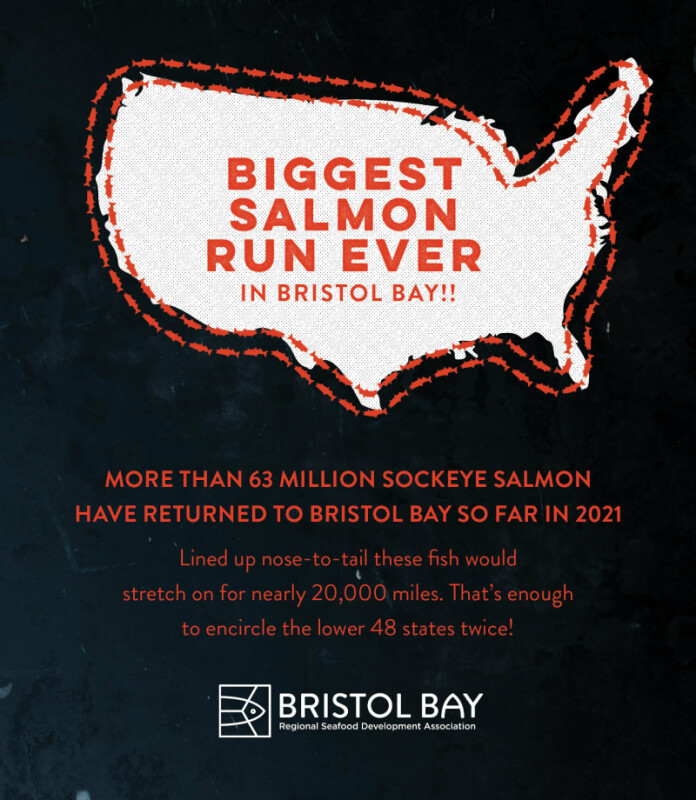 This year's harvest stood at 40 million sockeyes as of the same date.
The Nushagak District set back-to-back single-day harvest records with 1.77 million sockeye caught on June 30 and then 1.82 million sockeye on July 1.
"The boats aren't even dry yet, and interest in Bristol Bay drift permits is beginning to trickle in. Permits are popping up for sale, with preliminary asking prices between $200,000 and $240,000," according to the Fish Ticket report by Alaska Boats & Permits in Homer, as reported by Laine Welch on Alaska Fish Radio.
Regional associations and local fishermen are taking this celebratory moment to promote the value in the bay's abundance, asking for permanent protections from the threat of Pebble Mine's development.
"Despite all the bad news about environmental degradation and destruction, Bristol Bay is a shining example that healthy ecosystems can and still do still exist," Wink added. "It's really an ecological treasure. We ask that state and federal government protect Bristol Bay salmon and the natural habitats that allow it to thrive."