The Alaska Seafood Marketing Institute's All Hands on Deck annual meeting begins today, Tuesday, Nov. 10 at 9 a.m. AST/1 p.m. EST. Check back here for live updates on today's General Session and Responsible Fisheries Management Q&A.
Live updates:
Responsible Fisheries Management program update with Susan Marks and Jeff Regnart
-The program will be nipping at the heels of the Marine Stewardship Council if the Norway RFM program gets up and running, totaling 6.14 metric tons of seafood certified under RFM compared with 9 million metric tons certified under MSC.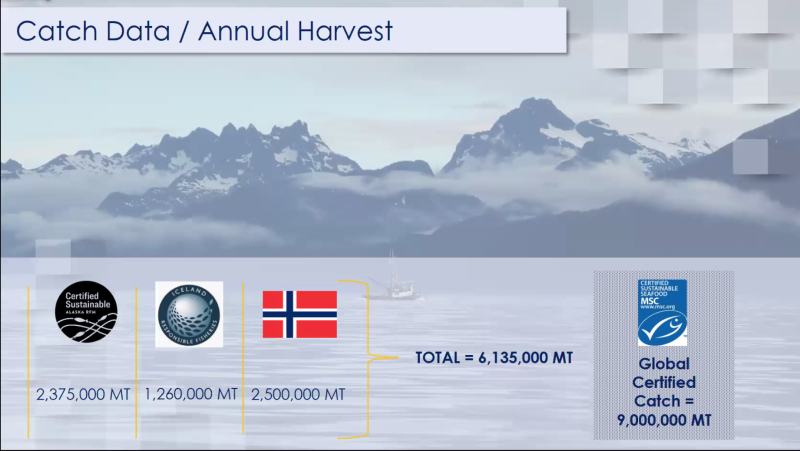 - "We are in conversation with a fishery outside of Alaska," Jeff Regnart said.
- This year marks the first specialty distributor joining the program, with Santa Monica Seafood coming onboard in summer 2020.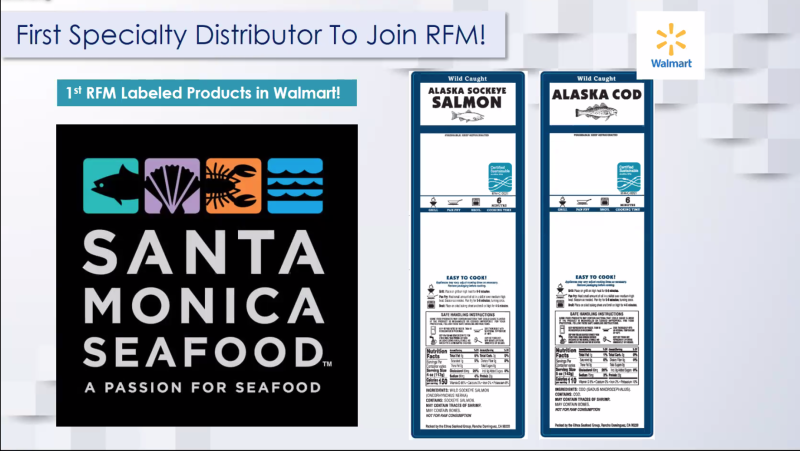 - The program strives to illustrate the differences between certification/labeling programs and ratings programs.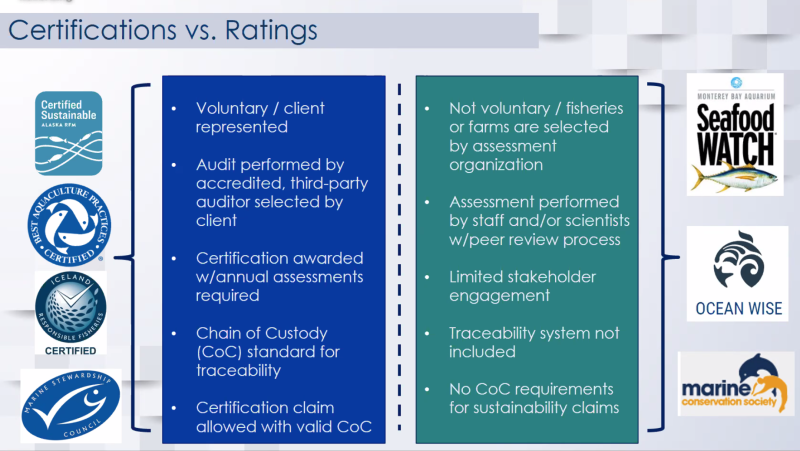 - The Responsible Fisheries Management program has been around since 2010.
------
Closing remarks from ASMI Board Chairman Jack Schultheis, general manager of Kwik'pak Fisheries in Emmonak, Alaska, and a National Fisherman Highliner.
Customer Advisory Program Update
- Opportunities abound for fisheries markets as home cooks have opened to a wider range of species, product forms and recipes.
- Globally, traditional foodservice opportunities are struggling, while retail and home delivery options are seeing sharp growth.
Dan Aherne — New England Seafood in the UK, CEO (recently acquired by Juneau-based Sealaska)
Greg Jeffers — Gorton's; New Bedford, Mass.; Director of McDonald's Business Unit & Seafood Procurement
Peter Vasil — Sysco Canada, Category Manager, Beef & Seafood
Keith Brunell — Nordstrom, Director Food & Beverage/Chef
Chris Follari — Sedexo, Global Director of Culinary
Guy Pizzuti (via phone) — Publix, Seafood Category Manager
Jeremy Woodrow and Hannah Lindoff representing ASMI and other CAP members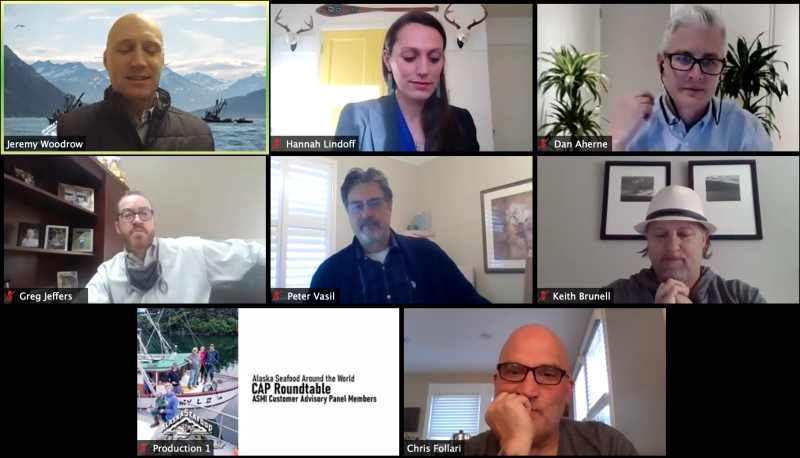 "The bottom line here is that fish is good," says Sen. Lisa Murkowski on the need to update FDA consumption guidelines.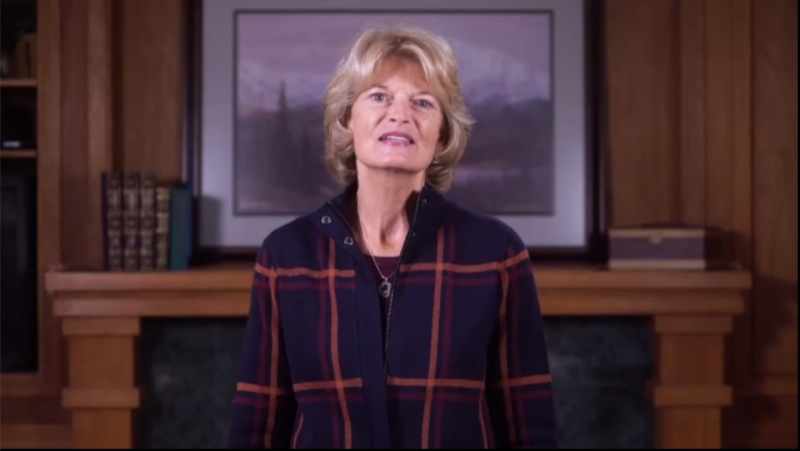 - Covid mitigation possibly even more difficult in 2021.
- P-Cod, likely to drop in value and volume.
- Salmon — seventh lowest volume since 1976.
- 25-30 percent increase in seafood sales — the category with the most growth in the grocery store.
- YTD 2020 volume and value down 16 percent, prices flat.
-$50 million to 60 million in additional costs by processors to adapt to covid mandates, according to Dan Lesh, McDowell Group, now known as as McKinley Capital Research.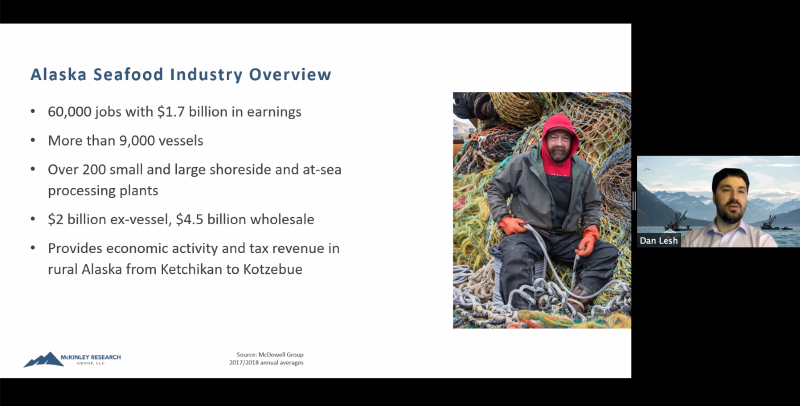 - More than 250 attendees scheduled to join this week.
"When we look back on it, we were able to make it happen," says Jeremy Woodrow, ASMI executive director, in opening remarks. "I can't say thank you enough for what you've done these past several months."
Pre-roll: Executive Director Jeremy Woodrow's welcome message opens with praise for the Alaska seafood industry's safe and successful summer operations.
"As I'm sure you recall, there was a moment in the spring when the 2020 salmon season was in doubt," Woodrow says in a video recorded at Auke Bay in Juneau, ASMI's home base. "For good reason, Alaska's coastal communities were concerned of what could happen. As an industry, you pledged to keep Alaska's fishing communities safe. And by and large, you made good on this promise. This was made possible by the hundreds of stakeholders and state and community leaders that came to the table."
Woodrow also noted that while the covid-19 pandemic created tectonic shifts in the marketplace, both globally and domestically, ASMI's institutional knowledge helped the agency shift with the rapid flux of consumer demand.
"For many people, seafood came home for the first time. Our goal, of course, is to make sure it keeps coming home," Woodrow says. "As we reach into our toolbox and revive old favorites — such as Cook It Frozen — the timing has never been better to add a few more ideas to reach and retain our growing customer base."
Given that the outlook for Alaska's summer fishing season was dicey at best in March and April, the success of the 2020 season is a shared honor.
"Alaskans often boast about our toughness and ability to overcome adversity, how we come together when it matters most and look out for our neighbors. Well, 2020 put these statements to the test on a multitude of levels. And if you ask me, the Alaska Seafood Industry is a shining example of why these statements are a matter of fact," Woodrow notes. "Thank you, because without your tireless commitment throughout the past nine months, today's conversation would be much, much different."
Agenda for ASMI All Hands On Deck General Session, Tuesday, Nov. 10, 2020
(All Meetings are in Alaska Time Zone)
9:00 – 9:05 a.m. Opening Remarks & Welcome
Jeremy Woodrow, ASMI Executive Director
9:05 – 9:30 a.m. Covid-19 Impacts
Dan Lesh, McDowell Group
9:30 – 9:45 a.m. A Word from Washington
Senator Lisa Murkowski
9:45 – 10:50 a.m. 'Alaska Seafood Around the World' CAP Roundtable
ASMI Customer Advisory Panel members
10:50 – 11:00 a.m. Closing Remarks
ASMI Chairman, Jack Schultheis