This year's Pacific Marine Expo Education Program boasts a wealth of valuable sessions, but three sessions have been handpicked as must-attend events. These sessions address pressing concerns at the forefront of fishermen's minds, including transitioning to green technology amidst evolving regulations, navigating the innumerable challenges such as climate change, pandemics, inflation, political tensions, and fishery management decisions, and deciphering the sensationalized headlines surrounding the current state of Alaska's fisheries. Gain an exclusive peek into the standout sessions of this year's Pacific Marine Expo.
"Commercial Fishing Vessels Go Electric" kicks off the lineup. Sustainability initiatives may initially appear as added expenses for fishermen, but it's impossible to ignore the mandates associated with these initiatives. The fishing community must play a pivotal role because their perspective is indispensable to these evolving developments.
Noah Oppenheim, the principal and founder of Homarus Strategies, focuses on addressing regulatory changes in the fisheries policy arena. Oppenheim eagerly anticipates delving into the most challenging aspects of integrating electricity into fishing operations. Joining Oppenheim on the panel is Linda Behnken, the executive director of Alaska Longline Fishermen's Association (ALFA), and Sarah Schumann, coordinator at Fishery Friendly Climate Action.
These seasoned professionals, representing diverse sectors within the commercial fishing community, will illuminate how embracing sustainable practices can lead to operational efficiencies, ensuring the long-term prosperity of individual enterprises and the broader fishing industry.
Next on the agenda is "Mental Health for Commercial Fishermen: Strategies for Addressing Stress on the Water." While previous generations of fishermen may have indirectly grappled with mental health challenges, the current generation advocates for a more direct approach. The enduring image of the solitary, resilient lone fisherman persists in art and social media, but recent insights reveal the profound mental toll it takes.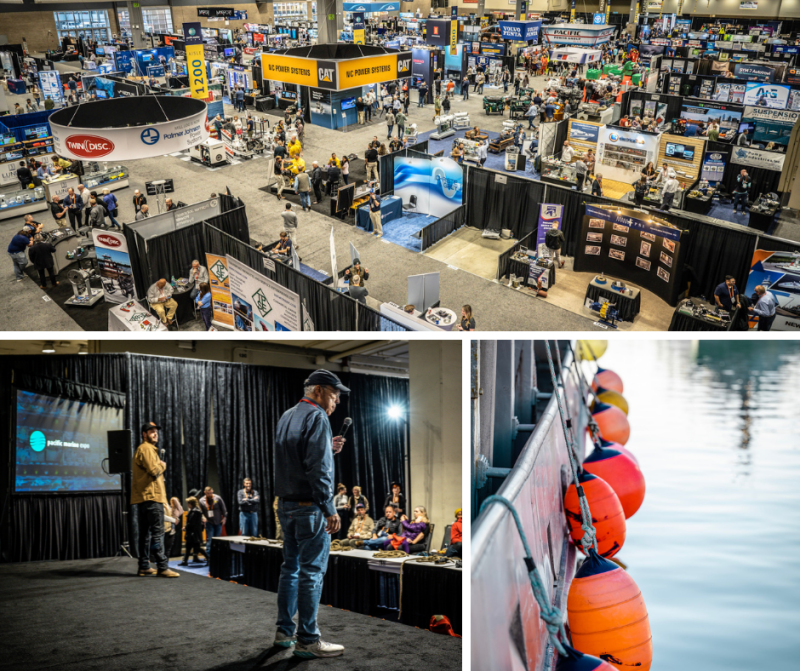 Studies indicate that suicide rates among U.S. commercial fishermen are more than double the national average for workplace fatalities. The panel for this session includes Denise Damewood, founder of Project Gabe, Jeff Farvour, Vice President of the Alaska Longliner Fishermen's Association, and Marissa Baker, Ph.D., who serves as an assistant professor and is the Industrial Hygiene Program Director at the University of Washington.
During the panel discussion, they will delve deeply into these pressing issues, offering invaluable insights into stress management, both on and off the water. Their expertise spans the identification of stress overload symptoms, guidance on when to seek assistance, and the provision of available resources for addressing various stress factors, substance abuse, and immediate crises.
Finally, "Alaska Fisheries: Separating Fact from Fiction" will showcase the reality on the water that is going to define the present and future for an entire fishing community.
While fishery seasons in Alaska have witnessed significant fluctuations in recent years, including the cancellation of snow and king crab seasons, sensational headlines have suggested the imminent demise of Alaska's fisheries. However, the actual situation is far more nuanced. For instance, Bristol Bay achieved a historic milestone in 2022 with a record-breaking harvest of 57 million sockeye salmon, surpassing the previous 1995 benchmark of 44 million. Nevertheless, warmer waters have presented challenges, impacting chinook and chum salmon populations across the Pacific, while Yukon's salmon has faced its own trials. What lies beneath these headlines?
These questions along with the intricate story of Alaska's fisheries will be explored. Attendees will be able to better understand how changes are affecting salmon runs from Barrow to Ketchikan and also gain valuable insights into formulating effective responses to climate shifts and market dynamics.
Register now for FREE!
Register >>> HERE