A fishing couple was lost at sea when their boat the F/V Aquarius sank off the coast of Florence, Ore., in the early morning hours of June 29. Amber and Kyle Novelli were reportedly the only active commercial crabbers in Florence, where they were known for an award-winning chowder. Their deckhand reportedly was found ashore by rescue crews.
Just before 2 a.m., Coast Guard Sector North Bend received a distress call from the captain of the Aquarius, saying that all crew members were abandoning ship. The vessel had struck the south jetty in the Siuslaw River Bar and was beginning to take on water, according to a Coast Guard bulletin.
A Coast Guard helicopter and rescue crews from Station Siuslaw River and Station Umpqua River got underway to assist with the search. Conditions were reported as 6 to 8-foot seas with occasional 10-foot waves, breaking at the bar.
Siuslaw Valley Fire Rescue and Western Lane Ambulance and the Coast Guard searched from shore. They discovered and rescued the deckhand near the shoreline. He was able to confirm that two others were onboard the vessel with him when it sank.
The helicopter crew located one unresponsive person, hoisted them and brought them to awaiting emergency responders at Florence Municipal Airport.
At approximately 7 a.m., the second unresponsive person was located. With the assistance of the helicopter rescue swimmer, the individual was taken to awaiting emergency responders.
Amber and Kyle Novelli ran Novelli's Crab & Seafood, under which they had entered and won Florence's Chowder Trail contest three times.
"With a heavy heart I am saddened to inform the many award winning crab chowder followers of the passing of Kyle and Amber Novelli," said a Facebook post from Novelli's Crab & Seafood on June 29. "Sharing their love of crabbing was always their dream. Their personalities will forever leave a lasting impression on anyone who met them."
Friends have started a GoFundMe to help the family pay for funeral expenses.
Together, the Novellis leave behind four children: Kyle's son, Cody; Amber's children D.J., Joe and Emily; as well as three grandchildren.
The fishing community responded with posts of support for the couple's family and memories of their commitment to their community.
"Today we lost our friends and fellow fishing couple," said a post from Chelsea Rose Seafood in nearby Newport. "Some of our longtime customers and followers may remember our 1st little Crabber the F/V Aquarius. Amber and Kyle Novelli bought the boat from us a few years back and later started their business Novelli's Seafood in Florence. Amber has the award winning chowder, and Kyle and his family helped us get a start in Tumalo, where they live and we still set up shop. They were both lost with the vessel this early morning off of Florence and our hearts are broken."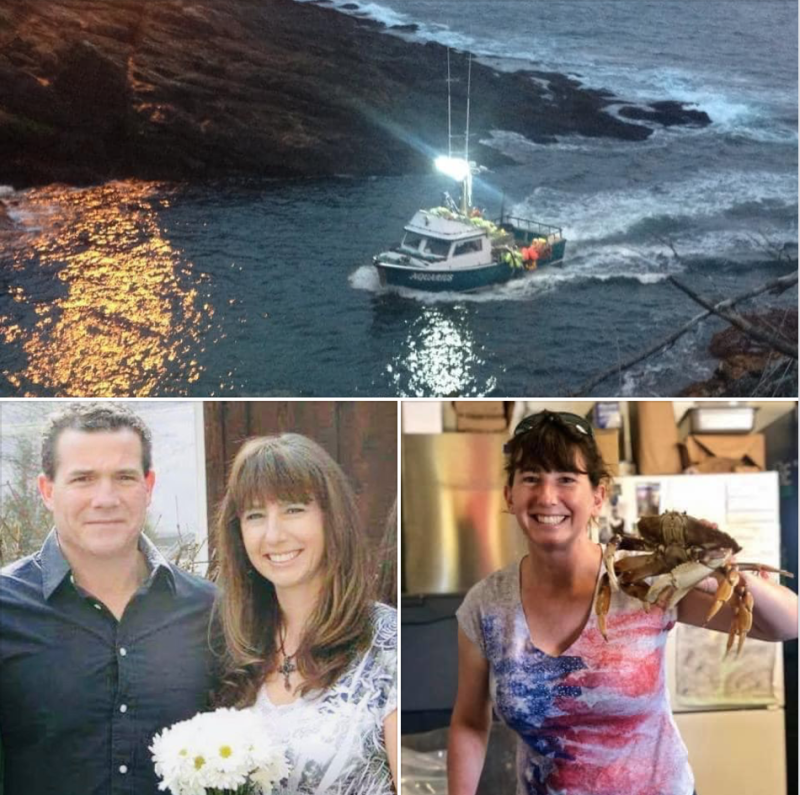 "This highly unfortunate loss of two members of our close community deeply saddens all of us. We continue to stand by you in this time of need and healing," said Senior Chief Petty Officer Jay Nilles, Officer-in-Charge of Station Siuslaw River. "This community is a family that embraces us, as we embrace everyone who crosses the bar for a living, or to recreate on the ocean. We are reminded during these times, that the ocean is unforgiving, and can be a treacherous place to work and recreate. We will continue to support our community and do all we can to keep those safe who go to sea for their livelihood or pleasure."
"We are tremendously saddened to pass along news of this unexpected tragedy, as one of our commercial crab fishing vessels, the F/V Aquarius, went down this morning and claimed the lives of two of our fishermen and friends," posted the Oregon Dungeness Crab Commission.