The Coast Guard and two commercial fishing vessels located and rescued the crew of the 52-foot longliner Sea Smile 545 miles southwest of Hawaii early Friday.
The six crewmembers were reportedly in good condition and are making their way to Honolulu aboard the commercial fishing vessel Captain Minh, according to Coast Guard officials.
"Anytime you get word that a crew is preparing to abandon ship, you immediately become worried about the time required to reach the survivors," said Cmdr. Marc McDonnell, operations officer for Coast Guard Air Station Barbers Point on Oahu, in a statement Friday.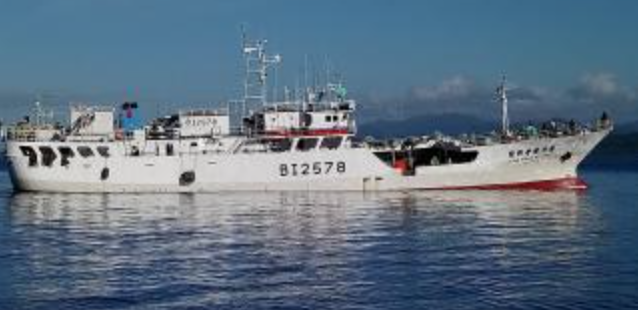 "In last night's case, we appreciate the support of the good Samaritans aboard the commercial vessel Ying Rong No 638, who made this rescue possible. Given the remote area, this was a complex case, but our crews train for this exact scenario and we are fortunate to say that the training paid off."
At 6:46 p.m., Thursday, Joint Rescue Coordination Center Honolulu (JRCC) watchstanders received a report from the owner of the Sea Smile stating the vessel was disabled and taking on water. The crew reported that there was approximately 5-7 feet of water in the engine room and fish holds, rising rapidly, and that they could not use dewatering pumps or systems due to a loss of power.
JRCC confirmed that there were enough personal floatation devices for all crewmembers as they prepared to abandon ship aboard a life raft. JRCC instructed the captain to activate the vessel's emergency position indicating radio, which was successfully gave watchstanders their position.
JRCC launched the crew of an Air Station Barbers Point C-130 and pulled an Automated Mutual-Assistance Vessel Rescue System surface picture, which indicates the relative position of all AMVER-participating ships around a specific geographic point.
Once on scene, C-130 aircrews deployed two life rafts, two self-locating datum marker buoys, a VHF radio, survival gear and supplies, and a red flare to illuminate the area prior to departing the scene.
At approximately 12:00 a.m., the Taiwan-based AMVER vessel Ying Rong arrived on scene and took the crewmembers aboard their vessel and waited for the AMVER vessel Captain Minh for further transport to Honolulu.
AMVER is a worldwide voluntary reporting system sponsored by the United States Coast Guard. It is a computer-based global ship-reporting system used worldwide by search and rescue authorities to arrange for assistance to persons in distress far at sea.