NOAA Fisheries is working with partner agencies and organizations to rebuild and conserve the remaining North Atlantic right whale population.
Now estimated to number only around 340 animals, they are one of the world's most endangered species. NOAA says that tracking and monitoring the right whale population and the health of these mammals is crucial to their recovery efforts.
Right whales can be observed from a boat, on shore, and from the air, but researchers have varieties of technology and methods to be able to monitor these mammals underwater.
By attaching tracking devices to right whales, scientists and researchers can learn more about the time that these animals spend out of sight.
The tracking devices are known as tags that can be attached to a whale through a suction cup or implantable darts. NOAA shares that these tags document the animal's location, behavior, movement, swim speed, habitat uses, dive depth, and health.
Some of the tags can record audio and capture ocean temperatures. The collected data provides insights on an animals movement and behavorial habits that are critical for addressing their conservation challenges.
The tags used for whales are lightweight and relatively small and range from the size of a cell phone to a book. The devices are tested rigorously before being approved for use in the field.
Suction cup tags are applied to a whale's back as it comes to the surface for air. Most of these tags stay on for a few hours to a few days and then release when the suction is lost. The tag then float to the surface so it can be located by scientists so they can retrieve the device and download the data collected.
North Atlantic right whales are federally protected under the Endangered Species Act and Marine Mammal Protection Act, therefore, all research in U.S waters must be authorized under a NOAA Fisheries research permit.
In November 2022, two endangered right whales were sighted near Virginia Beach by a U.S. Navy Fleet Forces Command-funded aerial survey. The two female whales, named by whale researchers as Smoke (27-year-old) and Caterpillar (18-year-old), they were migrating towards the Southeast calving grounds.
By working with the Navy Team, HDR Inc., was able to capture aerial footage by a drone, as well as attach a suction cup tag to Smoke. This specific tag had a camera, a hydrophone to record sound, and several sensors.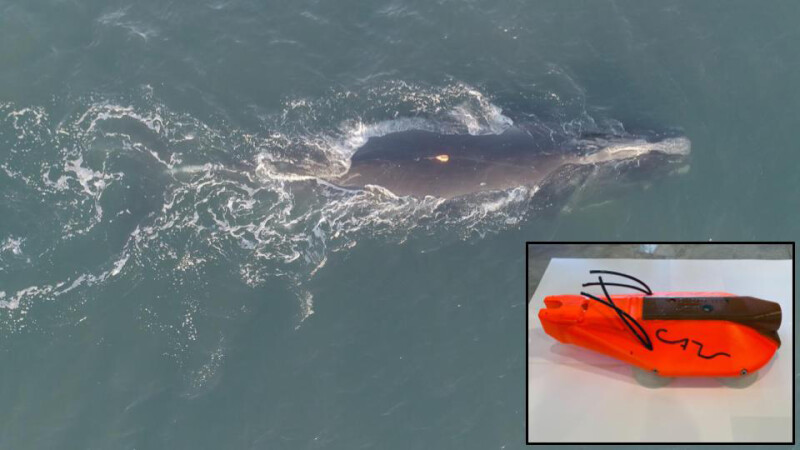 The tag remained attached to Smoke for 10.5 hours. Her trip to the calving grounds was successful, and she gave birth to her first known calf in December 2022.
Researchers continue to analyze the data collected from the tag placed on Smoke and believe that the information collected may be important for management decisions.
The tag data showed that Smoke was silent during the recorded portion of her journey to the calving grounds – which demonstrates how pregnant right whales may be difficult to detect with acoustic recorders.
This is one of the reasons that NOAA Fisheries urges operators of vessels to go slow to avoid collisions with whales, even when they might not seem present.
What mariners can do to help:
Report all right whale sightings to NOAA Fisheries
Federal law requires vessels, paddle boarders, and aircraft (including drones) to maintain a distance of 500 yards from right whales.

Slow down. NOAA Fisheries urges mariners to keep it at 10 knots or less in areas where whales are likely to be present. (The speed limit is mandatory for vessels 65 feet or longer during certain times of the year).