On a chilly Oregon morning in January, Rob Seitz tosses off the lines to the South Bay, his 59-foot steel boat that he runs for pink shrimp and Dungeness crab. As he heads out to sea, his dungie pots have been stacked in tiers and lashed firmly on deck. There's plenty of bait in the lockers, but four large wooden barrels mounted in a custom cradle on the flying bridge set him apart from others in the fleet.
In a world of ever-changing environmental and political climates, the lore, the romance, and the salty aesthetics of commercial fishing might be lost if not for enclaves the likes of Astoria, Ore. And even that's changing in recent years if you talk to local folks who are fighting to preserve the town's fishing heritage.
"It's changed a lot since I moved here," says Seitz, who's called Astoria home since 1992. "I used to see lots of local fishermen and loggers when I went downtown, but now I don't see very many."
Seitz, 55, was raised on a homestead and fished the years of his young life in Cook Inlet, Alaska. With declining fishing opportunities in the inlet and in the aftermath of the 1989 Valdez oil spill, he went south in hopes of jumping on an albacore troller headed to the South Pacific. Those plans to fish albacore didn't work out. However, he ended up fishing on local boats out of Astoria, bought his own boat, met his wife, Tiffani and put down permanent roots.
Though the genesis of commercial fishing in Astoria and the fabled Columbia River lies within the interpretation of what constitutes legal trade, explorers in the 1700s bartered with local tribes to acquire salmon for food. In the early 1800s, Hudson's Bay Company began purchasing salmon from local tribes and shipping it in salt barrels to other ports including Hawaii.
The process of salting salmon evolved to canning in the mid-1800's and, with it exponential growth of a commercial gill net fleet. In 1866, there were two gill netters calling Astoria home, and by 1881 the fleet numbered 1,200 boats.
Today, 144 commercial vessels have registered with Astoria as their homeport. Though most of them keep permanent slips in the harbor at nearby Warrenton, the local shipyard in Astoria has won renown for its flexibility and services for repairs and retrofitting vessels along the West Coast.
"It's good," says Seitz. "It's on port property, and it's right next to the Englund Marine Supply building. They have welding supplies, hydraulics, stuff like that. It works well because you can just walk over there instead of having to drive." In addition to the wealth of marine hardware at England's Seitz notes that a local cooperative of independent welders support projects in the yard.
"You can hire one or hire them all, depending on job size," he says. He capitalized on the yard's attributes when it came time to refurbish the South Bay. Work included gutting old insulation out of the fish hold and replacing bulkheads.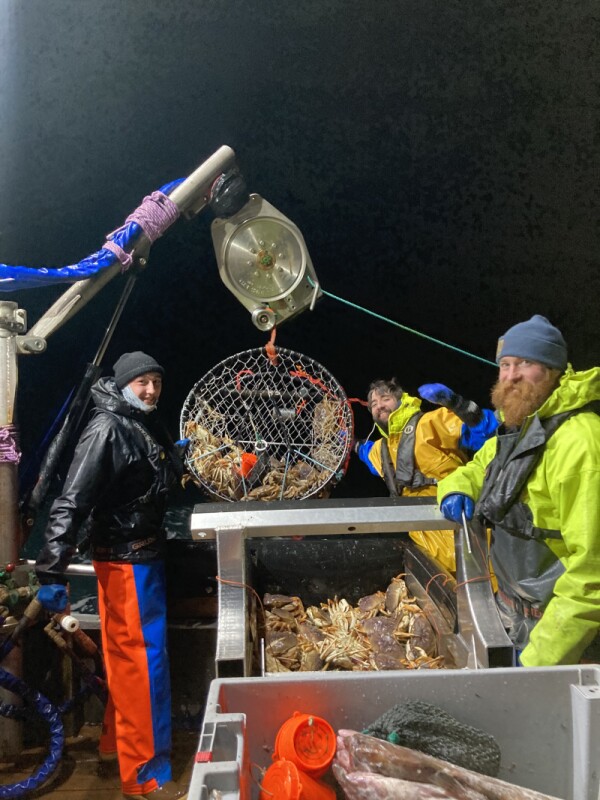 Then, there are the fisheries. The Oregon coast near Astoria and the Columbia River has seen dungeness shrimp harvests of more than 33 million pounds in the 2004-2005 season, but in recent years ex-vessel values have driven revenues to all-time highs. In the 2021-2022 season, local dungeness fisheries generated more than $91 million.
Likewise, shrimp fishing has been booming in the past two years. The 2021 harvest (according to the most recent state Department of Fish and Wildlife) for Oregon came in at 46.7 million pounds for revenues of $23.6 million.
Among regional issues affecting Astoria's fisheries, Seitz is part of a national working group concerned about the outmigration of catch shares from fishermen to non-fishing private organizations. He recently traveled to DC with five other groups representing catch-share fisheries from around the country.
"We went to Washington DC to advocate for catch-share reform," he says. "We can see that in a lot of these fisheries, non-fishermen are becoming the owners to the fishing rights, and it makes it very hard for the next generation to get into the fisheries."
Mixed stock salmon harvests on the Columbia River continue to challenge the industry. Fish destined for some tributaries have been listed as endangered, while others return in numbers that warrant commercial harvest. For more than a decade, the Oregon Dept. of Fish and Wildlife and stakeholders in tribal and commercial fisheries have pined for fishing methods that would be more selective than gill nets.
Among commercial fishing attractions, Astoria is also home to the FisherPoets gathering. It draws upon the talents of writers, poets, musicians and filmmakers primarily from Alaska, British Columbia, and the West Coast, but this year's gathering in February drew attendees from Idaho, Hawaii and Connecticut.
The gathering features prose and poetic readings, jam sessions, film screenings and other entertainment from more than 100 commercial fishing artists who present in more than a dozen popular venues around town.
Seitz recites his rhymes at FisherPoets each year. As for his muse, most of that comes from long stints in the wheelhouse at sea.
"It seems like it starts coming better when you've been up for 24 hours," he says.
Like others who attend or support the weekend poetry slam, Seitz hopes that the gathering will reinvigorate commercial fishing's presence in the ever-changing demographics of Astoria. In a generation that no longer hangs out in waterfront coffee shops but chugs Red Bull and where waterfront property values have soared from competing interests among residential developers rather than the fishing industry Seitz and a few friends have tried to maintain a piscine presence about the town.
Among efforts they've written letters urging community leaders for the preservation of waterfront land for commercial fishing ventures.
Other campaigns have been more subversive. While the barrels of Astoria's yore contained salted salmon the four that have been lashed down on the flying bridge of the South Bay have been filled with whiskey.
Two hundred gallons of it.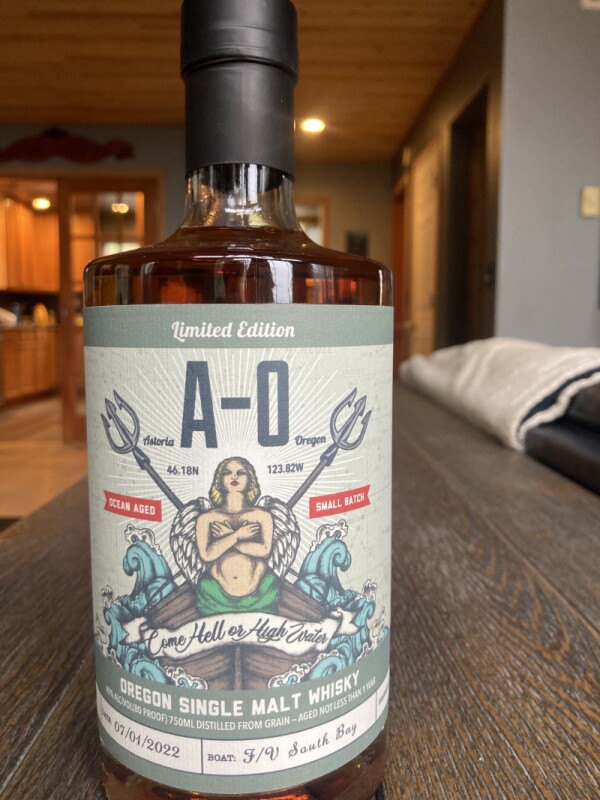 Seitz hopes that the single malt brew sloshing around in the oaken barrels will do its share to link local fisheries to Astoria's contemporary culture.
"There are microbreweries here now," says Seitz. There's also Pilot House Distilling, which produces gin, vodka and "Hell or High Water," a premium grade whiskey with a label denoting that Seitz's boat, the South Bay, has aged that whiskey for a year at sea.
"We take it out fishing. A year at sea will make it taste like a 30-year-old whiskey," he says. "The motion keeps the sediment stirred up, keeps the barrel moist, and they say that it will absorb the salt air through the oak barrel."
Seitz's says that his wife Tiffani attests that the whiskey is "exceptionally smooth."
"I think stuff like that ultimately helps us in the fishing business," says Seitz. "We have to present a more visible presence if we're going to survive."
But that's only part of the Seitz strategy in promoting Astoria as a fishing town. The couple opened a family-owned restaurant, the South Bay Wild Fishhouse, in 2017. Rob, Tiffani, their sons and daughters, Gentry Milhiser, Isabelle, and James Seitz, (32, 26, and 22 years old), not only haul fish aboard the South Bay but tend to the kitchen and tables.
Though you won't see as many fishermen and loggers along Astoria's weathered sidewalks and in local shops as when Seitz first moved there, he and his friends will continue to maintain the port's fishing as a traditional way of life.
"It's changed a lot," he says. "But I remain optimistic."